MANSFIELD, TX — In December 2012, Flo Torres just wanted 2,000 toys for their Christmas Toys for Tots drive. With the organization adding an extra drop-off date to accommodate the Mansfield ISD Center for the Performing Arts, director Flo Torres wanted to ensure a big turnout, but she never anticipated this.
"I kept saying, 'I'm OK with 2,000 toys. That would be great,'" she remembered. "But what we got was incredible: 16,148 toys and $15,550 in donations."
With over eight times the amount of toys than the goal, the Mansfield community showed its robust generosity and Christmas spirit. What became the largest single-day toy donation in Toys for Tots' history started with a simple email. When Flo started with the center in August 2012, former superintendent Dr. Morrison expressed his desire to bring families to the center. Flo immediately thought of Toys for Tots, a nonprofit organization sponsored by the U.S. Marines to distribute toys to children in need.
It was a long shot, however, since the organization already had a drop-off location in Arlington. Flo sent them an email anyway. "I told them, 'We will not let you down. I know this community will come out in a big way, and you will be proud of them.'" Once Toys for Tots agreed to add the center as an additional drop-off, the hard work began. Most toy drives are simply that: cars drive up to a drop-off location, hand over their toy and drive away. But Flo wanted to make this a bigger event. "I knew we had to hit the ground running with this," Flo recalled. "I told the team, and they got to work."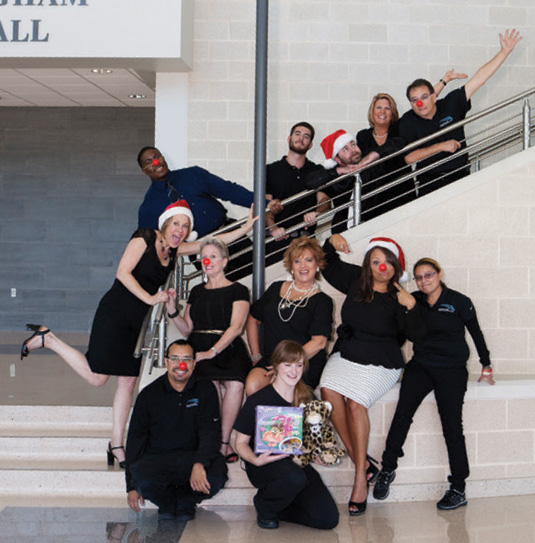 With the help of her team, Flo reached out to the principals of each school. They decorated a room with a Christmas theme and explained their expectations. "I said, 'I just want 2,000 toys, and that's it.' The promotion and excitement that happened between that conversation and the event was all them," Flo explained. Some schools even started a friendly competition to see who could donate the most toys. After several months of planning, determination and hard work, the drop-off day came. During the day, the event was kicked off at Legacy High School and Linda Jobe Middle School. Several Marines joined students to create a long line to load toys onto a bus. Once all the toys were loaded at that location, the buses traveled on to different schools throughout the day to pick up donated toys. The results were outstanding. "We had at least five buses filled all the way to the top," remembered Richie Escovedo, director of media and communications for the Mansfield ISD.
Many of these toys ultimately went to children in need in the Mansfield community. The event happening on a school night didn't stop the community coming out in droves for the evening activities. "I can confidently say there were at least 5,000 people there," Flo said. "It was a festival." Cars filled the parking lot and even lined down the street. Santa kicked off the evening by flying in on a helicopter and later settling in to take pictures with eager children. Free hot chocolate and nachos were offered while people mingled, dropped off toys, and celebrated the Christmas season. Show choirs from different schools performed on the stage and all of the high school mascots and a few business mascots raced around the parking lot to drop off a toy in the drop-off box. Even reindeer stamped into the Mansfield suburbs to support the community. Hearing the stories of children not having toys for Christmas hit many of the children hard. One young boy was so inspired by Toys for Tots he asked his parents if he could donate 100 toys. His parents gave him chores to earn the money, and he later used the money to purchase all of the toys.
The automotive technology program at Ben Barber Career Tech even got in on the fun. "Every year, the auto tech students fundraise and buy toys to put together throughout the year, which they then donate," Richie explained. "They assembled 100 bikes and wheeled them across the parking lot to the event that night." Because Fox's Channel 4 is an official sponsor of Toys for Tots, the station agreed to come out to the drop-off location that night. The extra exposure helped spread the word about the Christmas event and encouraged even more people to join the festivities, including Fox Channel 4's own employees. "Meteorologist Ron Jackson saw what was happening on TV and had to come down," Flo laughed. "It was his day off, and he said he couldn't believe it. He had to come and be a part of it."
The original plan was to unload all of the buses of their toys and reload them onto one large truck at the end of the night. Due to the overwhelming success and amount of toys, however, plans changed. The bus drivers agreed to drive to the Toys for Tots headquarters in Arlington to unload. "The MISD transportation team was great," Richie explained. "They just adapted and helped out." A few weeks after the event and much to Flo's surprise, the Mansfield ISD awarded her the MISD Impact Award for her tremendous work. The award, according to the MISD website, "was established to recognize individual staff members, departments, campuses or other employee groups [who] have promoted teamwork and unity by initiating a program or event that made a positive impact within Mansfield ISD and the community." Flo acknowledged the strong, hard work from her dedicated team and volunteers to make the event a reality. "All of my team did so much and made it happen," she said. "We couldn't have done it without them."
This year, Flo and her team are going to be ready. They anticipate the same reponse, if not more — people, toys and donations. They also hope to help Toys for Tots target specific age groups that sometimes are overlooked. Because the campus drives were such a success, students can help fill the buses with toys again this year. For Flo, last year's event was about more than free hot chocolate and Santa — it created an opportunity for children to learn about giving and helping others. "I think it's the best lesson you can give to any kid out there. Joy comes from being together with your family at an event like this," Flo explained. "They were able to give something and see everyone else was willing to give, too."
Editor's Note: The Toys for Tots drive will be on December 11 at the MISD Center for the Performing Arts For more information, visit www.toysfortots.org.
Written by Mikaela Mathews.
Related articles