BURLESON, TX — Sitting in a room with no windows — only computers, maps, video surveillance monitors and databases — Phil Lewis and nine other public safety communications specialists are angels waiting to help. Hired by the Burleson Police Department about five years ago, Phil loves being part of the police family and participating in his community.
"The idea that no man is an island is huge," Phil said. "It's rewarding to participate in something that is there for me, too, if I need it." If you live in Burleson and the surrounding areas, your calls to 911 most often are routed to the Burleson Police Department communications center, where at least two communications specialists are prepared to help you. Having each gone through a four- to five-month training process, they are skilled in using high-tech information systems. "Objectively finding the information in the moment when your officer needs it is probably the most challenging part of the job," Phil said.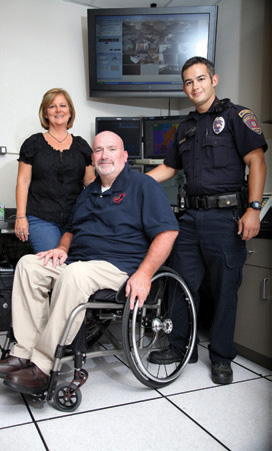 During a critical call, communication specialists use three consoles accessing Tarrant County and Johnson County 911 systems, weather data and police records to gain valuable information while simultaneously working on the phone with the caller and on the radio with an officer or firefighter. "It's important to have a team for our officer or firefighter," Phil explained. "I might be on a call while my partner is looking up information that will help on that call. It helps keep responders safe, which is where it starts in order to keep your city safe." Not too many months ago, the city of Burleson recognized Lisa City Hall hours, or just directions to an old friend's home, the communications specialists help. They are the nerve center of the city. During lulls in their shifts, dispatchers encourage each other by patting each other on the back, for doing the best they could, and also by sharing techniques which have worked in similar situations. Outside of their shifts, the dispatchers' concern for each other shines through. When Phil spent a Christmas in the hospital, his co-workers made an effort to bring the holiday to him. "There's a practical part of having a team, but also there's that emotional part," Phil said.
All of the dispatchers live in the Burleson area, and some are children of people who grew up here. "We're interested in the schools, development and roads just like any other resident." Phil and his wife, Linda, moved here 20 years ago. The first 12 years they lived in Crowley, where they reared their son and daughter. Both have since married and live in Fort Worth, where the Lewises often go to visit their grandson. "It's great having them close while we enjoy living in this area." Born in Maine, Phil met Linda at a Christian college in Pennsylvania. "I had entertained thoughts of going into ministry," said Phil, whose father is a minister in New York. "But I worked in construction until I was injured in 1991." While he was working on a job at a supermarket in Danbury, Connecticut, scaffolding collapsed. Phil survived with a broken vertebra.
After five months in a hospital and rehab hospital, his children already in grade school, Phil and his family adjusted to his new life in a wheelchair. Two years later, he and Linda decided to move to a warmer climate. They chose Crowley, where Linda taught school and Phil attended seminary on and off. He has used the seminary degrees in lay positions in the churches they have joined. "It's something I enjoy doing," said Phil, who considered becoming a teacher. But we are not always in control of our destiny. "I reached a point where I value my life more in terms of the relationships I'm in and not so much by what I am going to accomplish," he said. "I wake up and consider what is my wife doing, what are my kids doing and evaluate myself in terms of whether I am being a good worker, a good friend, a good church member and a good member of my community in relation to other people." Despite his setbacks, Phil responded to his wife's encouragement and his own determination. "I found a way to be involved, and it's so much more rewarding than being a recluse," he said, explaining that people with disabilities are very intimidated to look for work. "Sometimes it seems easier just to collect disability. I always encourage people to get out there and try. There are places to serve, to contribute — to be a part of society."
Prior to joining the Burleson Police Department in 2007, Phil knew few first responders. His brother, a volunteer firefighter, gave him an idea of what the dispatcher's job would be like. He recalled his time as a rural youth, when his dad pastored a church in Massachusetts in a place where getting emergency help could take a long time. Generally, a person would call the operator or a neighbor if they needed help. Phil remembers a church member who worked night shift as a police officer. "He did not talk about his job a lot," Phil said, "but we knew if we were out late and got in trouble we'd hear about it from Mr. Marcy, in a friendly way."
Now Phil works within a brave new world, where sometimes the 911 call is from a child playing with a cell phone. Sometimes it appears to be nothing but a pocket dial. "We call those back all the time. Ninety-nine times out of 100 it was nothing," Phil said, "but that one time out of a hundred, we can tell something is wrong and send officers out there just to make sure everyone's OK." It's comforting to know help is so close by.
Written by Melissa Rawlins.
Related articles