CORSICANA, TX — Church bells, school bells, bicycle bells — all evoke memories. Even seasonal bells, such as the ice cream truck in the summer or Christmas bells during the holidays, are special. Many people can also add to those sensory Christmas memories the annual ringing of Salvation Army bells by bell ringers who stand faithfully next to the traditional red kettle while greeting passersby.
Begun in 1891 in San Francisco, California, the Red Kettle Christmas Campaign is only one Salvation Army program that helps bring joy to people in need, staff and volunteers throughout the holiday season and beyond. "Most families who apply for assistance get help. Corsicana and its surrounding towns are so generous with both time and money," Salvation Army's Sergeant Toby Romack said. Since June 2011, Toby and his wife and fellow Salvation Army Sergeant, Linda Romack, have been the corps administrators of the Navarro County/Corsicana Salvation Army.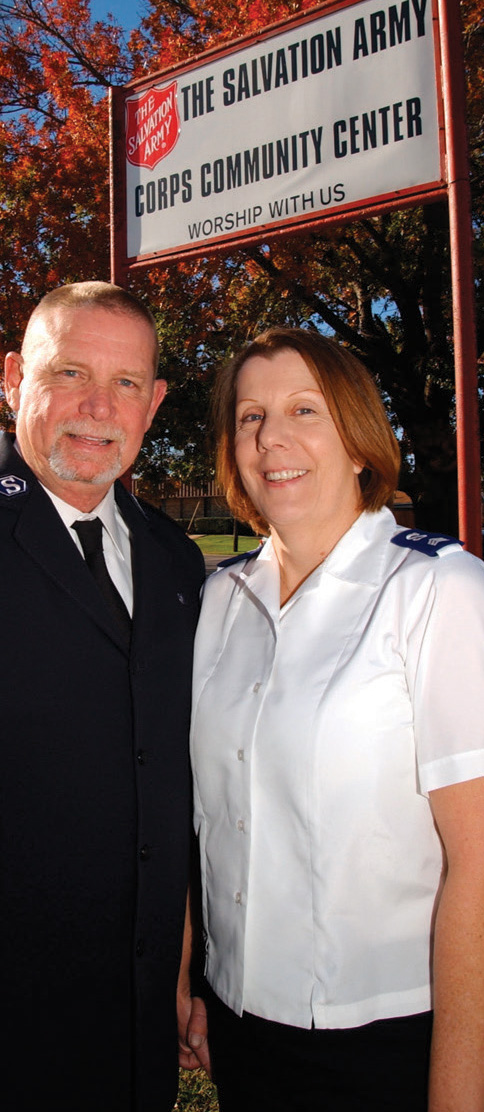 The organization is in its 116th year of service to people in need in this county. "We rolled up our sleeves and went to work. Our advisory board is really good, and the Corsicana community has put its arms around us," Toby said. The Salvation Army's slogan is "Doing the Most Good."
A staff of eight employees, board members and many other volunteers help Toby and Linda in their effort to fulfill that mission in many different ways. Throughout the year, the Salvation Army Thrift Store is open; a disaster canteen is wherever it may be needed on a moment's notice; church services featuring a praise band are held; and drug and alcohol counseling and support groups are available to anyone in the community. "These are desperate times for a lot of desperate folks. We help them pay bills but also provide counseling in budgeting and accounting. This is not an easy job, but it's been a blessing. It's the hardest thing I've ever done in life but also the most rewarding," Toby revealed. As the holidays approach each year, the planning that began the previous January, is implemented by Toby, Linda, the staff and the true "army" of volunteers who are busy throughout the Thanksgiving and Christmas season.
"This is such a busy time of the year for us," Linda said. It takes a Herculean effort from everyone to bring all the programs to fruition in a timely manner. Last year, over 300 applications were taken for Thanksgiving boxed dinners. Volunteers from one family make sure every dinner is packed and ready for pickup. The Red Kettle Christmas campaign is kicked off in the Wal-Mart parking lot. The Collins Middle School and Corsicana High School bands have played seasonal favorites in past years. "I was so impressed with the kids. Every student lined up and put money in the kettle," Toby remembered. The performance of the Salvation Army Brass Band from Dallas has been a yearly treat since the Romacks have been in Corsicana. The bell ringers are a mixture of volunteers and seasonal employees of the Salvation Army. For some bell ringers, ringing is a source of income that is very welcomed. "It also gives them pride," Linda said. However, the majority of bell ringers are volunteers from many different area service organizations. Counting the money is another enormous job. "Every penny counts and is counted," Linda said. Christmas efforts focus on children. Linda is in charge of the Angel Tree program and is so excited by the many calls she receives from area businesses wanting an angel tree to be set up at their location. A child's angel can be adopted from the tree or toys or money can be donated at the site. "We went to the Kerens City Hall and barely got everything into a pickup truck," Toby remembered.
Many children are "adopted" from the trees. But not all children are chosen. Part of the red kettle donations helps to fund the purchasing of toys and bikes for distribution. "Volunteers just love to do the shopping," Linda said. Volunteers also put together bicycles and help sort toys into bags. Corsicana Police Chief Randy Bratton, Stephanie Elkins of Community Bank, and members of the Corsicana Fire Department and Corsicana Police Departments, as well as community area volunteers help on distribution day. "Folks come in and are just amazed at the number of toys," Linda related. "We have to keep things going to get everything done in one day." A volunteer appreciation banquet is being planned for this coming spring. A video presentation of some of the volunteers who have helped in years past will remind them of the joy felt from the giving of their time and talents to so many others in less fortunate circumstances. "It's nice to get appreciated," Toby said. "God supplies people who just keep us going."
Toby and Linda are both natives of Abilene, Texas. It was love at first sight for Toby. "I saw Linda and said, 'I'm going to marry that girl.'"
"He was the boy next door," Linda explained of how they met. Linda claims that she and Toby are complete opposites, but they married and reared three children in the Salvation Army church, where they were part of the ministry programs while living in Abilene. Toby drove big rigs for 30 years, and Linda worked in the Salvation Army Thrift Store. A job transfer for Toby brought the couple to the Dallas area, where they started attending services and teaching Sunday school in Waxahachie. "We were aware of Corsicana since our daughter-in-law, Missy, who is currently a corps officer in Big Spring, Texas, had been the Salvation Army administrator in Corsicana at one time," Toby said.
The commissioner of the Southern Territory of the Salvation Army recognized God's call on Toby's life to serve full time. "It was God's timing. I left a career and retirement behind to serve, but I knew that the Lord was telling me to go to Corsicana," Toby recalled. With children and now four grandchildren in Dallas, Big Spring and their youngest daughter in Seattle, Washington, Toby and Linda enjoy their hobby of motorcycling with the Christian Motorcycle Association. "Our ministry does not stop here," Toby said. "We offer Christ-centered counseling wherever we go." "We love living here. People relate stories to us, and they have a spirit of volunteerism and say thank you," Linda said. Toby added, "We are country people and a Salvation Army family. We like the friendly people in Navarro County and enjoy living where a handshake means something."
Written by Virginia Riddle.
Related articles