GRANBURY, TX — A great hostess needs to be good with names and make everyone feel welcome.
Fran McPherson is a welcoming sight. Fran is a member of Senior Circle and Healthy Woman, where she is a strong volunteer and wears a smile as she welcomes people to the many activities held during the year. Fran benefits emotionally and physically by engaging with people in the same season of life she finds herself in. She meets and greets people, donning a matching hat and some bling-bling on her fingers and eyelids.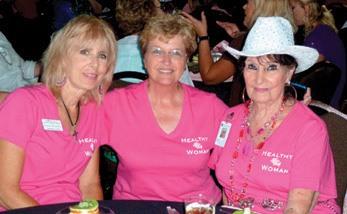 "I'm known as the hat lady," Fran laughed. Senior Circle, a resource of Lake Granbury Medical Center, provides programs and activities for those 50 and better to age gracefully, live well, stay healthy and have fun. They provide many benefits to seniors, such as seminars about health and wellness issues, year-round activities and fellowship with friends. "We try to keep our members up-to-date with the services the hospital provides," said Jeanette Hill, the director of the Senior Circle.
"Fran helps host our monthly brunch that spotlights a hospital service or a physician. Members bring food." They are also curious to see which hat Fran will wear. Fran was also a hostess for the Opera House when it first opened. "I would meet and greet people," Fran said. "I also got a free ticket. I may not be able to get around so well anymore, but I like to get out of the house," Fran admitted. "I like working with people. I like to socialize. I don't want to stop, or I will go down hill. I want to do what I can do for as long as I can do it." One of the many benefits for Fran is the opportunity to get involved with friends and keep moving.
Fran is a people person with a great attitude. Being with people lifts her spirits. Senior Circle offers a wide variety of interests people can take advantage of to help them get more out of life. Fran regularly participates as a hostess on the monthly bus trip to WinStar Casino in Oklahoma. "Fran is always willing to host a trip," said Jeanette Hill, coordinator of the Senior Circle. "It takes a special person to host and handle any issues that may arise." Day trips include places like Clark Gardens in Weatherford or a Texas Ranger baseball game, but there are also some overnight trips. Five big trips are available for those who want to travel to places like Hawaii or Quebec, Canada. When Jeanette goes on the big trips, Fran volunteers in the office. Free exercise programs, social events, games, medical seminars and screenings are provided for members.
"When I started coming in 2004, I helped Jeanette recruit," Fran said. "Our goal was to get 1,000 members. We have surpassed that. We have over 2,100 members!" Because membership has grown, a larger space was needed. In April, Senior Circle members were blessed with a new 5,000-square-foot facility, complete with two huge meeting rooms, a library, lots of storage and a large kitchen. "Senior Circle also celebrated its 14th anniversary last May," Fran said. "The celebration, with a nautical theme, was held at the Granbury Resort and Conference Center on the lake. The atmosphere was so nice." Tony, Fran's son, attended the celebration with her. They spend a lot of time together. "I told Tony he could dance with my friends, Bailey and Marie," Fran laughed. "Tony is a good dancer."
Tony is involved with the seniors, too. He lives in his "man cave" on the same 15 acres close to Fran and helps out often. "My husband, James, could do anything and fix everything," Fran said. "Tony is just like his dad." Fran spent 26 years working at Lockheed Martin making airplane parts out of graphite. "I would climb on airplanes and work on all the special projects. It was fun," Fran said. Fran remembers training a young man named Freddy. She knew he was smart and helped him advance at work. "Before I retired, Freddy was my boss," Fran laughed.
"He always called me Frannie Bell. I miss those people." A retiree dinner is held every year, and Fran enjoys seeing the people with whom she worked for so long. The Red Hat Society is another organization where Fran gets to socialize and spend time with friends. She started a Red Hat Club in Fort Worth many years ago and is now a member in Granbury. "We go to restaurants and go shopping," Fran said. "We also have a big Christmas party and fellowship." Serving others is a gift Fran uses often to keep active. For about 12 years, Fran used to take care of a lady who did not have family. The woman let Fran live in a house on her property. Fran would get groceries for the woman and take her to doctor's appointments.
"My family was with her to the end," Fran explained. Fran has ties to the first settlers in Hood County through her late husband. His great-grandparents were the founding patriarchs of Glen Rose. Charles Barnard came from Hartford, Connecticut, to open a trading post with his brother, George. His brother ransomed a captive Spanish girl named Juana from the Comanche Indians. Charles and Juana married and had 14 children.
Only four lived to adulthood. Fran is fortunate to have such a rich history, and she is proud of her heritage. Charles and Juana are memorably portrayed in a life-size, bronze statue that graces the historic courthouse lawn in Glen Rose. Today, only some foundation stones, an old barn and a windmill still exist at the site of the Barnard Trading Post. The descendants of the Barnard family still meet every year to celebrate their legacy. Fran and Tony play a large role in organizing the event. Other hobbies Fran once found enjoyable were sewing and playing the organ at church. She admits she has not been able to do those things lately. She got her musical ability from her dad. "They called him Big Boy, and he made fiddles. He had no education, but he was a smart man," Fran recalled. "He wrote poems and songs and played the fiddle."
In the future, Fran would like to do a service project with people who need encouragement. "My friend, Bailey, suggested going to the care center where she works to spend time with residents who do not get visitors," Fran said. "We need to have a project." Volunteering and serving others is this hat lady's secret to keeping active. "People always remember Fran and come to talk to her," Jeanette said. "They have to give the hat lady a hug."
For more information on Senior Circle, call (817) 579-2979 or visit GranburySeniorCircle.com.
Related articles