OVILLA, TX — Many people say they refuse to be defined by their past, but Tonyeka Drake would not be one of those people.
As a young child, she experienced domestic turmoil and lacked the guidance of a supportive family structure. But rather than allow her past to write her story, Tonyeka turned the page on hurt and mistrust, and she now serves others to help them recover from their emotional wounds. Tonyeka Drake has always had a heart for helping others. "I felt a calling on my life for the ministry even when I was a little girl," Tonyeka shared. "I didn't quite know what it was, because I grew up in a chaotic home full of hurt.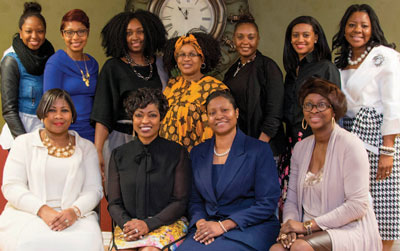 But now that I'm older and able to reflect over my life with a different perspective, I realize that the chaos of my youth is what helped to define and direct my life's calling and my purpose." Tonyeka now lives in a beautiful subdivision of Ovilla with her loving and supportive husband, Gregory, and their three children, Jhaida, Jhaila and Gregory, II.
She grew up in Houston in a home with circumstances that were less than ideal. "I was very young when my mother decided to get married," Tonyeka shared, "and unfortunately, there was a lot of chaos and dysfunction in our home. My mother and stepfather didn't have the communication skills that might have helped to diffuse family confrontations, which often escalated out of control. And neither of my parents were equipped with parenting skills to help me deal with the dysfunction that was so much a part of our household. Most of the time I was left on my own to deal with the emotional fallout."
Eventually, Tonyeka reached her limit and wanted a fresh start in Dallas. She was a senior in high school, and at that time, her father, Warren Horton, was an officer with the Dallas police department. Her father fully supported her decision to relocate, and it proved to be a wise move on Tonyeka's part. Her father's love and guidance became the strong foundation she needed in her life, serving as an anchor during the adjustment phase of her transition.
"After moving to Dallas, I graduated from high school and attended college for one semester, Tonyeka shared. "I started working at Levine's, which is where I met my husband, Gregory Drake." Tonyeka found herself on a journey that eventually helped heal many of the wounds from her own hurtful past — a journey that would allow her to serve and help others.
"Church had always been important to Gregory and me," Tonyeka explained. "And we also believed it was important to serve others. Gregory enjoyed serving as a youth pastor, and one day he told me he felt called to be a church planter. "At first, I was afraid, because I was still dealing with my own wounds. I internalized my hurt and was mistrustful of others. I didn't feel capable of helping anyone else. But when you walk by faith, you have to be willing to surrender your fear and be led."
At that point, the ministry was just a vision, but her husband also shared his vision with his father-in-law. And when what initially seemed like a random opportunity presented itself to purchase church furniture and equipment, Tonyeka's father presented them with a check, and the seeds of their ministry were sown. Jubilee Community Church was formed in 2003.
Here, Pastor and Lady Drake continue to live their ministry by reaching out to serve others. One of the church's mottos has been, "We're excited about our future!" And to that end, Jubilee Church has formed an array of ministries to facilitate outreach in the community. Tonyeka has seen Jubilee Church impact many lives, but there is one family she will never forget.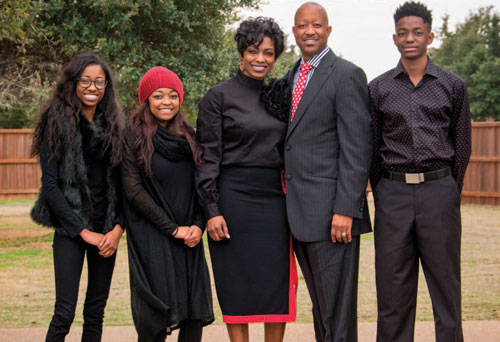 "A lady with three daughters started attending our services," Tonyeka shared. "The mother was very reserved, and her daughters wouldn't talk or play with the other children. They always walked to and from church, and refused rides to take them home. We eventually learned she was trying to escape an abusive spouse and lived in a shelter where the location had to remain undisclosed. "Slowly, this family began to trust our church family, and the mother began to open up and share her story. Our church members embraced her, and because of the trust formed, we became a support system for her and her girls. It was such a blessing to witness the transformation in her life and that of her children. We witnessed her evolution from being a victim to being a survivor, and she
began to stand on her own emotionally and financially."
But it wasn't the only transformation taking place. Tonyeka began to understand the hurt she'd experienced in her life had not been in vain. Her pain provided her with an empathy for victims of abuse she might not have otherwise had, and she also discovered her passion for helping those struggling with the same issues she once experienced. Tonyeka continued to evolve, personally and professionally. Between working, raising a family and serving as the first lady of Jubilee Community Church, Tonyeka returned to college to finish the undergraduate degree in business she'd abandoned her first year living in Dallas. She enrolled in Dallas Baptist University, where she graduated in 2014 with a master's degree in counseling.
Tonyeka has volunteered with The Family Place, a women's shelter in Dallas. And in 2006, The Family Place celebrated her as an honoree during their First Ladies Against Domestic Violence awards banquet, in recognition of her work with domestic abuse victims. This spring, she completed the required internship counseling hours, and after passing the state exam, she will be a certified Licensed Professional Counselor. "For many of us, life isn't the fairytale we've read about in storybooks," Tonyeka stated. "Life can be full of hurt and disappointments, but I believe that if  we can learn to show compassion and not judge others by what we can see only on the surface, we are in a much better place to serve those who need our help the most."
Written by Dianne Reaux.