MIDLOTHIAN, TX —  The days had become nights and the nights were endless. The tiny baby was but a whisper of life. The tubing, tapes and frightening machines were all there to help this tiny life grow stronger.
Unfortunately, life could not be suspended at the side of the incubator. Parents needed to eat. Other siblings and their needs had to be taken into account. The vehicle needed gasoline for the ferrying back and forth between the hospital and home. The family needed help, and the Heroes of Midlothian Foundation stepped in to bring that supportive element to the family.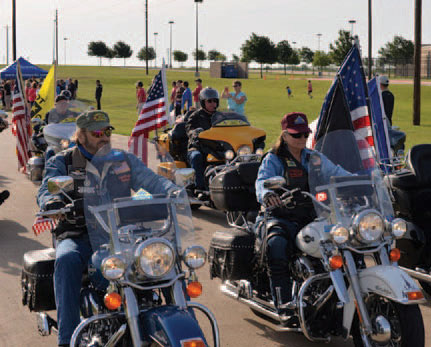 The Heroes of Midlothian Foundation was organized to provide support to the families of fallen heroes. Scott and Megan Koelker along with Chris Daubitz, Bryan Rury, Candi Wann, Toby Gonzalez and Stephanie Frankiewicz are part of this nonprofit and all-volunteer corporation. "Our purpose is to give back to those who have given to us in terms of law enforcement, firefighting and military service," Scott explained.
As high school sweethearts, Scott and Megan began working together as a team early. They both attended Texas Tech University in Lubbock, Texas. Megan graduated with a degree in speech and Scott with a degree in history.
After graduation, Scott went to law school at Washington University in St. Louis, Missouri. "I became a lawyer, because I was always good at arguing," Scott smiled. When the couple was looking for a home, they wanted something more rural and decided seven years ago that Midlothian fit perfectly. The family became involved in the community.
That involvement led them to want to do something when tragedy struck on February 2, 2013, and Chris Kyle and Chad Littlefield were killed. "Some people we knew got together to talk about what could be done to help," Scott shared. "They needed a lawyer to make sure everything was done correctly and invited me to a meeting. I went and became part of the organization of the Heroes of Midlothian Foundation." It was the goal of helping those two families that originated the Foundation.
However, the focus quickly extended to include those who serve in the community — police officers, firefighters and veterans. "We desired to give back to people who are always giving," Megan stated. "I've always felt thankful for our first responders, for our service men and women. We've gone through situations where we needed their help, and it was nice to be able to say thank you." The Heroes of Midlothian Foundation began raising funds in May 2013. "It was very successful," Scott acknowledged. "The community really came out and donated. We had a 5K race with a festival and raised $30,000. We will have our third annual 5K on May 16 of this year."
The group wanted to have the money raised established as a lasting foundation in order to be ready for the next crisis. "We donated money to the Kyle and Littlefield families, and we want to be here if they need anything," Scott said. "But one of the things that distinguishes our organization is we did not donate all the money to them. We wanted to create a lasting foundation, not only for their future needs but for the next event."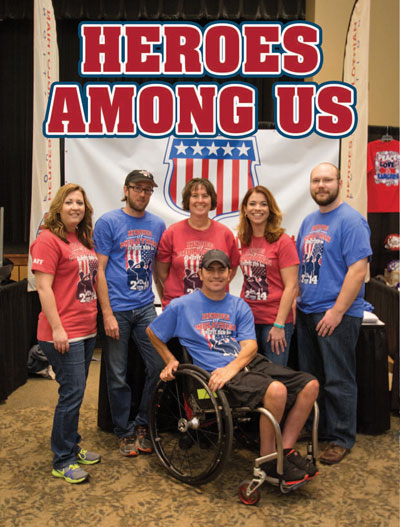 "We want to help people in our community for years to come," Megan added. "We've had officers with babies in the NICU (Neonatal Intensive Care Unit), and the Foundation gave them money and gift certificates for meals. Having their babies in the hospital required them to take off from work. So, we gave Visa gift cards in order for them to purchase whatever they needed to enable them to continue spending those valuable hours with their children."
Another crisis in the police department was a fallen officer. The police department was able to contact the Foundation and ask for their assistance. "We were able to provide the meal and work with Heritage House at the reception," Megan noted.
She thinks that was a turning point for the Foundation because, as a new organization, they were able to show the officers that they wanted to be there for them. "They received us so sweetly," Megan smiled. "The amount of support we have gotten in return from them has been immense. The police and fire department have both shared our banner on their Facebook page and tell others about us. At our booths at the Spring Fling, they come over and show their presence with a team type unity. We really appreciate that they've given us their support and respect."
Last year, Heroes of Midlothian Foundation was asked to help with Midlothian's Veteran's Tribute Dinner. They answered the call and worked with the city to fund the banquet. The Foundation's board consists of volunteers with no paid members. It is a 501(c)(3) entity, and they've qualified under that as a disaster relief fund. "We intentionally left the class of people we can help broad, so we can have the flexibility to help anyone," Scott clarified. "There may be a situation where someone has been in Midlothian for a very long time, something tragic happens and their family needs a little help. We have the flexibility to do that. The police officers, firefighters and military are our core, but technically anyone in the community can ask for assistance."
To meet these needs, the Foundation holds an annual fundraiser in the form of a 5K race, community festival and concert. "The community gets really involved," Megan elaborated. "Several of the churches come out and set up events for the kids. It's a great family time for everyone. We've never been disappointed with this community and how much people are willing to give of their time and effort. It makes us happy we elected to have all of our children here."
As a charitable organization, Heroes of Midlothian Foundation realizes the responsibility of handling financial matters with transparency and honesty. "One of the harder parts of what we do is trying to be discreet and honoring people's privacy. We don't publicize how much we gave or who we gave it to," Scott shared. "Our annual tax form will be publicly available on our website. We have the typical checks and balances on our accounts with financial safeguards, and we all know the statement of the accounts."
One of the future goals of the Foundation is to establish a scholarship fund in the next year or two for a Midlothian graduate. "We don't do it for the thanks," Megan declared. "We are just grateful that we can meet a need and can be there for the community as a whole and help in any way we can." It is good to know if a tragedy happens again, the Heroes of Midlothian Foundation is here to give a helping hand.
Written by Betty Tryon.
Editor's Note: For more information, visit Heroes of Midlothian Foundation's website, heroesofmidlothian.org.