CORSICANA, TX — It's prom time in communities everywhere as the school year winds down toward summer, and this month, Corsicana High School's Special Prom will again live up to its name.
The idea wasn't new to CHS special education teacher, Kelsey Whiteley, who had taught, coached and helped with a special prom at Athens ISD before coming to CHS three years ago. "When a CHS senior told me he had never gone to a prom and couldn't afford to go, I figured we could come up with a way to make prom happen for him," Mrs. Whiteley said.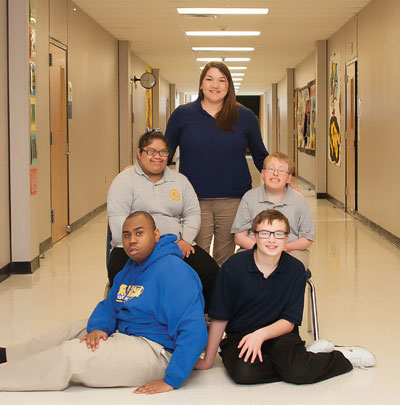 That was during the 2011-2012 school year. CHS' Special Prom has grown each year and is a truly magical experience, not only for the special education students for whom the prom is designed and their peer coach dates, but also for their families and area business people. Elegantly dressed and coiffed students, proud and misty-eyed parent and staff chaperones, great dance music, beautiful decorations and a full, elegant meal make this prom a very special experience for all who attend or contribute to its success.
Memories by Melissa's, Melissa Stacey, remembers the prom's first year when she volunteered her services to take photos of prom attendees, their dates and families. "When the kids were announced, they had the biggest smiles and were so excited. They felt so important."
"I cried like a baby that year," Mrs. Whiteley added. Last year, Melissa and her oldest son, Jacob, not only were official photographers for a second time, but they were the proud family of Clayton, a Special Prom attendee. "It means so much to the other parents and me. Our children's lives are usually so restrictive, but we get to see our child in a normal environment during this prom. It means so much," Melissa revealed.
There are some "special" changes from the regular prom's tradition. One change is that the Special Prom is held on campus and during a regular school day. "We can give our special education students the medical, physical and staff support they need. We have these resources on campus," Mrs. Whiteley said.
Another change is that there is no cost to the students or parents. Preparations begin early. Throughout the school year, special education students raise prom funds with their traveling coffee cart from which they sell their baked goods, coffee and flavored tea to staff. "The students cook and serve everything," Mrs. Whiteley said. However, businesses also donate their services or charge only at-cost prices.
Donations from community members, parents and special education staff help defray expenses. Finally, CHS general education students who help in the special education classes throughout the school year must anxiously wait to be asked to the Special Prom by a special education student. "The peer coaches are so excited to be asked!" Mrs. Whiteley exclaimed. Clayton, a CHS junior, has attended the Special Prom for the last two years. "We get the hottest dates on campus," he said. "I like the dancing and get to take a date to the dance. The prom makes me feel good."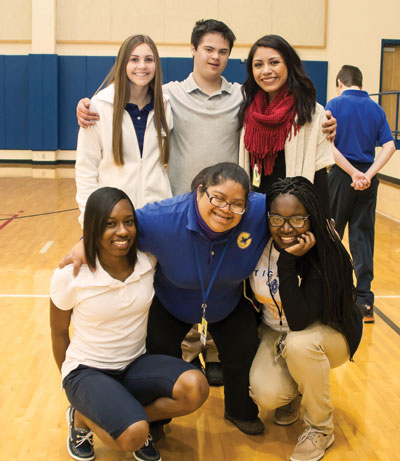 The Special Prom is a student-centered learning opportunity. The high school's culinary arts students cater and serve the meal. The graphic arts students use their Top row: Maggie Phinney, Deven Day, Karla Monge. Bottom row: Sha Sha Taylor, Sandra Garay, Tyshiana Anderson. artistic abilities to create certificates. CHS cosmetology students provide hair and makeup services.
A campus student is elected to be the DJ, and the CHS girls' basketball team helps fundraise and clean up. "Our overall goal is to make this a very student-oriented experience," Mrs. Whiteley stated. "It's a joy to watch the general education students get excited about participating in the Special Prom."
These general education students learn so much. They learn the joy of giving. In many ways, the Special Prom resembles any other spring prom. This prom has a king and queen, a royal court and awards. Danielle Lopez, a graduating senior, was crowned the 2014 Prom Queen after having been named a prom princess in 2013.
A reminder of many of these students' medical vulnerability came when Danielle passed away on June 20, 2014. The prom and Danielle's school days meant so much to her, that Danielle's family chose to bury Danielle wearing her queen's crown. The magic will happen again this year when the Calicos' dance studio is transformed into The Great Gatsby's most elegant party venue by Tom Adams and his wonderful crew at Victorian Sample.
"I want to really emphasize how much school and community support it takes to pull this event off. Shelby Curl, Misty Fletes, and many of our fellow teachers and coaches are all involved," Mrs. Whiteley stated. "A special thanks goes out to the administration for allowing this to happen."
Classrooms become dressing rooms. Male coaches and paraprofessionals help dress the boys in their tuxes provided by Lone Star Western Wear. The girls' prom dresses are donated. "We now have about 50 dresses. CHS paraprofessionals alter the dresses to fit perfectly, and Corsicana Cleaners donates the cleaning and pressing of the dresses and tablecloths. The Spa of Corsicana's Lori Hippard creates prom up-dos.
Boutonnieres and corsages are donated by the Corsicana Police Officer's Association and Wives Auxiliary. Steve Morgan provides snow cones and Erin Abay of 22TZU donates her photography services. "It takes all of the special education team to make this event happen. Our wonderful team always works together to help in every way. We have the most supportive parents, grandparents and family friends who volunteer much of their time in assisting. My husband, James, is also super supportive,"
Mrs. Whiteley, a busy mother of two, said. "It takes a village." "I've gotten to know these students. It's wonderful to watch the girls look into the mirrors, turn in circles and smile," Melissa said. "And they are all giggles," Mrs. Whiteley added. "Everything about this celebration is to create memories for our students and their parents. We have a father/daughter and mother/son dance, as well as a family photo," Mrs. Whiteley explained.
The adjective "special" can be applied to Mrs. Whiteley. "The Special Prom would never have happened without Mrs. Whiteley," Melissa revealed. "She is a caring, sharing teacher who goes above and beyond."
Written by Virginia Riddle.