WAXAHACHIE, TX — A small group of slaves gathered under an oak tree on Waxahachie's East Main Street. The year was 1864. The occasion was a prayer meeting, the first of many to be held by the Rev. Biggind, a Baptist preacher. Later in the same year, around the 9th of November, the small congregation under the oak tree officially became Samaria Missionary Baptist Church.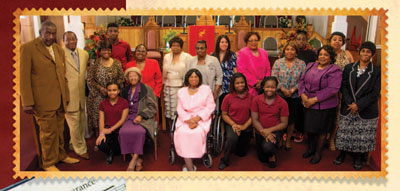 As quickly as they could, the congregation obtained the lot across the street from the oak tree and built a sanctuary. That same building, reconstructed as the result of a fire in 1915 and then remodeled many times since, stands in the same spot today on what is now Dr. Martin Luther King Jr. Boulevard. Richly historic, Samaria Church may not be the oldest in town nor is it the biggest but, after 150 years of immeasurable faith and service, this amazing church with its devoted congregation clearly ranks among the great and beautiful churches of Waxahachie.
Mattie Borders joined Samaria in 1927. At age 102, she is its oldest living member. "We continue to be blessed with wonderful teachers, preachers, doctors and just great Christian members," she smiled. Throughout 88 years of membership, Mattie has made many contributions. She has served as Sunday school teacher, first usher, secretary, president of both junior and senior missions and building fund treasurer.
Presently, she serves as church clerk. She personally recalls at least 26 pastors, each of whom brought their own impact. She's seen the church interior redesigned, the first organ purchased, the choir stand lowered, installation of folding chairs, the entrance remodeled and carpeted and the addition of a church bus. "Today, we are blessed with the leadership of the Rev. Henry and Lady Velma Wyatt," she added. "Last year, the church celebrated 150 years of service, and I believe God has a bright future for us."
Rose Mary Pitts is a fourth-generation member. Her great-grandmother was church musician, her grandmother taught Sunday school, her mother served numerous roles and her sister, while a child, was the Sunday school musician. "I joined the church during a revival," Rose Mary said. "Those not yet baptized were seated in the front pews, and our Sunday school teacher, Aunt Mattie Hill, asked each of us if we wanted to go to the devil. That night, every youth surrendered, and we were all baptized," she smiled.
Another happy memory for Rose Mary was the night of the Christmas program when brown bags with fruit, candy and nuts were given to everyone. "They called my name and then my sister's," she said. "That's when we discovered our mother had surprised us with roller skates!" At age 16, Rose Mary moved to Galveston, where she lived and worked for 32 years until her job brought her back to the Metroplex. "I returned to Samaria and coordinated the first Black History Program," she said.
That program, featuring exceptionally talented individuals, is now a highly anticipated annual event. Currently, Rose Mary is also the senior mission president and Sunday school teacher and choir member. Herbert Quaite's story began with parents who were members of Samaria. "So my brother, James, and I were sure to be members," he smiled. "My sister was special, and my parents took turns staying home with her, but we were always a family with faithful attendance. My father did minor repairs around the church, and my mother served in the choir and the junior and senior missions."
Herbert and his brother sang in the choir, one on each end because Herbert sang bass, and his brother sang tenor. "Samaria's youth choir was second to none," he said. Church elders were expected to advise and lead younger members. "I knew at an early age I wanted to become a deacon," Herbert explained. "Deacon Seth Williams took me under his wing to teach me the rules and expectations of a deacon."
After military service, Herbert moved to Dallas where he attended a church led by the former pastor of Samaria who had baptized him as a child. Ultimately, he moved back to Waxahachie. "I returned to my home church, Samaria, where I now serve as a deacon," he smiled. "My wife, Dorothy, is a youth sponsor, choir member and deaconess, and we both willingly serve wherever needed."
In July 2012, Samaria members elected the Rev. Henry Wyatt as their new pastor. "This is a humbling assignment," the Rev. Wyatt said. "Samaria is now 150 years old, and that is a long and important history. As we continue this journey, we always want to be mindful to check the rearview mirror — for without our past there is no present or future." On the weekend of November 15, 2014, Samaria celebrated its 150th anniversary. "Our First Lady Velma Wyatt envisioned a grand celebration," Mattie shared. "Samaria may be few in numbers, but we know where there is unity there is strength, and with God all things are possible."
"We planned for the whole year," First Lady Velma smiled. Through determination, and hard work, the sesquicentennial event was indeed remarkable. "This celebration was an opportunity to reach out to current, previous and potential members," she added. "Samaria Missionary Baptist Church remains constant in devotion to our faith, and it was our pleasure to invite others to join in this special occasion."
A stunning, photo-filled and historic 36-page booklet was produced in honor of the anniversary. "A Picture is Worth a Thousand Words is dedicated to current and former pastors, members and friends who have walked in faith during this 150-year journey," First Lady Velma smiled. On November 15, the festivities began with a banquet for approximately 80 attendees at the La Quinta Inn. The evening included a musical program, door prizes and special recognitions.
On Sunday, the celebration culminated at the church with the Rev. S.M. Harnsberry and the Friendship Baptist Church as special guests. "Samaria Missionary Baptist Church is sustained through common purpose, fellowship and inspired teaching," Pastor Henry said. "Our goals are to be faithful, to have a sincere heart, to preach and teach God's word and live by example, to personally connect with our roots and community and to sustain and build membership with special attention to youth."
What began 150 years ago as a small gathering of slaves under an oak tree, a congregation led in prayer by the Rev. Biggind, is today's Samaria Missionary Baptist Church. It may not be the oldest or the biggest, but in heart, faith and family, it is clearly great. "We are a work in progress, and God is not yet finished with us," Pastor Henry smiled. "We move forward with great expectation, thankful for all that God is going to do."
Written by Carolyn Wills.