MIDLOTHIAN, TX — A cool breeze drifted through the craggy slabs of granite as father and son, Cliff and Matthew Hackler, stood where only a few have dared. The 32 F temperature hardly made a difference as they looked around at the gray-plated ground they had just hiked, jutting mountain peaks and lakes that looked like polished glass. Breathtaking would be one word to describe the view from the summit of Mt. Whitney in California, the highest summit in the contiguous United States.
Mt. Whitney, with an elevation of 14,505 feet is in the Sequoia National Park, which is in the Sierra Nevada mountain range. The trail the Hacklers followed took them three days to climb with a steep elevation of 2,000 feet per day.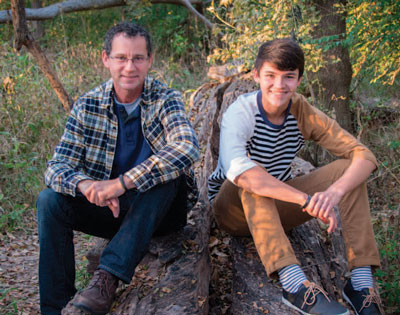 Cliff knew he wanted to climb the mountain when he saw pictures on the Internet of the area. I have to stand there, he thought. "I asked my son if he would like to go," Cliff recalled, "and I expected him to say, 'No, I'm good.' That's what he always says when I ask him about doing something," he chuckled. "But, Matthew surprised me and said he'd like to think about it. So, after he researched it on Google, he agreed to do it."
Once Matthew agreed to go, Cliff began to see it as a great way to spend time with his 16-year-old son. Before undertaking the trip, they entered into a strenuous three month long period of working out and training for the trip. "You have to train for this as if you were running in a marathon," Cliff explained. "Matthew was in better shape physically, because he was athletically active."
The odds of making it to the summit are astronomical. In order to have the privilege of hiking Mt. Whitney, all hopefuls must be chosen in a lottery. "Out of 11,000 only 4,000 would get to go," Cliff explained. "Only one out of three makes it to the summit." In Cliff's group, three of the four who started out made it to the top.
The day they began their climb the temperature was in the upper 70s. The group started at 8,000 feet and had an 11-mile climb ahead of them. "The 11 miles up there were pretty steep," Matthew exclaimed.
Every member of the group is responsible to carry items they'll need on the trail. "It was mainly clothes and food," Matthew added. "We split the tent up, so we each could take half."
"I carried 41 pounds, and Matthew carried 37 pounds," Cliff stated. "We carried MREs (Meals Ready to Eat) that weighed 1 to 2 1/2 pounds apiece." They also had to take 3 1/2 gallons of water for each person and a bear canister to hold all of the food.
As Cliff hiked, he enjoyed the beauty of the trail. "I didn't want to miss the wild flowers growing out of rocks or the meadow in between the naked granite mountains," he mused. "Mirror Lake looks like glass with the reflection of the mountain. When we got to Lone Pine Lake, I took about 15 pictures of it. They all looked alike, but I couldn't stop taking pictures because it was so beautiful."
Other sightings along the trail were the local wildlife. Cliff claimed it was a "Holiday Inn for marmots," because they were so plentiful. They were also a nuisance, because of the havoc they could cause to the hikers' gear.
The morning of the summit push was a special one for Cliff. "We were just lying in the tent talking and laughing so hard. It is a moment I'll never forget," he shared. At 3:00 a.m. with the temperature at 36 F, they began those last few miles to the summit in the dark, over harder terrain. "It was just miles of granite," he said. Before reaching the summit, they faced another difficulty. "Everyone who has climbed the trail talks about the 99 switchbacks. The trail goes 100 feet this way, the direction switches and it's 100 feet the other way. There are 99 of them on that side."
Before entering the switchbacks, Matthew experienced a moment that made him very proud of his father. "Dad said a prayer, kind of like in the movies when you see someone in authority give a speech to hype up the troops before a battle to get their spirits going," he explained. "After that, I was really ready to go and get there. At the top of the switchbacks, we saw the sun come up over the layers of mountains. It was very beautiful!"
Another point near the summit worth noting is a Smithsonian hut that is 150 years old. Everyone on the trail signs the visitor's book. "You write your name, where you are from and a saying about the whole experience," Matthew recalled. "I had no idea what to write, so I just wrote, 'Awesome Journey.' The other person with us got about a mile from the hut and realized he misspelled one of the words he wrote!"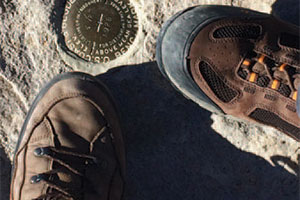 Both Matthew and Cliff laughed at the man's error. "Instead of writing 'Through Grace,' he wrote 'Threw Grace,'" Cliff grinned. "I said, 'Dude, you gotta go back! That's going to be in the Smithsonian someday!'" However, Cliff admitted it was hard to think of the perfect thing to say. He wrote, 'Yo, Adrienne, we did it!'"
By the time they made it to the summit, Matthew was beginning to get a headache from the altitude, but that didn't stop him from enjoying the view. "We could see Guitar Lake, and it really looked like a guitar," Matthew exclaimed. "From looking at postcards to realizing I was standing on that same spot was surreal for me. It was so quiet and peaceful. You can see for miles." Matthew also discovered there was Wi-Fi on the summit. He was able to call his mom and include her in the experience.
"I'm not speechless very often, but it was all I could do to keep from bawling," Cliff shared. "It's because we were there. I'd daydreamed so much about standing there with Matthew. I got to tell him about how I thought about him as a young man and things I've seen in his life. When we stood together and hugged on the summit, it summarized the whole trip for me — the whole experience at age 47 and all the things we learned about backpacking that put us on this course."
Few things in life compare to the struggle a father and son experience as they push together toward an incredibly difficult goal and see victory. After making it to the summit and standing on the highest point in the lower 48 states, Cliff and Matthew know what that feels like.
Written by Betty Tryon.