RED OAK, TX — Colbe "CJ" Noland is 12 years old, and his favorite subject at Red Oak Intermediate School is math. In his free time, he enjoys his Playstation 3 or going outside to play sports. Games are one of his main focuses in life, yet one game rises above all others. "The excitement of basketball is the best," CJ said. "I just love the sport."
His older sisters, Brittany and Sydnii, also played basketball. His father, Belvis, played basketball for Kansas State University and also played overseas. "My sisters and my dad always had a love for the sport," CJ said, adding he learned many of his early skills by imitating them. As he grew older, he played for Red Oak's city league. "When I was little, I used to play guard, which was for shorter players," CJ said. His recent growth spurt changed everything. "Now, I play center. That's usually the tallest guy on the court, which I am in most cases." He currently stands at 5 feet, 8 inches, and he wears a size 13-and-a-half  shoe.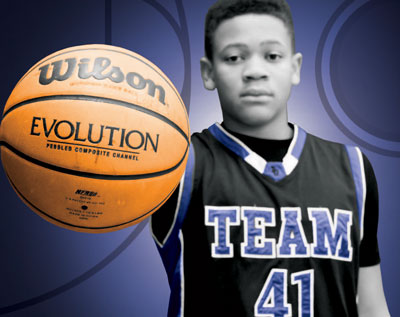 Several years ago, CJ's basketball dreams were almost cut short when he was suddenly diagnosed with Wolff–Parkinson–White syndrome, a heart defect that causes an abnormally rapid heart rate. WPW is especially devastating to athletes. CJ was first diagnosed at age 8. "I was having heart problems at recess," he said. "When I went to the doctor, they said I had WPW. I felt very sad, because I didn't want to stop playing sports." Since they noticed the symptoms early, doctors predicted a full recovery would be possible with immediate surgery. "The surgery went really well, and I didn't have any more problems," CJ said. Although he could've taken a break from sports, he knew he wanted to get back to the court as soon as possible. "I didn't want to be behind," CJ said. "It took a long time, but I did catch back up."
His long road to recovery meant slowly rebuilding his strength. "The hardest part was being scared I wasn't going to make it," CJ said, "but I trusted in God, and it worked out." He wasn't without support. Besides his family, many other people in his life helped him recover. "Most of my teachers came to see me in the hospital," CJ said. "They were glad I was OK." He also remembers his teammates, who dedicated a game to him by wearing his number and signing a ball for him.
CJ's mother, Nicole Noland, remembers his tenacity when faced with a life-threatening illness. The more she learned about WPW, the more worried she became. "I'd heard about it on the news," Nicole remembered. "Different high school players would just fall down on the field, and they wouldn't make it." Thankfully, CJ made a full recovery. "If he wasn't the type of kid he is, it would've been much more difficult," Nicole explained. "At the beginning, he couldn't walk to the mailbox and back without feeling tired. He worked really hard to get back where he is. He had to double his efforts, even when others were encouraging him to take it easy. He's just not that way."
Even before becoming sick, CJ always had a passion for encouraging others. As a young child, he would set aside some of his birthday money to buy gifts for patients at Children's Medical Center. Eventually, he became a patient there. Since then, he makes an effort to support others who are sick. "I was in the same position they are now," CJ said. "I don't want them to feel like I was feeling, like they're not going to make it. I want to give back." He also keeps an eye on his teammates and friends. "I try to watch out for other people and make sure they aren't pushing themselves too hard," CJ said. He gives this advice for those who are sick: "Don't be too scared," he said. "Believe in God and stick to it."
Despite his health problems, CJ has risen to the top of the pack in basketball. "I was really good in first grade, so I played with the third-graders." CJ was soon named to a select team, which allowed him to play more competitively. "Select is a basketball league that's higher ranked than city leagues, and they play all over the country," CJ explained. "Honestly, I like playing people who are better than me, so I can get better and learn from them, too."
CJ has won several awards while playing competitive basketball, as well as being named to the Nick Saban All-Saban Team each year he's attended University of Alabama's football camp. In June, CJ competed in the 14-year-old division as an 11-year-old, and still received honors. CJ has always had an interest in football, as well. "It's just fun," CJ said. "There's more contact."
Nicole couldn't be more proud of her son. "He's a good kid. He cares about others. He has a huge heart," she said. "Every teacher and coach he's had has said the same thing, so I have to believe it." Although Belvis loves basketball, he will support his son no matter which sport he chooses to play. "His dad said of the kids, 'I just want to make sure they play what they want to play.' So, we're not sure if he'll choose basketball or football, but we're still very supportive of him," Nicole stated. "I've accepted that he might be a pretty good athlete, but he's very humble, so I just step back, watch and monitor."
According to CJ's basketball coach, Lesley Booker, CJ has incredible potential in basketball. "The sky's the limit," Lesley said. "I know he's interested in football, as well, but if he decided to play basketball, he could definitely get a scholarship." Lesley has been CJ's coach for three years and has seen dedication and growth from him in that time, even after recovering from WPW. "Since he came back to basketball after sitting out a year, he has definitely improved," Lesley said. "He's probably one of the top 20 kids in the country." Lesley admires CJ's intelligence, his skill level and his willingness to play hard. "He's a great player and also a great student," Lesley added. "We're proud to have him."
CJ has big goals for himself, mostly involving sports. "I definitely want to be a professional athlete," he said. "If I ever get an injury or anything like that, I would want to be in sports medicine."
Written by Callie Revell.