WAXAHACHIE, TX — Brian and Heather Rose knew early on in the pregnancy that their little boy would come into the world with a birth defect. "At 14 weeks, I had my first sonogram," Heather remembered. "They found fluid on his brain. I was sent to a specialist where I had a more detailed sonogram." Heather carried him full term, giving birth at 40 weeks. "Abel may have been born with spina bifida," Heather admitted, "but the injury has definitely not slowed him down."
Spina bifida is a congenital disorder caused by the incomplete closing of the embryonic neural tube. The disorder is commonly referred to as split spine. Abel, age 3, has had his share of hospital visits and surgeries, but they only seem to fuel his desire to compete and be like other children his age. In fact, Brian and Heather decided early on that Abel would be treated like any other child without a spinal cord injury or birth defect. They also knew they wanted him to enjoy life to the fullest, so they've made it their goal to take advantage of each and every opportunity that comes their way.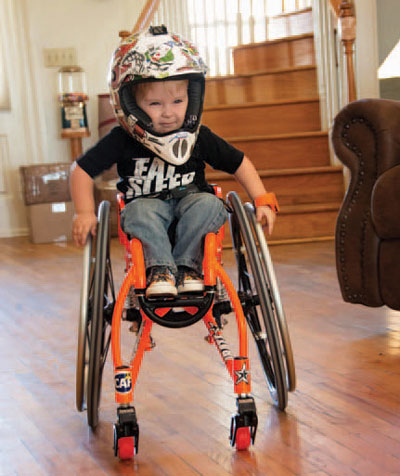 Abel came by his name in a unique way. Although Brian has always loved anything to do with motorcycles, Heather had always shied away from them. But while she was pregnant, she became addicted to Sons of Anarchy, a series based on the lives of a close-knit outlaw motorcycle club living in a fictitious town in California. "There was a boy named Abel on the show who was born prematurely," Heather explained. "He, too, was going to have struggles in life, so I knew I was going to name our son Abel after him."
As a normal, rambunctious 3-year-old, Abel is definitely proving to be able-bodied when it comes to sports, and he doesn't put limits on himself. "He tries everything. He never stops," Heather said. "He participates in at least one sport each weekend." These weekend outings involve the whole family, including Abel's sister, 7-year-old Ella.
"We give them every opportunity we can," Brian reiterated. "If Abel surfs, Ella surfs. She travels with us whenever and wherever we go. It's definitely a family affair."
Abel is finding success and victory in the sports he's participated in thus far. He learned the fundamentals of sled hockey last year. "There are two blades on each side of the bucket he sits in," Heather explained. "The blades are for balance. Hockey sticks with picks allow him to glide himself along the ice."
"I'm just a kid," Abel said with a twinkle in his eye and a smile on his face, "and hockey is my favorite sport!"
In T-ball, baseball and golf, he hits the ball like any other child, but as others run to first base or walk to the next hole, Abel rolls. Soccer is played with a larger ball than normal. The wheelchair he has for soccer is specifically designed so he can handle the ball. "The two casters on the front become his legs," Brian said. "He wheels around quickly to carry, shoot or pass the ball." He body surfs, competes in track and field events and dabbles in rugby.
One fond memory the family has of surfing includes a beach in California, a surf board and a dog named Ricochet. "She [the dog] helps kids with special needs," Heather shared. The photographs the family treasures from this outing are worth so much, but the smile on Abel's face is beyond priceless.
Abel looked at the picture and said, "I love her!"
The sport, that causes spectators to ooh and ah, is the equivalent of skateboarding, but Abel competes from a sitting position in a WCMX wheelchair designed by Mike Box of Box Wheelchairs. The chair, one of many Abel has received through the company's sponsorship, is made for the radical, abusive skate park experience. "He takes flat jumps and ramps in his wheelchair just like other kids take them on a skateboard," Heather said. "Abel just has this 'no fear' attitude toward life."
Abel grows, but his chairs don't grow with him, so new chairs are commonplace in the Rose family. "The lighter-weight, streamlined chairs allowed him to become a boy who is now able to go play as close to normal as possible," Heather added, and Brian nodded in agreement.
As time goes on, Brian and Heather are learning the world of wheelchair sports is just as competitive as any other. Sometimes it can be just as cruel, too. "Kids can be pushed in the wrong direction," Heather admitted, "but we bypass the negative and focus only on the positive." As parents, Brian and Heather demonstrate the example they want Abel and Ella to follow.
This life of extreme sports for the Rose family began when Abel, at just 18-months-old, was named the youngest sponsored wheelchair athlete ever, and it's been a whirlwind of memories since. He played T-ball for the first time at age 2. His first track and field competition was held last June in Oklahoma at the Endeavor Games. Abel received a gold medal for his age and second for qualifications. The family traveled to Utah last November so Abel could see if he might like the sport of skiing, which he did. The apparatus used for skiing is similar to the bucket with blades he uses for hockey. The only difference is the third blade at the front of the bucket. "It's used for balance," Brian stated.
Like most toddlers, Abel has started to gain the fear that comes with being a bit older, but sports remain his one passion. Brian and Heather simply want him to do all he can do for as long as he can. Abel has adapted to everyday life. He may be in a wheelchair, but handicap is not a word in his vocabulary. "He makes friends easily. He understands that rolling is running for him," Heather said. "He smiles from ear to ear most of the time. He never really has a bad day."
Abel is very much the happy-go-lucky child his parents talk about. He flirts in his boyish way with the nurses when he does have to spend time in the hospital. He jokes about what others see as a disability. He plays the drums and travels all over the country as the poster child for spinal chair injuries. Two years ago at Christmastime, he received a leather jacket from the cast and crew of Sons of Anarchy.
He's made lasting friendships he would never have made otherwise had his life turned out differently. Yes, Abel's life would have been so different if he'd been born normal, but what's normal?
Written by Sandra Strong.