CORSICANA, TX —  Growing up in the state of the famed Friday Night Lights, most high school students, especially those attending small Texas schools, play the team sports of football, basketball, volleyball, track, softball or baseball. And then there are the cheerleaders — athletes who cheer on other athletes. Some individual sports, such as swimming and diving, are UIL events also, but are usually only offered at 4-A through 6-A schools. However, Kerens ISD Athletic Director and Head Football Coach Russell Anderson didn't hesitate when freshman Alyson Womble and her mother, Niki Womble, approached him with a question. They wanted to know if Alyson could be a team of one and represent Kerens High School in UIL sanctioned swim competitions. "I told them, 'No problem, our program is built around doing what is best for kids,'" Coach Anderson recalled.
Alyson has been swimming since the age of 2 and began competitive swimming at 7. She's been working with Coach Willie Robson at the Cain Center in nearby Athens off and on for three years. The center has a 25-meter pool that enables serious swimmers to train, and it has long been Alyson's dream to win at the state level in 50-meter freestyle and butterfly swim events.
However, Coach Anderson had to admit he knew nothing about coaching swimming, and UIL requires an ISD staff person to coach the school's athletes. So, he started down the path toward earning his certification to be Kerens ISD's Head Swim Coach. It was a step-by-step process — getting the superintendent's approval and petitioning UIL and the district. Then Kerens High had to join the governing body of the Texas Interscholastic Swimming Coaches Association (TISCA). Coach Anderson found there were a few smaller schools competing — Cayuga, Cross Roads and Cushing, all of which had one or two swimmers on a team.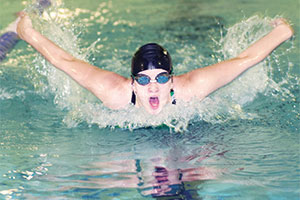 "With only about 175 students enrolled, we are a 2A, Division I team, except in swimming where we are in 16-5A, a district that covers East Texas," he explained. "Most of our meets will be in the Metroplex." An all-around athlete, Alyson is a Kerens Bobcat cheerleader, plays on the JV volleyball team and hopes to play softball in the spring. All this makes for a busy Alyson, but she still finds time to make the trips, with Niki at the wheel, three times a week to Athens to swim. Last fall after the Friday night football games, Alyson and Niki were up early to drive to swim meets. Under UIL rules, Niki acts as Alyson's facilitator. "The schedule is hard," said Niki, a working mom. "It's also expensive." The school pays the UIL fees, while Niki pays the private coaching fees in Athens and provides transportation. "But if that's what your child wants to do, then you are going to do it," Niki added.
Kerens High volleyball coach, Kristen Lynch, accommodates Alyson's schedule also, understanding that swimming comes first. "Her mother and I worked the schedule out early in the season," Coach Lynch recounted. "I wanted Alyson to be able to try both sports. In JV volleyball, Alyson plays all the way around the court. She serves, plays back row and hits outside."
The muscular strength needed for the team sports is slightly different than for swimming, but the challenge of competition is the same. Also, the endurance gained through swimming benefits Alyson on the court or diamond. "Alyson's swimming helps her in volleyball," Coach Lynch confirmed. "She has to always work hard to do her best."
For Alyson, the rewards are worth the grueling schedule. "Swimming is a sport where I compete only against myself," she related. "If I mess up, my performance doesn't affect the team. I don't mind the practices, because I can think and have time to myself, and it's a real adrenaline rush."
"Individual sports are not started and ended like team sports, so the swim season began during football and the district swim meet will be this month," Coach Anderson clarified. "I couldn't be there for Alyson during football season, but I have been on deck at her meets since football ended."
A coach for 25 years and an athletic director for 13 years, he never thought he would be coaching swimming. "This is a very unique situation, and Alyson is learning to make a commitment and follow through," he commented. "Those traits work well in school and business." Following a dream can lead a person down a lonely path, but Alyson has her own cheering squad to motivate her. "It's hard to step out and do your own thing, but the Kerens coaches have encouraged Alyson to play team sports also," Niki said.
"My aunt, Stacy Wolfe; my two brothers, Westin (10) and Eastin (4); and my mom's boyfriend, Craig McQuary, are my cheerleaders," Alyson enthused. "My little brothers have to sit through every one of my practices, too." Other swim teams and their coaches welcome Alyson to the meets. The Pine Tree HS coach stepped in and helped Alyson warm up with that team at a recent meet. "We never really know who Alyson will be competing against until we get to a meet," Niki shared. All the meets in which Alyson competes are open and feature individual events. Alyson is a team of one this year, but may not remain so. "When you start something like this, you never know where it is going to go," Coach Anderson stated. "A few years ago, parents pushed volleyball, and now it's blossomed into three teams."
Being an athletic director is a tough job, but Coach Anderson comes from a coaching family — his dad was a head coach at Kerens ISD also. "It's my job to make sure we dot all I's and cross all T's," he pointed out. "Everyone thinks that competing in sports is all about winning or losing, but that's really secondary. Our coaches care about kids first." Niki agreed. "I appreciate Coach Anderson and everyone else for not only allowing Alyson to be in competitive swim, but encouraging her," the proud mom said. "Winning state and earning a college swim scholarship are my goals," Alyson said. "I love Kerens, because people are there when I need them."
Written by Virginia Riddle.