WEATHERFORD, TX — The crowd waits anxiously for Seth Cooke to nod. He looks for just the right moment to spring the calf from its narrow chute.
The timing has to be perfect, and the barrier cannot be broken to ensure a clean ride. Rooster is pawing and stomping the ground in anticipation. He knows what to do and is fidgety and uneasy waiting for permission to burst down the arena in pursuit of the 200-pound calf. Seth has looked down the arena hundreds of times. He hopes all his practice and hard work pay off. He needs a clean ride and points to keep him near the top of the standings on the leader board.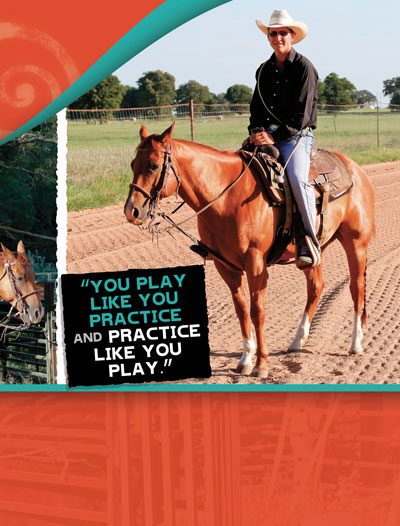 As a kid, Seth went to school in Weatherford and helped his dad on their ranch near Cool. They baled hay and bred horses. "My dad, Joe, was a vet and in the race horse business. He taught me how to shoe and produce long, tall horses for speed," Seth said. When Seth was in the eighth grade, he started roping with the Texas Junior High School Rodeo Association. "As for rodeos, Dad and I learned that together, and friends helped along the way with advice."
Joe and Seth decided the body style of a race horse was not built for calf roping or steer wrestling, which is also known as bulldogging. "We started buying horses that were short and stout with a quick start," Seth said. "There were many men who gave me pointers. I worked on how to add their suggestions to my program." One of those men was Bobby Ralls, who was involved in roping. Bobby supplied Seth with knowledge and techniques he could apply when calf roping. "A lot of young boys who are successful in rodeo owe it to their dads who competed in rodeos, too. But, I'm a veterinarian," Joe said. "My friends helped Seth get to where he is today, and he has made tremendous progress."
As a freshman in high school, Seth won first in calf roping at the Texas High School Rodeo Association (THSRA) Region III Calf Roping Championship. He won Best All-Around as a sophomore and senior in Region III and third in steer wrestling at state as a senior. "There are many good ropers with whom Seth contends over and over at rodeos. Seth's age group is tough," Joe said. "It's very competitive, but Seth keeps getting better and better." calculated by earnings, so Seth tries to make it to as many rodeos as possible. "You'd be surprised how many you can make it to in one weekend," Seth said. "There are people I see all the time who have become friends."
Marty Yates is a friend who helped Seth. "Sometimes I was on top. Sometimes he was on top. His family helped me a lot," Seth said. He would watch Marty's style and try to apply it to his competition. Bulldogging consists of chasing the steer, dropping from the horse's side, grabbing the animal's horns and wrestling it to the ground by twisting the horns. The best steers are between 450-600 pounds. "I've only torn my pectoral muscle. That is the worst I've done," Seth explained. "Steer wrestling gets kind of western sometimes. You are running your horse about 25 miles an hour, and the steer can be unpredictable. I'm lucky I haven't broken anything."
Rope Myers helped Seth during high school. Rope won the 2001 World Finals in steer wrestling. Seth gives credit to Rope for helping him achieve eighth at the National High School Finals Rodeo. Seth admits he works more on calf roping. "There is more opportunity, and we have more horses for it," Seth said. "That is my primary event." Calf roping, also known as tie-down roping, is a timed event. The rider must rope the calf around the neck, dismount from the horse, wrestle the calf to the ground and restrain it by tying three legs together.
This event originated from actual duties on a working ranch. Restraining calves was needed when branding or medications were required. Training is all about strength, speed and timing. Seth runs drills for himself, as well as his horse. "The horse has to give the calf a head start, or it is a 10-second penalty," Seth explained. "But, if the horse is too late, he has to run farther." The goal is getting out of the box swiftly every time.
Consistent practice is the only way to apply a technique. "You want that horse, while you're running down the rope, to pull the calf back toward you. The horse has to know to respond to the pressure on the saddle horn to pull until you get the calf flanked, which is terminology for throwing the calf to the ground. The horse has to know how to hold the calf still while you are tying," Seth explained. "All our horses take training, but when you have a good horse, it is better." Seth had the opportunity to help with the THSRA outreach program called Rodeo 101 Camp. The program promotes family values and provides families the chance to "try out" rodeo events in a safe environment. Seth participated when the program was in Abilene. "I taught kids how to rope and ride," he added. Seth nods. The calf is let out of the shoot. Seth spurs Rooster out of the box.
Dust is flying. Seth's movements are automatic, as he prepares to let the rope fly. When the loop hits its mark, Seth jumps off his mount. Rooster knows what to do and pulls the rope taut. Seth grapples the calf down and ties three legs with the pigging string. When the tie-down is securely on, Seth raises his hands, and the time stops. His only hope is that his time keeps him at the top. "You play like you practice and practice like you play." Seth takes this popular quote seriously.
Friends and family will be watching. His coach at Weatherford College, Johnny Emmons, will continue to guide Seth in the future and encourage his need for speed in all his rodeo events.
Written by Erin McEndree.