ENNIS, TX —  A childhood love of classic horror films brought an Ennis couple together to try their luck at making their own movies. Although they're no longer married, the pair is still one when it comes to the pastime they share. Tommy Slama, former owner of a local video and comic book shop, has nurtured a near lifelong interest in filmmaking. Writing screenplays as a kid, he focused on comedy, his first love. "The stories didn't have much of a plot, just a lot of jokes," he admitted.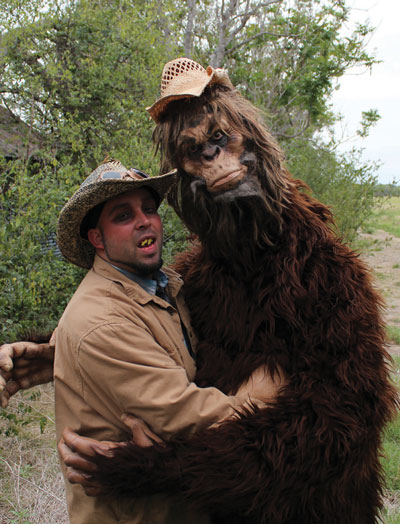 He's since been able to blend hilarity with horror in the series of independently produced films he and Haley Watson have produced. "We really dig the bad movie," Tommy laughed. "Or I should say the good bad movie. You know — goofy, campy stuff. All our movies are really only comedies with a horror theme." Tommy and Haley make no pretense at being highbrow filmmakers, but their dedication to the craft they've mastered in the indie field is evident and inspiring.
Their output may be offbeat, low-budget flicks, but that's the way they want it. So, apparently, does the segment of the movie-going public that has made a cult of B movies.
Tommy and Haley's spooky films, a trilogy that will be distributed next year by Whacked Movies, have already met with a positive reception from bloggers and other online reviewers. "But we aren't in this for money," Tommy said. "I enjoy being a storyteller. I'm not trying to be a star. I love the work itself." Haley agreed. "We really enjoy the process," she confirmed. "All that goes into the development of a project, and the ability to be hands-on throughout the production, is exciting for us." The road to success has been a challenging but fulfilling one. "I had gotten to the point where I didn't have dreams anymore," Tommy confessed of the daily grind of his job at a manufacturing plant. "But when I opened my video store, and started meeting people with similar interests, those hopes and dreams came back." The shop didn't last, but his reignited passion for filmmaking has. Armed with new contacts he'd made with musicians, actors and other talent in the Dallas/Fort Worth Metroplex, Tommy set out to learn all he could about making movies.
From photographing scenes to editing final cuts, Tommy's crash course soon bore fruit. He met writer-director Calvin Hall who had a "creature feature" script he was shopping around, and Tommy agreed to produce it. Facebook, Craig's List and TexasShortFilms.com offered avenues for rounding up potential cast and crew as well as for generating a buzz in the regional indie market. Finally, four years ago, filming began on what would be Tommy and Haley's first production, Weedwolf. While their only experience with monster movies was watching them as wide-eyed kids, the couple pulled it off with grit and gusto. The movie, about a werewolf who hides in the weeds along country roads near a town called Normal, had only a limited release, but its popularity with indie fans inspired the duo to take on another project, Alabama Sasquatch. That film "I'm not trying to be a star. I love the work itself." led to their current production, now nearing completion, of American Freak Show, a prequel to Weedwolf. With three films behind them, and all scheduled for release in 2015, Tommy and Haley have honed their skills at direction, editing and even acting. "We had no aspiration to be actors," Tommy explained. "That part we just sort of fell into, but it's been fun."
The pair is in agreement that the most satisfying aspect of their work has been the pure enjoyment they derive from the camaraderie that exists between them and their cast and crew. "We have made so many friends and now, four years later, we've all become a family," Haley pointed out. "I'm one of the few women involved in the filming, so I tend to be a mothering figure. I like that, and so do they!" Almost all the actors who appear in Tommy and Haley's movies are culled from a core of local talent hailing from Dallas, Ennis and Corsicana. Moreover, much of the location shooting has taken place in Ellis County. Although the team is now making impressive waves in the independent market, they still consider themselves to be a bunch of friends making movies on the weekend. Aside from Calvin Hall, the group consists of John Harper, Mike Cox, Steve Fernandez, A.J. and Lisa Jimerson, Jason Guerrero, Phil Tolle, E. Lee Smith, Steve Galvan and Curt Wheeler. In addition, the Justin Guthrie Band has supplied music as well as made personal appearances in the films.
Tommy and Haley are particularly proud of the stories they tell in Weedwolf, Alabama Sasquatch and American Freak Show. "I wouldn't call them 'message films,'" Haley cautioned. "But there is a moral running through them if people care to look at it that way." For one thing, the wolf in the story preys only on those who are committing crimes or leading otherwise less than noble lives. "So if you're breaking rules or not doing what you're supposed to, the wolf might get you!" she giggled. "So although we're not glorifying delinquency, we do make fun of it!" There's not much their films don't make fun of. The characters themselves are a riot. "You will see a lot of B movie stereotypes," Haley continued. "Like the old standby of lawmen who break the law. Then there's your stock character of the cool bad guy, some crazy townspeople, and we threw in a talk show host with a drinking problem!"
Haley herself portrays the matriarch of a weird family, while Tommy plays an overage, dimwit Boy Scout called Bumper, the son of the local sheriff. Tommy's favorite points in the films are a chase scene he shot and edited and a music track he selected — "Beware of the Full Moon," a song A.J. Jimerson wrote especially for Weedwolf. "We wanted a retro feel to it, and A.J. came through with a great 1980s sound," Tommy recalled. For Haley, watching actors interpret their roles has been a highpoint. "The creative process for us extends to the actors," she clarified. "They have a big say in how their character is portrayed and evolves." These filmmaking partners have many irons in the fire. Aside from a horror movie anthology, they have plans to produce a creepy satire on urban culture. "Whatever we do, it's the craft and the networking that motivate us," Haley concluded. "It's a lot of work, but it's worth it when we see people laugh at our movies. That's the payoff for us!"
Written by Randy Bigham