WAXAHACHIE, TX — James and Leanne Davis had it all figured out. Their two daughters, Tiffany and Alisha, were nearing adulthood. Tiffany had left for college at The University of Texas at Austin, and Alisha was still in high school. They downsized to a smaller house after living in a larger home for 19 years. After a few years on their own, however, they were surprised with a third child, a son named Caden. Soon, James, an employee for Holt Caterpillar, and Leanne, a real estate agent, came up with a new plan. They knew they wanted to stay in Waxahachie. "I've lived here all my life and so have my kids," Leanne said. "I like the hometown, small feeling."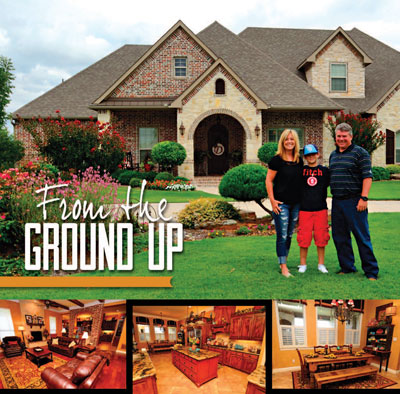 They were quickly running out of space, and their current home wasn't kid-friendly. "Caden started getting bigger, and we lived on the corner of a busy street. He didn't have any friends where we lived. There weren't any kids. So, me being in real estate, I said, 'Let's move and build a house,'" Leanne explained. She and James knew the developer of an up-and-coming neighborhood in Spring Creek Grove. "My cousins lived out here, and we thought it would be a good spot," Leanne said. "I thought it would be the new, popular place. So, we snagged up a lot and built our house." The house they built, which was completed in 2008, has four bedrooms, three full bathrooms and two half bathrooms. The floor plan was inspired by a home Leanne had seen earlier. "It was a ranch, and I loved it," Leanne said. "The minute I walked in, I thought it was gorgeous. I knew I wanted something like that."
Of course, James and Leanne made their own adjustments to suit their needs and their budget. "It was a lot bigger house, but I knew I wanted that floor plan. So, I squished it down into a smaller floor plan and built this one," she said. The final result is a one-of-a-kind home. The living room boasts gorgeous built-ins framing a big-screen TV and leads straight into the extremely spacious kitchen.
All countertops in the kitchen are dark granite. The master suite has its own corner of the house, which includes a spacious bathroom and huge walk-in closet. Upstairs, a large game room is perfect for sleepovers or entertaining friends. An unfinished room upstairs currently acts as a storage room, but James and Leanne hope to turn it into a media room or office space. At age 11, Caden finds his room especially suits him, with his own bathroom and a door that leads directly to the backyard. One of his favorite parts about his room is his baseball cap collection. One wall is completely covered with caps he has collected throughout the years. "Some of them I wore on teams," Caden said. "Some of them are just for fashion. It's kind of cool."
As a brown belt in karate, he uses another wall to display his karate belts. The home is fully customized to their needs, because they had complete control over every detail when building. "We would go see a lot of houses on the weekends," James said. "We visited dozens of houses to get what she wanted." Of course, James and Leanne weren't frivolous when building. "Knowing what you want, that's the easy part. She can tell you what she wants," James laughed. "Having the budget and having the space — that all confines it. Trying to put everything she wanted into my budget, that's where it got hard." According to Leanne, building a home is much more difficult than buying. "I would look in magazines, and I had an expandable file with pictures of everything that I wanted, right down to the light fixtures," she said. "I didn't find everything I wanted, but I got close." Although Leanne loves her home, she suggests planning very carefully before attempting to build a house. "It costs more to build, and it's very stressful," Leanne admitted. "If you're really detailed about paints, textures and things like that, it gets tough."
Despite all the hard work, they are very happy with the finished product. "Our living room and kitchen are great," Leanne said. She and James especially love the large island in the kitchen. "When we have people over, we all congregate around the island," Leanne said. She adores her huge pantry, which makes great use of the space under the stairs. She also likes having all the bedrooms on the ground floor. The Davis home is also great for entertaining. The spacious kitchen is perfect for cooking large meals. On the back patio, a TV hangs over a fireplace, surrounded by comfortable seating. "When we entertain, very few people hang out in the living room," James noted. "The girls will be in the kitchen around the island, and the guys will be outside on the patio. The fun part about building this house is hosting everybody." Comfort is a high priority for James and Leanne, and they know their house suits that purpose well. Leanne's decorating style is subtle and familiar, reflecting her desire for comfort and practicality. "It's taken a long time to furnish this house, because the house we came from was a little over 2,000-square-feet, and this one has 4,000," Leanne said. "We just didn't have the furniture to fill the house."
Settling into the house has been a slow process for them, but they feel like everything is finally coming together. "Just trying to fill it up with furniture is so expensive," she admitted. "Then there are curtains and blinds. It took us two years to get all our blinds and shutters. But we kind of just slid right in and started living. It was simple." Leanne doesn't keep many knick-knacks around and prefers minimal clutter. "I don't want to have to dust it!" she laughed. "We don't bring a lot of bling in this house," James agreed. "But look at Leanne."
He gestured to her classic, simple jewelry and understated style. "She's not over the top. She's not like that. It's comfortable and subtle." James loves the warm and inviting way his wife has decorated their home. "We have friends' houses where we walk in, and we're scared to touch anything," he said. "We want people comfortable. When they walk in, they can relax. I think that's her personality — just friendly and relaxed."
For now, James and Leanne have put down roots in their custom home, and they don't plan to leave for many years to come. "We downsized once, and then we had to go back up," Leanne stated. "We want Caden to stay out here with his friends." Meanwhile, the comforts of home are always waiting for them and their guests. "This house has a revolving door," Leanne said. "There's always someone coming in and going out."
Written by Callie revell.