RED OAK, TX — Twenty-seven years ago, Nathan Bickerstaff made a drastic career change, leaving his role as a pastor to become a police officer.
His interest in law enforcement began during an encounter with a group of officers. "I tried to be involved and touch their lives, but a lot of them responded that I hadn't walked in their shoes. That inspired me to get into law enforcement," Nathan explained. "I saw it as an opportunity to reach further out and really be there for people in crisis. There's such a need for people who care. That was my motivation. I had a desire to help officers and the community."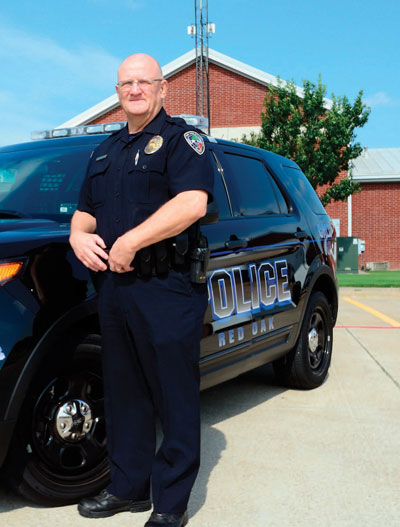 Since then, he served with departments throughout Ellis County before accepting a position with the Red Oak Police Department as a detective and crime prevention specialist. Nathan's work with the police department encompasses many different roles. As a detective, he participates in criminal investigations, but he also acts as an adult protective investigator. Nathan responds to concerns about senior citizens who need assistance and investigates fraud against the elderly. Additionally, he partners with the children's advocacy center to pursue allegations of child abuse or neglect.
As a crime prevention specialist, one of his main jobs is to educate the community on preventing crimes like burglaries, kidnappings, assaults and scams. "All officers are crime prevention officers. We don't want to be responders. We want to be preventers," Nathan said. "There are a lot of things people don't think of, like keeping your doors locked on your car or not leaving things in plain view. We try to give them information to make their world a safer place."
According to Nathan, there are many small steps citizens can take to protect themselves and their community. He makes visits to private residences and businesses to survey the property and identify vulnerable points. "Don't put bushes beside entrances and exits," he advised. "Don't create hiding places in landscaping." He also encouraged citizens to invest in proper lighting and locks around their homes and to consider surveillance equipment. He educates business owners about how to prevent internal and external theft.
He even addresses worst-case scenarios. "The active shooter is a big issue now," Nathan mentioned. "I've seen a lot of changes in thinking now since we've had active shooters enter places in this country." Overall, Nathan seeks to prevent crime to keep the community safe and help the department run smoothly. "We help citizens help us," Nathan added. As Red Oak grows, new challenges arise for the police department, and residents need to become more alert. "Crime increases as you grow and more businesses come in. Criminals think a smaller community that's growing will be full of easy targets," Nathan explained. "Red Oak still has that small-town feel, but we need to move into the mindset of being more aware of our surroundings. It's hard, because most people are used to living in a small community where they know everybody. As the town grows, you won't know everybody, and bigger businesses bring in more people."
Emerging technology has created more tools for criminals. "We've had to learn a lot about technology," Nathan said, mentioning new crimes, such as online identity theft and cyber harassment. He also warns people of the dangers of oversharing online, especially posting pictures of valuables and using a GPS signal that shows when you're away from home. There are many other ways to support crime prevention in Red Oak. "I'd like to see the community get more involved," Nathan admitted. "If the community will partner with us, we can really be effective at combating crime."
Nathan encourages all residents to be observant if they ever witness a crime, so they can pass good information on to responders, but the best thing they can do is to prevent crime in the first place. "People need to get to know their neighborhood, or at least their block, so they know if something is out of place," Nathan said. "Businesses can have meetings with their employees to teach them how to react to crime or prevent it."
Residents should also pay attention to who is with their children, including their coaches and their friends. Nathan encourages parents to be involved with their children and keep them busy to prevent them from falling in with the wrong crowd. National Night Out is another way the community can actively support crime prevention efforts. This annual event takes place the first Tuesday in October, with the intention of increasing awareness about police programs in communities, such as drug prevention, neighborhood watch and other anti-crime efforts. National Night Out began in 1984 as America's Night Out Against Crime.
The event continues to promote citizen involvement in crime prevention activities across the nation. In Red Oak, National Night Out is also a chance for citizens to get to know their police department and officers. Those who attend this event will walk away more equipped to prevent crime against themselves and their loved ones. For those interested in becoming more involved with community crime prevention, the Citizens Police Academy offers in-depth education and exposure to the police department. "The academy gives them more knowledge, and they're able to report to us more effectively, because they know what we want and what we need," Nathan said. Participants in the 12-week program must fill out an application before taking the course and becoming official volunteers with the department.
An internship experience, the Explorer Program, is designed for upstanding youth who have a desire  to have a law enforcement career. "It's vital to have citizens as our partners," he added. "They can understand us, and we can understand them. We can work together." Nathan's hard work with crime prevention was rewarded when he was named the 2013 Outstanding Crime Specialist by the Texas Crime Prevention Association, for which he currently serves as treasurer. Nathan received the award for his initiative, volunteerism and education efforts. "I was honored to receive that out of all the departments," Nathan said. "Being recognized by my peers and hearing them say I've done a good job was a very humbling experience." In the future, Nathan hopes to write a book and provide counsel to other officers, especially those struggling to balance work and family. He and his wife, Sherry, have been married for 37 years, a rare accomplishment for a police officer. "We've walked the road, and we're still married," Nathan said. "I want to help somebody else get through this, too."
In the meantime, Nathan and his fellow officers continue searching for new ways to prevent crime. "We're always trying to think outside of the box," he said. "Stay safe out there."
Written by Callie Revell.