MIDLOTHIAN, TX — Not every couple celebrating their 10th anniversary takes the kids along.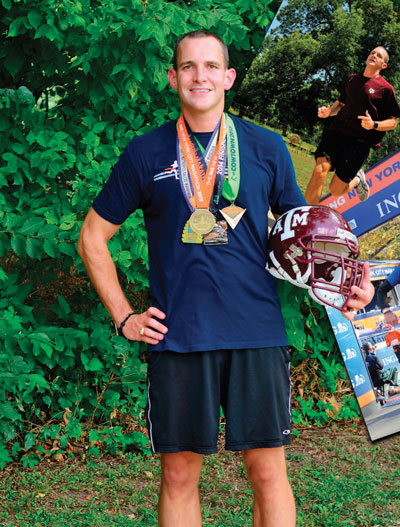 However, for Kasey Cheshier and his wife, Joy, it all made perfect sense. Kasey was reluctant at first, but Joy had a plan with a trump card. "I thought she was going to say she wanted to go to Disney World," he recalled. "So, I started thinking about how expensive it would be, and how we'd have to save up." But Joy had another angle in mind. She was interested in going to the Disney Marathon weekend, so her running-enthusiast-of-a-husband could enter the race if he wanted to.
At the mention of the word marathon, Kasey snapped to attention. Needless to say, he was all in. "She really played me," he said, laughing. Joy knows her husband well. About four years ago, Kasey became a hardcore competitive runner. Before that he weighed 320 pounds, and started thinking he should lose some of his weight. "I was big for a reason," he said, referring to his years of playing high school football. "I grew up in Duncanville and played for the team during their heyday when we won a state championship," he recalled. An All-State offensive lineman, he went to Texas A&M University where he was an offensive lineman for the 2000-2003 football seasons.
During years of working out, Kasey had built a lot of bulk on his frame, and he wanted to slim down. Especially concerned about his family history of heart problems, he took up running as a way to get in shape. "I wanted to make some changes and start living a more healthy life. I knew I needed to drop the weight, because I want to be here to spend time with my children." The little tykes he loves and who motivated his exercise regimen are 3-year-old Reid and 1-year-old Lilly. Initially, it was a struggle, but his competitive nature kept him going. Plus, he had set for himself the goal of running marathons. In 2010, he accomplished his first, running 13.1 miles in the half-marathon in Arlington. It was not easy. "I finished the first half, and I thought it was the worst thing I had ever done," he laughed. "I vowed I'd never do it again! Now I've done four full marathons in Austin, Ft. Worth, Dallas and New York."
It takes Kasey five to six months to train for a marathon. He spends most early mornings running along back roads in Midlothian. "It's God, the road and me," he shared. "If you had told me when I was as big as I was, that I would be running marathons, I would've laughed at you. Running marathons is an intense endeavor. It's not supposed to be easy. I've always been a competitive and driven person, so I was looking forward to that first competition."
He ran his first full marathon in the MetroPCS Dallas (formerly the Dallas White Rock Marathon) in December 2012. The day was warm and humid and many fellow runners were cramping because of the weather and possible dehydration. Kasey started having difficulty himself, experiencing cramping in his legs around mile 14. "With my first race, my time was terrible, but I was just trying to finish. It's a challenge, but now that I've run a few marathons, I can be more focused on getting to a certain time goal."
Kasey had always wanted to run in the New York Marathon, and in 2013 he got his chance. He applied, made it to the lottery selection and was accepted as one of 50,000 participants in the race. "I've had different sporting achievements," Kasey confessed, "but as far as a once-in-a-lifetime opportunity, it was one of the coolest sporting events I've ever been a part of. The city was so supportive with millions lining the roads to cheer on complete strangers." Kasey's starting time was 8:30 a.m., but the wave of runners he was with didn't cross the start line until an hour later. He considers the logistics of getting to the start line as nerve-racking as the race itself. He had to take a subway at 5:00 a.m. to Battery Park, and from there hop on a Staten Island ferry. Then runners were loaded on buses and taken to where the race started. At that point they walked about a mile to the start line. "Once the race starts you just soak it up and enjoy the moment and try to remember every second you are out there," he enthused. "It was amazing! I ran through all five boroughs in New York City. You get to see all the different personalities and different neighborhoods in each borough."
His experience in New York occurred after the attack on the Boston Marathon. Rather than feeling apprehensive about participating in the race, Kasey felt like he was in the safest place on earth. "They had so much security," he recalled. "I knew it would be intense. They had bomb-sniffing dogs; bags were checked; and on each ferry on the Hudson there were two heavily armed Coast Guard officers on each side. The police presence was all around the marathon."
Because of the bombing in Boston, Kasey felt even more motivated to participate in the marathon. "The roads are ours, and we shouldn't let an act of terror prevent us from doing things we love to do," he stressed. Today, Kasey feels mentally tougher because of his experience. "Never in my wildest dreams did I think I could run 26.2 miles," he said. "There were a lot of people who encouraged me and gave me tips on how I could do it. Now if I have an obstacle that comes up in my life, I feel as if I can tackle it head on. If you put the right amount of dedication and hard work into anything, you can achieve your goals. I definitely think that running a marathon helps you in that mindset, because it is so tough."
Physically, he feels the extra challenge around mile 20. It's what runners call "hitting the wall." "There's always that point in the race where something starts to ache or hurt or you are having that mental block, and for me it has always been between miles 20-22. Every race is different, but you definitely hit it at some point." Kasey gets through his races by keeping focused on the next destination. He believes the biggest obstacle to running marathons is getting started. "I encourage beginners to not focus on their time," he said. "It's important but not that important. Just get out there and finish!"
Written by Betty Tryon.