MANSFIELD, TX — Brent Candler and Bryan Atkinson haven't always been runners. They each had their own ways to stay in shape, but running wasn't high on their fitness list. So, why are these two friends now running through dangling live wires, jumping over fire and climbing up 12-foot walls? "It makes a good story.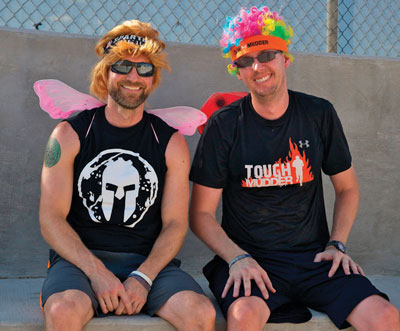 You could say, 'I ran a 5K one time,' or you could say, 'I got electrocuted one time.' People want to know more about that last one," Bryan laughed. "Not only do I like to tell good stories, I like to live them, too." By day, Brent is a water specialist for the Texas Commission on Environmental Quality, and Bryan is a marriage counselor. But, by weekend, the pair seeks exhilarating quests to quench their thirst for adventure. They are adventure runners, participating in events called the Spartan and the Tough Mudder. The Spartan is an obstacle course that challenges participants through grueling races over several miles.
The Spartan Sprint is a three-mile course; the Super, eight miles; and, the Beast, 12 miles, although many of the courses are ultimately longer. Obstacles include flipping over tires, carrying cement blocks up a tall hill, throwing a spear and more. Any uncompleted obstacle requires 30 burpees, an exercise in which participants jump as high as possible, drop into a squat position, kick feet out into a pushup position, do a pushup, return to squat position, then jump up to repeat. In December, they decided to tackle the Spartan Beast. Due to the icy conditions, initially they thought it might be canceled.
But, the organizers continued with the event, amending it to ensure participants wouldn't have to go under the water. "What they really meant was that your head wouldn't go under the water," Bryan recalled. "We still had to get in waist-deep." With freezing weather for several days before the event, Bryan has dubbed it Spartan Beast — The Antarctica Edition. And, the obstacles began well before the start line for the dynamic duo. "I don't like waiting in traffic, so we decided to take the back way to get to the race," Bryan explained. "But, when we got there, the back way didn't look too good. We tried anyway, but got only a few hundred feet and realized it wasn't a good idea. So, while we were backing up, we slipped straight into a ditch."
With mud deeper than the car tires, Bryan and Brent were stuck on a muddy county road with no way to get to the race. Thankfully, a good old boy in a double cab 4×4 noticed their plight and made his way to the stranded duo. For free and with a smile that said, "silly-city-slickers," the driver pulled their car from the ditch and onto the main road. Their troubles were far from over, however. Bryan could barely turn right, and after pulling into the parking lot and looking under the hood, he discovered a large mud clot had popped one of the car belts out of place. "By the time we got finished with the race, all of the mechanic shops had closed," Bryan shook his head and laughed. "We didn't know what we were going to do, but one very nice mechanic made a special trip and fixed it. He put the belt back on and even cleaned the car. When we asked him how much it would be, he just smiled and said, 'Don't worry about it. Merry Christmas.'"
Because climbing up walls and throwing spears isn't unique enough, Bryan and Brent wanted to create a little splash by completing the race with wigs; Bryan went with clown, and Brent elected to pair a mullet wig with a horseshoe moustache. The original plan was to also go shirtless, but with temperatures flirting near freezing, they decided to stick with the shirt. Unfortunately for Brent, however, a warm shirt didn't last too long. "I had on all of these layers, but then they got wet, and with the wind, it was making me even colder," Brent recalled. "At mile 9, we separated, and I went to the first aid tent for another shirt. Someone handed me a small T-shirt, but it felt like someone had wrapped me in a warm blanket." It's not uncommon for the friends to dress up in unusual costumes for their races. "For the Tough Mudder, we wore fairy wings and tutus," Brent laughed. "That got a lot of comments. We would pass by people wearing our outfits, and it would motivate them. They would say, 'Dude, we just got passed by fairies. Let's go!'"
The pair took nearly five hours to complete the 14-mile Spartan Beast. But their time still ranked them in the top 50 percent of runners. Brent ran the 9-and-a-half mile Spartan Super alone, ranking in the top 23 percent of runners. He completed it in two-and-a-half hours. Only four people were able to complete it in less than 90 minutes. Brent ran another Spartan (Sprint) the very next day and finished in the top 5 percent. The pair met in college at Texas A&M University and have stayed friends ever since. Married with children, the two like to involve their own children in their training. "My daughter is 4, and when we go up to bed at night, she likes to 'ride the dragon,'" Bryan said. "So, I give her a piggy back up the stairs. She's easy. But, my son, who is now 8, is a little bit harder."
Brent's two rambunctious boys usually play with their own toys while their dad runs the track, until he changes up the exercises. "Once I start doing bear crawls and crab crawls, they get into that," he shared. The adventure in these unique races is what entices Brent and Bryan. "I wanted something different," Brent shared. "I had been lifting weights in the early 2000s and got bored with pushing plates around the gym." Ever since his discovery of adventure racing, Brent has run a half-marathon, marathon, the Spartan Beast, Spartan Super, Spartan Sprint and Tough Mudder. If he had completed the three Spartan races in one calendar year, he would have completed the Spartan Trifecta. "You get this awesome medal if you win the Trifecta," he explained.
Each medal is a large magnet and when all three are put together, it forms a large circle. He's hoping to make the Trifecta this calendar year. "Running 3 miles around town can be boring. There's no adventure involved. It's in our DNA to want that adrenaline rush," Bryan said. "Life can be monotonous; whereas, 1,000 years ago, your life was in danger every single day. There's some element of adventure and danger involved in the adventure racing that we love. Plus, it just makes for a
great story."
Written by Mikaela Mathews.