MIDLOTHIAN, TX — Trapped in a body that weighed him down with 300 pounds, Chad Austin didn't want anyone to look at him. Yet he yearned to sing. Only then was he free. "I didn't want to be on stage, because I was so heavy," he shared. "But when I sang, I felt like people listened to my voice instead of paying attention to my body. I found this release, a way to channel how I was feeling through my voice."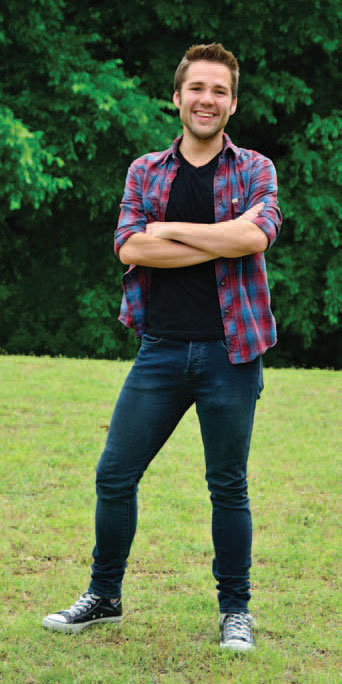 All his life, except for the last four years, Chad was overweight, and all his life he has loved to sing. Those have been the constants in his life. One would change, but the other would never falter. Chad grew up the youngest of five children and describes his upbringing as one of poverty until age 10. "My parents did the best they could, and they did an awesome job with the help of my grandparents," he recalled. Since there wasn't much money for entertainment, to pass the time Chad would sing.
"My sister and I would sing together and that was how we had our fun!" he continued. "I would sing for my family and put on shows for them. We have videos from that time but they are pretty embarrassing now." In middle school, Chad joined the choir. "Because I was too heavy for athletics, singing was the only way I could express myself," he shared. "Mrs. Patty, the choir teacher, encouraged me to enter competitions. I didn't want to, but she kept pushing. So finally I did and went to All Region as an individual act."
He won first chair in his initial competition. While in high school, he was a part of the Mobile (pronounced mo-bee-lay) singers, where participants danced and sang, and he was a member of A Cappella. Chad was accepted into A Cappella his freshman year, although it is a varsity choir. They also competed, and in his freshman year, Chad again won first chair. With his success, Chad found himself drawn more and more to singing and performing.
"I had the classic pipedream of graduating, moving and getting famous, but I realized because I was heavy, it would be a hard, hard road," he said. Chad went to Navarro after graduation, but the college did not have a choir. He felt stunted, so he enrolled in theater classes. "They found out I could sing. The teacher, Mr. Patterson, wrote some of the plays, and he started writing singing parts for me which was super neat," Chad enthused. "One part was of a singing Christmas tree in A Midsummer Night's Dream." During his time at Navarro, in October 2008, Chad started his weight-loss regime. He reached his goal in August 2009, reducing from 307 lbs. to 127 lbs. His current weight is 133 lbs.
"It has probably been the biggest thing that has happened to me in my life," he acknowledged. "It was tough going to the gym because, at my weight, people would stare. So, it took a while for me to gain momentum to really apply myself and commit, but once I did, I didn't stop." People want to know how he accomplished his inspiring weight loss, and Chad admits there is no miraculous pill. "It took lots and lots of hard work," he confessed. "There really isn't a magic answer. I would say the same thing to somebody if they asked me, 'How can you be happy?' I would tell them that it's hard work and that it's really up to them. You decide to be happy. You decide to be healthy. They go hand in hand. I had a nutrition program I went through, and I was in a nutrition boot camp."
Chad also purchased a gym membership and became an avid runner. He joined the Ft. Worth Running Club and loved it. "Losing the weight was a complete change and shifted everything for me," he pointed out. After graduating from Navarro, Chad attended The University of Texas at Arlington (UTA) and majored in demography.
When entering UTA he tried out for the choir and was accepted. However, life intervened, and he had to drop out. "My mom became ill, and I moved back home to take care of her," Chad remembered. "I was working full time and going to school full time. It became too much, and I couldn't do it even though I really wanted to." Although Chad could not commit to the strict schedule of the choir, he managed to sing elsewhere. "I would pick up gigs at bars and karaoke," he said. "They would have headliners and, because I did karaoke so much, when someone didn't show up, they would call me. That was when I realized this was a passion with me."
But Chad doesn't care about being famous anymore. "If it happens, it happens," he mused. Yet he plans to try out for American Idol this summer. "It would be an interesting experience," he added. "Even if I never make it past the first round, I could say I did that." Chad considers his most inspiring performance to be the senior year solo he performed in A Cappella choir. "The theme was Disney, and I just really didn't want to sing a Disney song," he laughed. Instead, he decided on "Breakaway" by Kelly Clarkson from the Disney movie The Princess Diaries. "I'll never forget that night," Chad reflected. "It was the coolest thing ever. Walking out on stage is a huge rush. It's like cold water hitting you in the face. You really can't see everyone, because there is this bright light shining on you. It's you and that light, stage and piano." Chad explained how he felt empowered while singing that song.
"You open up, and everything you feel and want to convey about being more than what you are now, comes pouring out of you," he recounted. "I just remember I put everything into that song." When he finished, he was greeted with a standing ovation. In fact, Chad was the only act during the event to receive that honor. "Having that moment of getting to sing, lay my heart on the line and bare my soul for others to hear, is probably one of the most amazing experiences for me," the young performer said. "I think using music to tell others how you feel is a gift from God and the greatest gift that has been given to me. Whether it's in front of an audience or just for myself, it's therapy. I wouldn't trade singing for anything in the world."
"You decide to be happy. You decide to be healthy. They go hand in hand."
Written by Betty Tryon.