WEATHERFORD, TX — Lined up with as many as 40 others, heart pumping, Josh Lippard gears up to speed off from the starting gate on his dirt bike. Dirt flies off the back tire of his Kawasaki as Josh takes off, preparing for the first turn of the track. Jump after jump, he stays focused on the race and in control of the machine, ready for what the track might have in store for him. Seven minutes later, Josh crosses the finish line ahead of his competition. This is the experience the 14-year-old has worked so hard for over the past eight years.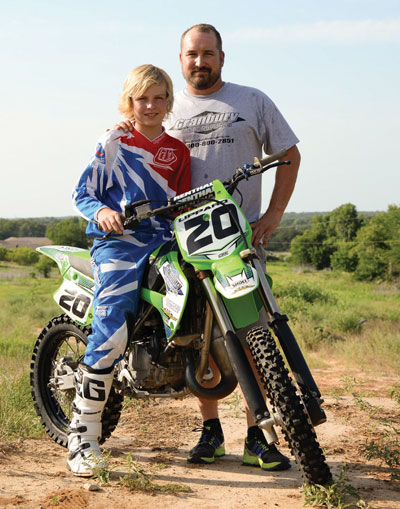 Josh was just 6 years old when his father, Chris Lippard, bought him his first dirt bike. Chris added training wheels, but those didn't last long. They were gone within a week. "I saw my brother ride without 'em, so I wanted to do it," Josh explained. A year later, Josh competed in his first race and has never looked back. "We knew from that point on he had a talent for it," Chris boasted.
Josh learned a lot about racing by watching his older brother Jake out on the track. Jake doesn't race anymore and now spends his days involved with Future Farmers of America. With a background riding dirt bikes, their father also influenced Josh and his desire to compete in Motocross. Josh races in the 12- to 15-year-old division at American Motorcycle Association-sanctioned events. Every other week, Josh travels the state to compete. Practice is also time-consuming. Josh and Chris often drive two hours one-way, three times each week to try out professional-level tracks. "In order for him to get the practice he needs to be competitive, you have to find pro-level tracks.
When you go to difficult tracks, you're prepared to race," Chris explained. Chris doesn't mind the time spent traveling for practice and competitions. The sport has become a bonding experience for the two of them. "Spending time with Dad is fun," Josh remarked. Chris is also Josh's riding coach. "I wouldn't want another coach," Josh gushed. "He's hard on me sometimes, but it's only because he knows I can do better." With three Kawasaki bikes, Josh is also grateful his father knows a thing or two about bike maintenance. Motocross racing is an expensive sport. Josh's sponsor, Granbury Motorsports Inc., helps with bike maintenance and part costs. Gear, including riding pants, a chest protector, gloves and goggles, can cost several thousand dollars. "He wears the best helmets you can buy. Knee braces, a neck brace. Every piece of gear the professional riders use, he uses," Chris said. Although it may be a pricy and time-consuming sport, Josh's family knows how important it is for him and has made sacrifices over the years. "His daddy has spent many, many hours working on his motorcycle to make sure it's ready to ride for a race or practice," said Stephanie Flechter, Josh's mother. Josh has made sacrifices, too. "Josh, on his own, often "It's amazingto win. Everything you've worked hard  to do has  helped."
Stephanie has watched Josh excel in the sport over the years. There have been moments when she was terrified to watch Josh race, but she understands both his desire to race and to win. "When he wins or does well and comes off the track sweaty, covered in dirt and pulls his helmet off, I see the pride in his eyes and the huge smile on his face. It makes all the scary moments and sacrifice worth it," she said. Races can be nerve-racking for Chris, too. They always say a prayer before Josh hits the track.
"Your adrenaline is going, but you're also nervous," Chris admitted. Although Josh is self-motivated, Chris is always there to support him in good times and bad, including the occasional crash. "When your mind wanders off from what you're doing, or you lose focus on your riding, that's when bad things can happen." Over the years, Josh has suffered several injuries. He has broken his arm and had surgery to repair stress injuries on his elbows. The tip of his ring finger was also torn off by the chain when his bike fell on him. Josh feels he has been lucky. "If you're not focused, you're going to get hurt. You can't let an injury affect you, though," Josh stated. "You can't give up." Although crashes can be expected out on the track, Josh believes you can't ride with fear. "Everything leaves your mind when you're on the bike, except what you're doing on the bike," Josh admitted. "It's just exciting and fun. You get away from everything when you're on the bike."
Most of Josh's friends are out on the track, which makes racing even more fun for him. Competitions are usually held on the weekends with two individual races or Motos. The participants compete in each Moto, and the judges take the average time to place the winners. Races are family-friendly and include plenty of food and vendors to keep attendees and participants satisfied. Tracks can vary. Some tracks have more straightaways, which allow the riders to drive faster. Others are more technical with numerous jumps incorporated into the course. Motocross riders must learn how to shift, accelerate at appropriate times and know when to stand or sit on the bike.
"It's amazing to win. Everything you've worked hard to do has helped," Josh said. He has collected more than 250 trophies over the years and dozens of plaques and medals. Josh's goal is to become a professional Motocross rider. "It wouldn't be working a day in your life. It would just be having fun every day," he remarked. Motocross takes determination, but a little talent can help advance the best to the forefront. "Some kids can just get on a bike, and they're just natural at it — just like other sports," Josh explained. "I got on a bike, and it just worked out for me." With support from his parents, Josh will continue to pursue his dream of going pro. "While it takes many people to make a rider successful — from the parents, mechanic, sponsors and trainers — ultimately it's just the boy and his bike on the track," Stephanie shared. "I tell my boys to do the things that make them happy, smile and fill their hearts' desire.
Life is too short not to do what we love, and Josh truly loves Motocross." Josh will be a freshman in Aledo this fall. "I'm not really worried about it," Josh grinned, "but there will be a lot more homework." He will continue to focus on school and his affinity for dirt bikes. "I'll never stop racing. I'll do it for the rest of my life."
Written by Amber D. Browne.