WAXAHACHIE, TX — Don and Mariyln Locke made their way to Waxahachie in 1959, but they didn't move into the home they still share today in the Chapman Addition until nearly 10 years later, in 1968. "The home took nine months to build, from start to finish," Don remembered. "The builders promised we'd be in by Thanksgiving, but we didn't actually move in until the first of March."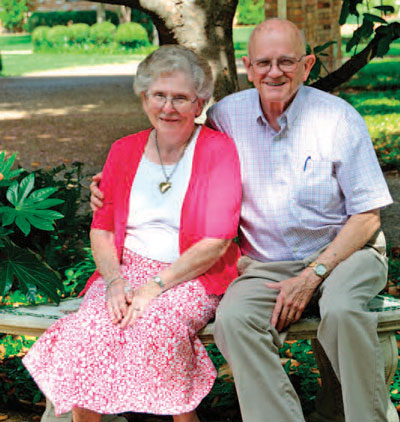 After serving two years in the Air Force, Don wanted to set up his own dental practice in a small city. He wasn't interested in the hustle and bustle Dallas had to offer, but it was a dental supply company in Dallas that pointed them to Waxahachie. "And this is as far as we got," Don said with a smile, mentioning his practice flourished for 42 years before his retirement in 2001. The custom-built, four-bedroom, two-and-a-half-bath architecturally designed home has withstood the test of time.
Not once since moving into their home have Don and Mariyln done a remodel, but they've been diligent about the maintenance. They have seen many changes in the neighborhood since 1968. "We raised our three children, Sue, Kevin and Steve, here," Mariyln said. "They used to fly kites at the end of the road in an open field where houses now stand." Cotton and corn fields were their view in the beginning, but that view has also changed to the homes that over the years have completed the addition. "But, Chapman Park still serves as a wonderful buffer to the traffic around us," she added. When designing the home, Don, Mariyln and the architect were well ahead of the times.
The list of amenities is quite lengthy. Built-in, floor-to-ceiling cabinets flank both sides of the brick fireplace. The hidden cabinetry in the kitchen has proven to be a wonderful feature for keeping countertops free of much of Mariyln's cookbook collection, as well as canisters and electrical items. "Appliances are all hidden out of view," she said. "The stove also features a gas grill that's perfect for indoor barbecuing." The bank of floor-to-ceiling windows lining the back of the home offers a gorgeous view of the oversized backyard from the living room and kitchen. Rabbits, squirrels and several species of birds find solace in the garden areas Mariyln's green thumbs have created. "I love working in the yard," she shared. "I find it to be quite relaxing."
Their newest addition is a rock garden/walkway/patio area in the backyard, which they've been designing on paper for some time. A duplicate wall of floor-to-ceiling windows is found at the front of the home adjacent to the main entry. Don and Mariyln can't help but look at one another and laugh as they remember the speculation from neighbors during the building process. "So many of them thought it was going to be an indoor pool," Don explained. "In reality, it was a rabbit pen that later turned into our greenhouse." The beauty of this enclosed, indoor greenhouse offers Don and Mariyln year-round pleasure, since they're able to bring patio plants in during the winter months. Many family heirlooms and antiques are displayed in key areas throughout the home.
The marble-top coffee table in the living room dates back to 1928. The table was given to Mariyln's parents on their wedding day. As an only child, it makes perfect sense she would have it in her home now. "The desk in the living room corner was given to my father many years ago. I believe it dates back to the late 1800s," Mariyln said. "The desk chair is really one of four dining chairs refinished with a needlepoint bottom." Old kitchen tools and utensils serve as the wall decor under the bar area.
Each item was either given to Don and Mariyln by family, or they purchased them during their travels locally and abroad. An antique display shelf from the National Biscuit Company finds its place in front of the large window. Cookbooks and McCoy pottery adorn each shelf. "I started collecting the McCoy pottery because of a family name," Mariyln shared. "I used to collect Hummel bells, plates and figurines, but I stopped adding to my collection after my mom passed." This allowed room for her mom's special pieces to be merged with her own. They are now lovingly displayed in the china cabinet in the home's formal dining room. Other noteworthy keepsakes include: a Zenith tube radio that was once Bob's television set as a boy, now in the kitchen and still operational; an antique rocker in the master bedroom which Mariyln's mom used to rock her when she was a baby; and the unique cement and mosaic bench in the front yard Don and one of his granddaughters handcrafted. The pie display case in the far corner of the living rooms holds some of the couple's prized possessions — quilts in all shapes, sizes and colors, with the oldest dating back to the 1870s. "We resurrected the pie case," Don said. "It's now a quilt cabinet with the original glass and hardware still intact."
Many of the quilts they have collected were pieced and quilted by others, but the ones that hold special meaning to them are the ones they have handcrafted themselves. "I have been quilting since 1981," Mariyln said. "Don didn't start quilting until after his 65th birthday." They have over 50 quilts in their collection. The largest and most intricate quilt Don has worked on to date is the Last Supper Quilt seen annually during the local Bethlehem Revisited event. "There are 51,816 pieces in this quilt," Don admitted. "It took me two-and-a-half years to finish it, but God wanted it done. The quilt has been to almost 400 places, including 38 states and six countries. It goes where God wants it to go."
Another of Don's masterpieces is found in the guest room. The bedroom suite first belonged to Mariyln's parents before being passed down to her as a child. Don's first attempt at embroidery is found on the amazing quilt adorning the bed. "It's the Mary Engelbreit Quilt," Don explained. "It took a year to embroider and another year to quilt." Marilyn is currently putting her expertise on a quilt that will no doubt be added to the couple's list of favorites upon its completion. "I saw a similar solid white one and decided I wanted to make one of my own," Mariyln explained. "The center is a pillow sham. I've used old white linens, a damask duvet cover, tea towels, handkerchiefs, dollies from Germany and eyelet lace purchased in Austria. The only thing new is the backing fabric."
The talent Don and Mariyln are blessed with goes well beyond measure. The union they've made and the home they've shared were stitched in love long before either one of them began the art of quilting. And theirs is stitching that will last for generations to come.
Written by Sandra Strong.