FERRIS, TX — When Mike and Pam Bartis decided to make their home in Ferris, they didn't just build a house — they built a family.
For this Ferris couple, being close to extended kin in the city where Pam grew up was an important way to ensure their own children had a support system for life. "Pam was born and raised in Ferris. I, on the other hand, have lived in several areas, the result of being the son of a salesman," Mike explained. "Settling down and being so near family all the time was a bit of an adjustment, but now I cherish it." Mike came to Dallas in 1983 from Pittsburgh, Pennsylvania, to become a police officer.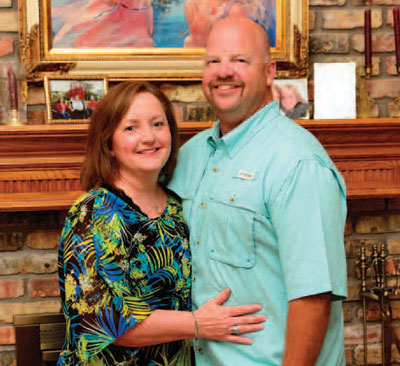 A fellow officer introduced him to Pam, whose father was a sergeant with Dallas Police Department at the time. The couple married in 1985 in the church Pam grew up in — First Baptist Church Centerpoint — where they remain active today, with Mike serving as a deacon and church treasurer. They lived briefly in Dallas, but soon agreed it was time to put down their roots. "I was used to being in the country, and Mike was nice enough to indulge me. So we began to look for land," Pam explained. "Mike wanted rolling hills and a babbling brook, but he got a pasture instead."
When Mike and Pam met with an architect in 1996, they threw at him all of the things they were looking for in a house, and this is what they ended up with. Mike served as general contractor on the home, which features four bedrooms, three baths and about 2,500 square feet of living space. "The home was completed in 1997. We did a lot of the work ourselves, with help from some family members. Pam stained the kitchen cabinets herself," Mike noted. "We both like openness, so all of our common areas have tall ceilings. We also love wood antiques, so those can be found throughout our home," Mike said.
Sitting on a beautifully landscaped 1.25-acre plot, the Bartis' home welcomes guests with dining and living areas directly off the foyer. In the entry, a special glass case houses ceramic casts of their two daughters' hands made at different stages of their lives, along with other keepsakes. The dining room features another curio holding a stuffed animal from Mike's childhood and their now-grown daughters' dolls, as well as other  special mementos. The dining table they found in Canton compliments an antique running board and stained-glass window pane hung on the wall. "Everything doesn't have  to match. We just choose things we fall in love with," Mike said.
Wood floors throughout the home tie rooms together, and antique pieces — from refinished trunks to a shovel used by Mike's grandfather in a World War II-era gunpowder factory — give the home a traditional feel. The master bedroom is a blend of antique furniture, heirloom quilts and a hand-stitched prayer from a childhood Sunday school teacher, along with other special family photos. An office showcases a large rolltop desk and other special keepsakes, which include a framed flag that was in a plane their nephew flew over Iraq during combat. Silhouettes of Pam and daughters Megan and Malorie, all traced by their respective second-grade teachers in Ferris schools adorn one wall.
Updated kitchen counters are a more recent addition, matching the outdoor cooking station that houses Mike's grill — The Big Green Egg. The home's exterior is always a work in progress, with a 1,400-square-foot stone patio and several water features out back. "This area is really special to us. We have family right next door and down the street, and the patio is where we come together for community dinners," Mike said. Pam has worked for Oncor for 12 years and loves her job. Prior to that, she worked in the telecom industry and for the Canadian Consulate in Dallas. Mike has served DPD more than 31 years in several areas — patrol, detective, fugitive apprehension and currently serves in traffic enforcement as a motorcycle officer. Their daughters, Megan and Malorie, are both nurses. Mike's latest role with DPD sparked a new hobby for the couple: motorcycle travel. "We waited until our girls were mostly grown, but now we love traveling on motorcycles — well, Mike drives, and I ride," Pam said. "We ride with a motorcycle group in Duncanville. We have been to the Hill Country several times, as well as Colorado, Georgia and Arkansas, and we look forward to more travel once we retire."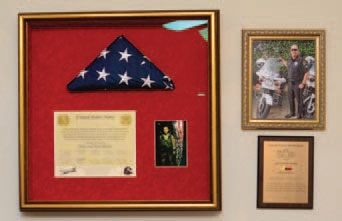 In the meantime, Pam will continue as secretary for the local cemetery board of Ferris Memorial Park, a position she has held for 20-plus years, and remain busy assisting Malorie to prepare for an October wedding. Malorie and her  future husband plan to make their  home in Ferris, and Megan is not far away in Palmer. "Family is important to us, so we live next door to Pam's sister and her husband and their two kids. We also live down the street from her mother and father's house, as well as an aunt, uncle and cousins," Mike said. A wall of family photos, particularly those featuring Pam's father while he was still alive, serves as a reminder of exactly why the Bartises decided to put down roots near so many relatives. "When my dad was diagnosed with cancer, Malorie really wanted to have photos made with the whole family. It is special to have these pictures from when Dad was still feeling well and we were all together," Pam said.
Still recovering from the family patriarch's death last November, the Bartises have found solace in one another's company. "Their grandfather's death opened their eyes to the importance of family bonds and the significance of spending time together," Mike said. "Now, no matter where their lives may lead them, I think this will always be home base — the city where they grew up and went to school. A place where everyone looked out for one another," Mike added.
And while they have an ongoing list of things to spruce up around the house, Pam and Mike are pleased with the home and family they have built. "When all is said and done, this land and this house, sure it's pretty and it's nice, but it doesn't really matter if your home is a castle or a lot less. What matters is that you build it around family," Mike said. "What matters is that you make a lot of good memories — and we have here."
Written by Angel Morris.