MIDLOTHIAN, TX — They say if you want something done right, do it yourself. Sometimes that even applies to building a home. Jeff and Shannon Thaxton have built several houses for themselves over the years, each time adding touches that give a unique style and feel.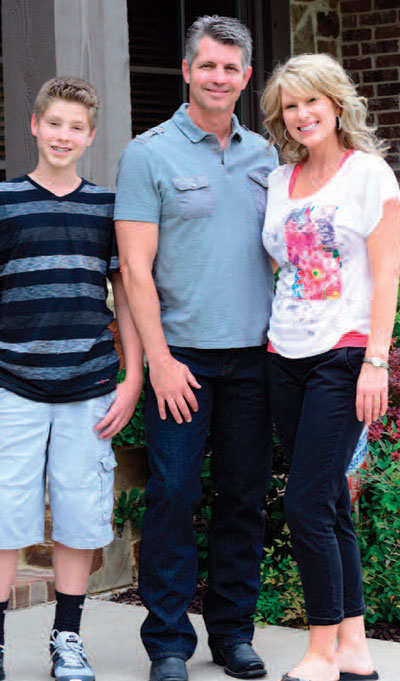 They have lived in the Coldwater Creek area for about 15 years, having built houses in the neighborhood twice. For over a decade, they have lived in a lodge-style house full of their own take on design and decor. Jeff and Shannon are both from Red Oak, but being several years apart, they didn't know each other growing up. "Our families kind of knew each other, but we didn't meet until I was in college," Shannon said. "We started dating when I was at Baylor."
Jeff also attended Baylor University, but graduated from University of North Texas. After dating for some time, Shannon transferred to Texas Woman's University to be closer to Jeff, and they were married in June 1994. They have a 13-year-old son, Jax. Early in their marriage, Jeff and Shannon lived in DeSoto and owned a health club there. Jeff ran a construction company at the same time, which was helpful when they began the first of several house builds. "We sold the health club, and I was thinking we might move to Colorado or something, but we decided to stay nearby," Jeff explained. "We built a house in Cedar Hill, but after a few years we built again in Midlothian." "We knew the area from growing up nearby, and we liked the small-town feel," Shannon added. Jeff and Shannon considered a corner lot in the neighborhood, but they decided it would be too difficult to build on a steep slope. They decided on a lot a few streets over and were happy, but after a few years, they wanted something a little different. "We wanted something a little bigger, but that wasn't it," Shannon continued. "Being builders, there were things we wanted to do, and it was easiest to start over with a new build."
In 2003, Jeff and Shannon built another home in the neighborhood, on the original lot they inspected. "We had passed it up the first time, but we liked it and had some new ideas we wanted to try out," Shannon said. The result is a beautiful house reminiscent of a ski lodge or a mountain retreat. Though they have stayed in the same house for over a decade, Jeff and Shannon have made some big changes in other parts of their lives. "When the economy went south, it gave us the push and opportunity we needed to pursue careers we both had been interested in for many years," she pointed out. "I went to school to become a nurse, and Jeff joined the Midlothian Police Department. He's been on the force for about two years now."
The spacious home impresses even from the curb, with a stepped gable whose inspiration is a typical cabin in any ski town in the Mountain region. Jeff described the unique touch. "I had a local guy build the timber framing, which is one interlocking piece with no screws," he related. "And Shannon had the idea to border the windows with timbers to enhance the feel." The front also has double-wide stone bricking in order to give it a more robust impression, as well as a custom-made front door. The entryway provides an example of one of the little features that makes the house distinctive. In the common areas throughout the home Shannon has opted for special light fixtures. "We spend our time and live in these rooms, so that's where we put a lot of the cool things," Shannon shared. Some of the fixtures have deer antlers, tying into the family room, where Jeff displays several of the trophies he has hunted. "Some people ask if I mind all of the mounts, but it works with our style," Shannon clarified.
In addition to animal mounts and oversized couches, the family room features some of Jax's artwork. Next to the family room is an expansive kitchen that flows into a large dining area. "We could have made part of the space a formal dining area, but we never ate there in our old homes," Jeff said. "We decided on more living space and a bigger kitchen nook." The massive island and large table are perfect for entertaining guests, and another little touch caps off the room. "We didn't want it to be too formal, so I had more trim specially made to give it a more casual feel," he added. The master bedroom showcases large furniture and a wall of big rustic crosses, but Shannon chose not to overdecorate the space. "We focus on the look of
the rest of the house, not our room," she admitted.
The other side of the home includes what Shannon calls a "catch-all" room. "This was Jax's room until he moved upstairs," she informed. "We had someone local paint the sceneries on the wall." Jeff and Shannon have also turned a playroom into a workout room. Jax now occupies what can only be described as his own suite upstairs. He enjoys a living room with TV and gaming center and a large bedroom with plenty of space to spare. "He plays basketball," Jeff revealed, "and is trying out for football at Frank Seale."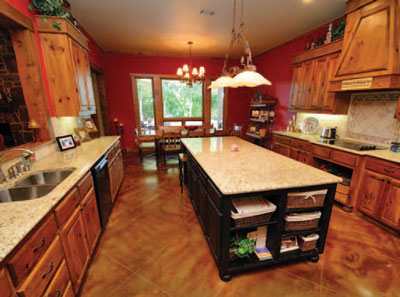 Upstairs Jeff also occupies a small space to sleep during the day when he works the night shift. The room boasts several extra closets to accommodate his hunting equipment, as well as his music gear. Jeff has played guitar for decades, and performs with the worship team at First Baptist Church in Midlothian. "I made every possible effort to make music my career, but God obviously had other plans for me," he added with a smile. The family's favorite spot is not really in the house at all. "This screened porch is where I spend as much of my time as I can," Shannon acknowledged. "I sit out here and have coffee as many mornings as possible."
The porch overlooks the backyard and swimming pool, and immense trees offer plenty of shade. The pool features a zero entry point enjoyed by many special guests. "We get birds that wade into the water at the entry," Shannon laughed. "I don't think they would use the pool if it weren't for the beach entry." Though they called several houses home in the first decade of their marriage, Jeff and Shannon are content. With a unique overall style, and a plethora of unique touches throughout, it's the perfect home at last.
Written by Zachary R. Urquhart.