ENNIS, TX — After 14 years of administrative experience, Dr. John E. Chapman III began his duties as superintendent of Ennis Independent School District last January.
With awards like Superintendent of the Year, Citizen of the Year and Gifted and Talented Administrator of the Year, no one doubts he's a great fit for the job — least of all John. "This is the district for me," he enthused. "It's a place where I can make a difference."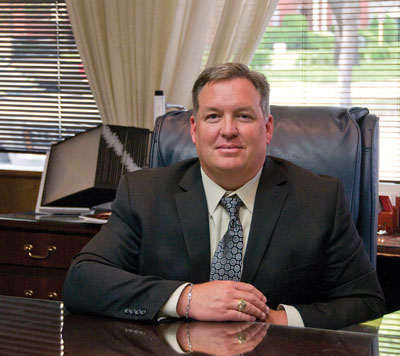 John grew up in San Antonio and has since lived in all superintendent of two other districts prior to Ennis: Chillicothe corners of Texas. He received his bachelor's degree at McMurry and Comfort. Mandi currently serves as an educational University where he met his wife, Mandi.
He started off as a diagnostician for Ennis ISD. John and their two boys, Jay and math and science teacher, coaching football, basketball, wrestling Payton, enjoy hunting and fishing together. He also owns land and baseball. He received his master's degree from Wayland across Texas and has operated a sheep farm for 18 years. Baptist University in mid-management and began working as an John attributes his devotion to education to his own high administrator.
He received his Doctor of Education degree from school mentors. "If it wasn't for my principal and football Texas Tech University in educational leadership and has served as coaches, I would not be where I am today," John said. "They saw something in me years and years ago." John's parents didn't go to college, and his family struggled to get by. "I grew up dirt poor," he shared. "We didn't have anything, not even a telephone. I had to work for everything I had."
Despite the limitations of his upbringing, John's principal and coaches believed in him. "They each took me under their wing and developed me as a young man," John recounted. "They told me, 'You've got potential. You can be something. You're going to college.'" John did end up going to college with plans to be a veterinarian, but he soon discovered a different path. "I woke up one day and I just said, 'Wow, I need to make a difference,'" he remembered. "I started subbing and fell in love with it. Of course, my high school principal and coaches said, 'Took you long enough to figure it out!'" From then on, John found joy in helping students, particularly those who were underprivileged, as he had once been.
When John began searching for a new academic home, he knew he and his family had found the right match with Ennis ISD. "One thing I believe is that I'm meant to be here," John said. "When I applied for the job, I felt good about it. The whole process felt right." One of his top priorities was finding a school district that needed his help to reach its potential. When John received the news that he'd been named superintendent, he felt affirmation and excitement. "I was ecstatic!" John admitted. "I love to go somewhere and make positive changes in the community for the kids."
The most positive change he hopes to affect is getting the district on track to high academic success. John plans to host an Opening of Schools Ceremony on August 22 to make sure the Ennis ISD faculty and staff are all on the same path to growth. "I have a one-word motto for the year," John said. He will reveal that motto at the opening ceremony. "Everything for the entire year will be based on that word to hopefully motivate everyone and give a sense of inspiration and commitment to education, to show why we're here and why we want to make a difference in kids' lives."
John also plans to network with the community as a whole through an annual event in December he calls the State of the District Address. "I'm putting together a strategic plan for the district to give everyone a vision of where to go next," John pointed out. Another one of John's priorities centers on technology. He understands students need exposure to the newest technological advancements to be successful. He hopes the district can become a "Google District" through the distribution of Chromebooks and the utilization of Google Apps for Education.
He also supports the introduction of Apple MacBooks for juniors and seniors. "When our kids leave, we want them to have a vast knowledge of the different forms of technology out there," John said. "We want to give them that diversity, so when they go to college, a trade school or enter the workforce, they've had different technology devices. They'll understand how they work, so it won't be a learning curve for them." John believes students exposed to new technologies have a greater chance for success in a workforce that depends on it. So far, as EISD's new superintendent, John's transition has been as smooth as can be expected. "It's always tricky coming into a new situation and looking from the outside in with ideas and changes," John confessed. "I try not to come in as a change agent, but to collaborate with the people who are already here. It's important to make sure your administration and teachers have the same ownership, for them to buy in. I want to get everyone's input."
Overall, John's transition experience has been positive. "It's been wonderful," John said. "This is, by far, the most welcoming district I've ever been in. Every time I come into a new system, there has been a little resistance, but this has been so nice. I left a wonderful place, and I'm coming into a wonderful place. It's been great — not just for me, but for my family as well." John believes parent and community involvement is crucial to the district's prosperity. "When we say we want parent involvement, we truly mean it," he said. "Let's support each other and shine a light on the great things. Are we perfect? Never. We're all humans, but we can always be moral, ethical, honest and loyal to EISD."
He knows an effective school district is one that reflects a thriving community. "I hope as a whole we can make those mindset changes that won't help one or two kids, but thousands of kids," John affirmed. "If we can all continue to promote and support Ennis ISD, we're going to do great things."
Written by Callie Revell.