CORSICANA, TX — Winning games is the charge that coaches receive from schools — especially in Texas where sports are held dear, especially football.
Navarro College has a history of success on the gridiron, but when Head Coach Brian Mayper came to Navarro College to lead the Bulldog football team two years ago, he brought the Fellowship of Christian Athletes program with him. "FCA changes the dynamics, the inner workings of the team," Coach Mayper said. "The program teaches each member player to be a better person. Everyone on campus says participation in FCA has made a difference in our athletes."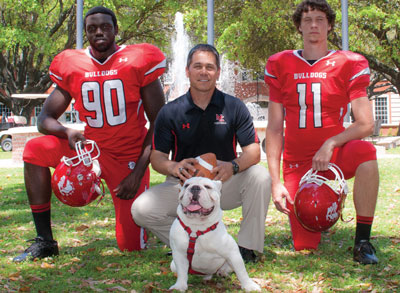 Quarterback Carson Earp and defensive lineman Desmond Owino played, trained and studied hard throughout last year and are returning to lead the team this year as sophomores. Off season was spent by all the athletes in running and lifting weights. "We are doing whatever we can to get better," Carson confirmed. But for these two members of FCA, volunteerism and attending group meetings also became important. Carson volunteered at a summer church camp in Crockett, and Desmond volunteered at Corsicana's Texas Youth Commission.
At the invitation of Dr. Richard Sanchez, then president of Navarro College, Carson went to Austin to lobby for the continuance of the program in Corsicana. Both young men have been involved with the team's efforts to build a Habitat for Humanity home. Team members have helped as volunteers at Fannin Elementary School in CISD and they helped with set up for the spring Youth Expo this year. "It's special, just to be able to give back to other people," Desmond said. "We would like to get these athletes even more involved as community volunteers," Coach Mayper added.
The FCA meetings are held on Monday nights during football season. Coach Mayper arranges for speakers and opens the meetings to the Navarro College family. The gatherings are encouraging and inspirational. "It's a chance to refocus and be reminded of what's really important in life," Carson said. "When my mom and dad are not around and I have to make decisions, FCA helps to keep me out of trouble and builds character. It helps us in focusing on and off the field."
The son of a coach, Carson grew up around football. His parents live in Robinson, Texas, where his dad is still a coach, but Carson didn't start seriously playing the game until seventh grade. Carson played for three different high schools during his career, and found Navarro College attractive since it was close to home. He also felt he could trust the coaches. Desmond, on the other hand, grew up in Kenya where he played soccer, rugby and a little basketball. His mother brought him to North Carolina to attend high school and to ultimately attend a college prep school. "I work to get in shape and to get to know the game, because I'm new to football," Desmond revealed.
His mother, her job accomplished, has returned to Kenya. The advice Desmond gives to younger students is solid: "Stay focused and do well in school. Take care of school first." Academic success definitely comes first for these athletes. "The bar is set high," Coach Mayper affirmed. "To go to a D1 school, a 2.5 GPA is required. They have to be on time to class, attentive and participate in tutorials and study hall." Last season, the Bulldogs celebrated many wins. The sweetest victory came against Tyler Junior College. "We lost to Tyler in regular season but beat them in the first playoff game," Carson remembered. That game was also his first start experience with the team.
The worst of times came when the team lost the conference game. "When we lose, we try to figure out if it was due to a lack of preparation, the coaches' calls or if we just didn't respond quickly," Coach Mayper observed. "The players have to be prepared to make their decisions on the field. Mistakes can be made, but the goal of every offensive play is to score. However, we also want the players to be winners in life, not just to win games. We only have them for two years and have a short time to develop leadership. So we find students who are natural leaders. We just help them keep their ultimate goals in place." Coach Mayper believes the impact of coaches equals that of parents. "So we present the Gospel to students," he added. "If we don't do that, we are failing."
Coach Mayper was reared Jewish. In football he "practiced a whole bunch behind an All-American punter and great receivers" while at Sam Houston State University. It was at Southern Arkansas University that he accepted Christ in 1995. While coaching at Howard Payne University, Coach Mayper became involved in FCA. "I was on fire," he recounted. "God wanted me there, and I truly believe God placed me at Navarro College when he did. I just have to keep listening."
Receiving Coach of the Year honors from the Southwest Junior College Football Conference after his first season with the Bulldogs was recently topped by being awarded the FCA Coach of the Year after the 2013 season. "The conference award was great, but the FCA Award was special, because it showed we had started changing the culture of athletes," Coach Mayper clarified. "These guys come with big egos. This program gives them humbleness. Through the service leadership that Christ wants from us, they start seeing how blessed they are as athletes."
After a day of being with his all-male team, Coach Mayper goes home to his wife, Theresa, and daughters Myka, who is 13 years old and a cheerleader at Collins Middle School, and 10-year-old Mia, who attends Bowie Elementary and plays tennis and the piano. Even the family's Golden Retriever and cat are female! The Mayper family loves to vacation together, especially on cruises. "You see the world without having to unpack and repack," Coach Mayper said. "And I stay active by jogging five times a week."
Recruiting students with character is the goal of FCA. Self-motivation, a desire to be successful and handling life's situations successfully are equally important traits the organization looks for in members, as they help student athletes pursue their dreams.
Written by Virginia Riddle.