WAXAHACHIE, TX — A fifth-grader at Felty Elementary, Alyson Moore enjoys playing soccer year-round and basketball in the winter. However, every year from January through August, 5K races, summer track and Junior Olympics command her attention.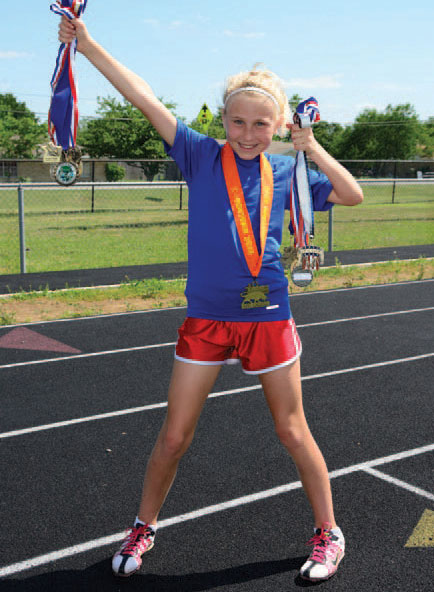 Her bright blonde hair makes her stand out in a crowd, but her speed makes her unforgettable. "I think I was 5 when I started running," Alyson said. "My first race wasn't very competitive. It was just two laps around — maybe 800 meters. My brother was doing it, so I decided to do it, too. I ended up winning first place. That was really cool. It was also funny because it was around a football field, and my dad was in the middle. Right before the finish line, I stopped to tie my shoe. I stopped in the middle of the race! I said, 'I need to tie my shoe!' and my dad said, 'No, don't stop, just go!' So, then I went and finished. After that, I just kept running."
Now, at 10 years old, Alyson mainly runs 1,500-meter races and competes in several 5Ks each year. She also does long jump at track and field competitions. She remembers first trying long jump at an event through the YMCA. "All the kids at the sports complex that day tried long jump, and I really liked it and kept doing it," she said. "I ended up being pretty good at it." Alyson has since participated in many competitive races and excelled in each one. On February 22, Alyson placed first in her age group in the Donut Dash in Dallas.
"I was really proud of the Donut Dash, because that was my favorite race," Alyson said. Last March, she ran the Cook Children's 5K in Fort Worth, the largest youth 5K in the state, with 5,300 participants in the race up to age 17 and almost 700 in Alyson's age group. She was the ninth female to finish the race, and the winner of her age group. "A lot of people were there," Alyson said. "I ran 23 flat — our goal for the year, until I ran the Donut Dash and went way past that at 21:45."
Most of her traditional track and field competitions take place through the Amateur Athletic Union, which hosts the Junior Olympic Games each year. "I was really excited when at a qualifier meet for the AAU I ran a 6:09 for the 1,500-meter," Alyson said. That year, 2012, she qualified for the national competition in Houston. She has steadily improved each year, both in running and in the long jump. Last year, she dropped her time in the 1,500-meter race by 22 seconds to 5:47 and raised her long jump by 2 feet 2 inches to 12 feet 8 inches. Alyson loves running, because it gives her self-confidence. "It's really fun, especially at the end knowing I've accomplished something, and I've won a medal," she said.
"I like the competitiveness of it and the pride you feel when you win something." Alyson also uses her races as motivation to improve herself. "Even if I don't win, I still like to go back to try to win or try to beat my time. I don't run against the same people every time, but when it's the same people, I try to beat them and beat my own time." Overall, Alyson finds her sport very rewarding. "Winning makes me want to keep doing it," she said. However, those rewards don't come without hard work on Alyson's part. She runs two to three days a week with friends in parks and neighborhoods in the area. Consistent training helps keep her focused and in shape. "We usually run 3.5 to 4 miles," Alyson said.
"When I run by myself, I run 4 to 4.5 miles." Alyson's father, Jeff Moore, ran track in college and acts as her main trainer. Jeff indicated some people are uneducated on the benefits of youth running, and many think that it's not good to begin training so young. However, Jeff makes sure Alyson focuses on base building, which means she puts in large amounts of miles at a low impact pace, keeping her heart rate between 120 and 150. She never runs lactic acid-burning sprints, which are very bad for distance runners her age.
Her training helps her prepare for her 5K season every spring. Alyson likes running 5Ks and looks forward to them each year. "That's probably my favorite distance to run because it's longer, and I just like it better than the shorter distances," Alyson said. "I think I'm more competitive in the longer races." During a 5K, Alyson follows pacing strategies that help her keep an optimum amount of energy until she reaches the finish line. "At 5Ks without a clock, I use my watch. I check every mile to see how fast I'm going, and that's how I keep my pace," Alyson explained. Her 5K runs in the spring keep her in shape for summer track season, but her strategy remains the same. "During track meets where they have a clock, I set splits and check it every lap to see if I'm on pace," Alyson said, referencing the way she paces her distances. For her, the hardest part of a race isn't the training, but the race itself.
"It's probably the end of the race that's the hardest, especially in 5Ks and 1,500s when you have to speed up at 350 meters and sprint those," Alyson said. "I'm pretty good at it, but that's still the hardest part." Alyson has seen firsthand the way running can boost confidence and improve self-image. She encourages all of her peers to try running, even if they don't think they're very good at it. "At first, I would just tell them to try their best and have fun," Alyson said. "If they were really good, I would encourage them to do some of the things I do, like check for splits and keep training." Even though she hasn't even entered junior high school yet, Alyson has big goals for her track and field career. "I definitely want to join cross country and their track team," Alyson said, adding that she plans to continue running throughout junior high and high school.
Next year, she will begin running 3,000-meter races and wants to jump at least 13 feet 6 inches in the long jump. After high school, one big goal remains clear. "I know I want to go to the Olympics," Alyson said enthusiastically. At this pace, it appears as if nothing can stop her.
Written by Callie Revell.