RED OAK, TX — Sarah Stallings, a fifth-grader at Red Oak Intermediate School, loves ice skating, Legos and playing with her dog, Brutus. At first glance, her bedroom could belong to any 10-year-old girl. Bright decorations cover the walls, matching equally bright colors on the bedspread. The nook by the window, however, shows what sets her apart: around 45 trophies, 30 medals and 25 plaques adorn the walls and floor. As a statewide karate champion, Sarah spends most of her free time working toward her black belt and strengthening her skills.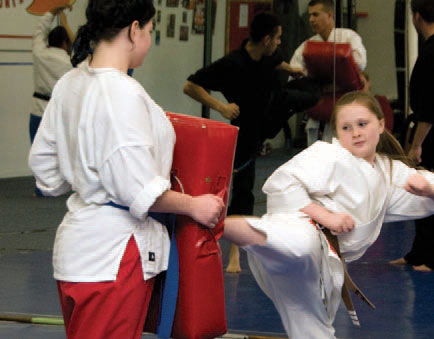 Sarah started out sampling other sports like soccer, softball and cheerleading before expressing an interest in karate. She began learning the fundamentals of karate in 2011 at a Red Oak dojo. She signed up for a month and ended up loving the activity more than any other she'd tried. After two years, Sarah was invited to become part of Team Elite, a competition team hosted and sponsored by a dojo in Duncanville. "It was a hard choice, but I really wanted to be on the Duncanville Team Elite," Sarah said. Much of Sarah's success is owed to her outstanding senseis, or teachers.
Anthony Hare taught Sarah the foundational katas (sets of punches and kicks), and she has learned a lot from George Trevino, Jr., both in a group setting and in private karate lessons. She has also been taught by Grand Master William Shelton, who has helped to hone her kata and sparring skills. Erik Weideman is a sparring (fighting) coach, who has taught Sarah to anticipate and react to an opponent's moves. "There are lots of other great instructors who help me, too," Sarah added.
Participating in karate as a serious competitor requires Sarah to devote hours of practice and patience. "On weekdays I go to karate class for up to three hours a day," Sarah said, noting that she practices every day after school without fail. She usually attends between eight and 11 classes per week. She doesn't take time off on the weekends, either. "Most of the weekends are competitions, but on Saturdays we sometimes have little classes that take two hours," she said, adding that extra time with her instructors helps her develop special skills.
The structure of karate operates on a belt system. Beginners start with a white belt and can advance through colors like orange, green, purple, blue and red before arriving at brown, an advanced level, and black, the most advanced color (hence the popular term black belt). "With every belt you have to learn something new," Sarah explained. "You start out from white and learn certain things. If you don't know it, you don't get to test for your next belt." A panel of eight to 12 black belt judges determine whether a student is fit to advance to the next belt level.
When students reach their brown belts, the levels are called gups, and when they reach their black belts, levels are known as dans. There are 10 dans (commonly called degrees) for a black belt. Sarah is currently a third gup brown belt. "I had to spar 12 times for third gup," Sarah admitted. She has three more tests to go before obtaining her black belt. So far, all her hard work has paid off. "I've won medals, plaques, trophies and a ring," Sarah enthused, referring to the championship ring she won in Galveston in November 2013 as the Texas Karate Organization's State Sparring Champion.
She also won second place in Specialty Forms (weapons and music) and third place in Traditional Kata. She won three first place titles in Sparring, Specialty and Traditional Kata in the Texas Winter Games sponsored by the Texas Athletic Association. Sarah participates in numerous competitions across the state, including events with the Amateur Organization of Karate. In order to go to the state level with AOK, Sarah must place in the top five in her region. In 2013, she finished in the top five in the state for kata and sparring in both the North Division and Central Division. Practicing karate has brought out the best in Sarah's character and has taught her determination, sportsmanship and discipline.
"My favorite part of karate is going to competitions and judging belt tests," Sarah observed. When she first started, she was afraid of being hit too hard and would get upset. "Now, I've learned not to cry and to always be nice to other people," she pointed out. "The hardest part is learning the new kicks. It takes me up to two months to learn a new kata." To Sarah, there are countless benefits to practicing karate. "It would help you if someone tried to hurt you, and you would know how to defend yourself. Karate is only used for self-defense," she explained. Besides self-defense, karate is also a great way to exercise and stay healthy. The sport teaches self-respect and confidence.
"Sometimes I am shy, and karate helps me to stand out in crowds," Sarah added. As Sarah's dojo requires their students to earn A's and B's in school to participate, karate also provides academic motivation. Not only that, but the talented youth has made dozens of new friends through her dojos and competitions. "My karate friends and I encourage each other to keep working harder to earn higher belts," she said. "Lots of my friends are already black belts, and I really want to be a black belt, too." Sarah has grand goals for her karate career. "I want to become a Grand Master Black Belt," she declared. "It's the highest rank that you can achieve. It takes years to get your first dan, and it can take a year or more to get to second dan, and it goes all the way up."
Sarah plans on karate being a huge part of her life. As long as her grades remain high and she gets enough rest to be healthy, she hopes to continue pursuing her karate ambitions. "I want to have my own karate dojo when I turn 18 and get into college," Sarah mused, adding she wants to share her love for karate by teaching others. "I want karate to inspire them like it does me."
Written by Callie Revell.