ENNIS, TX — Artsy-crafty is one word that describes Terri Bowling to a tee. When it comes to art, she loves to create anything from works on canvas and custom-made crosses to reclaimed wood signs. Her artistic abilities may not be the product of classical training, but for her needs, the self-taught skills she possesses in abundance serve her just fine.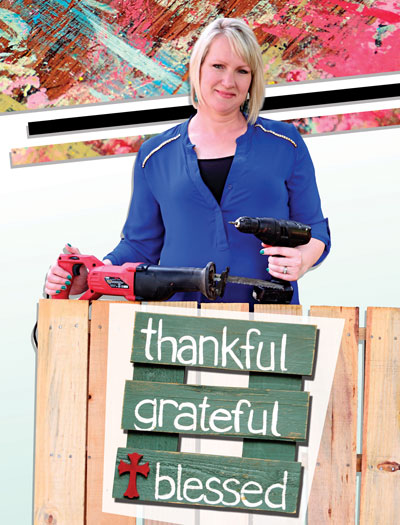 In fact, her talents stem from a long line of familial craftiness and creativity. Terri credits her mother, Glenda, and grandmother, Maxine, for instilling in her at an early age the significance of artistic creation. Maxine avidly crocheted, making afghans and other items for family and friends throughout her life. Glenda, on the other hand, demonstrated her personal flair by making and selling floral arrangements. Terri is grateful for the artsy streak she inherited, and she sees it as a profound blessing. "I consider my artistic ability to be a gift from God," Terri admitted. "It's my way of celebrating and praising Him." Aside from art, Terri's life focuses on family.
Terri places her children's needs first and manages to find time between shuttling them around, making meals and doing laundry, to get messy with her paint and power tools. All her work takes place at her kitchen table, covered in an assortment of paint marks and nicks from her tools. As the heart of a home is typically the kitchen, so the kitchen table is the heart of Terri's work, symbolizing the love of family that has inspired her creative bent. Just as Terri dedicates herself to her husband, Matt, and six children, she devotes herself to art.
"For me, art is freedom," she explained. "It's a release for me. It's like therapy." Terri's intrinsic affinity for all things creative was discovered at a young age. In the fifth grade, she was given an art assignment requiring her to write her name in bubble letters and then add drawings and representations of herself inside each letter. Her work brought praise from her classmates who asked her to draw their names. It was this simple yet self-reflective project that started it all for Terri. At once she realized she had a real knack for expressing herself in a unique way. That first drawing sparked an interest that Terri kindled with care until it grew into a flame. She dabbled more in sketching, which eventually yielded to painting.
In turn, painting led to the constructing and repurposing that defines her current work. This is where Terri's love for antiques and other vintage finds blossomed. "I have always been able to see the beauty in things other people consider trash or broken," she explained. Terri has lived in a few older homes, which provided her with great inspiration. When she and Matt moved to Ennis from Waxahachie, they purchased a quaint, old house. They fell in love with its historic charm and character. "The first house we bought 13 years ago was a big inspiration for me," she recalled. "I just like to take old things and make them pretty again. I've always been good at being able to see hidden beauty."
Over the years, Terri reared her family and renovated her home, enjoying both to the hilt. She made special paintings on canvas for her children's rooms and repurposed old, junk furniture to fill other rooms of the house. She discovered the joy of constructing and decorating for "I like to take old things and make them pretty again." herself, but also for others. Friends and family would admire the furniture and accessories she made for her own home and ask Terri to make similar pieces for them. Six years ago, Terri decided to take a more serious approach to her work and turned her hobby into a small business. The childhood spark had ignited a creative fire.
By now, Terri had perfected her passion. Initially, Terri designed custom-made crosses for friends. She would use pieces of old broken jewelry, vintage-printed fabric and other unique bobbles to customize each one. These features allowed Terri to express her individual aesthetic, as well as personalize her work for the recipient. And it wasn't just the design Terri crafted, she made the cross, as well. "I actually cut my first several crosses, which were very crude," she confessed.
"Eventually, I discovered the world of precut crosses. That made a big difference for me." To honor the memory of her grandmother, Terri made a cross for her mother, using some of her grandmother's jewelry, crochet needles and even her eyeglasses to capture the essence of the woman they both loved so dearly. When Glenda passed in 2012, Terri brought that special cross to her own home where it now hangs in the living room.
To honor the memory of her mother, Terri plans to craft another cross to accurately embody her mother. "I'd also like to make a cross for each of my siblings," she added. Ultimately, it's her big family that provides Terri with the solid foundation, support and inspiration to express herself through art. "In the past few years I have discovered that art is my passion," Terri reflected, "and that it's really tied to my life's purpose. I feel this is part of what I was created for. So it's divinely orchestrated."
Over the years, her work has evolved as she explored new techniques and media. From crude beginnings, her work has grown to encompass one-of-a-kind furniture and reclaimed wood signs. Terri's evocative style is firmly rooted in her faith, as most of her current work is composed of handcrafted signs featuring meaningful biblical passages.
Each piece is different, yet conveys the same ultimate message — "Through God, all things are possible." Many of Terri's signs are made from weathered pallet wood, which she spends time refining and prepping. First, she dismantles the pallets and sands them down to make sure there aren't any rough spots. Next, she picks the color scheme and Scripture that will adorn the piece. The final product is a colorful, poignant item of decor. "Art means different things to different people," Terri observed. "For me, it's anything that brings beauty and hope to the world." And at the end of the day, when she sits down to work on a piece of art, that's exactly what she's doing.
With love she's unveiling beauty while sharing her own dreams and vision.
Written by Sara Edgell.