CORSICANA, TX — Born in Germany and reared as a U.S. Army "brat," Bill never lived close to Texas as a child, but visited family members in the Lone Star State. Attending 10 schools in 14 years, including four high schools in four years, Bill and his siblings grew up without having a hometown. But they had the advantage of experiencing life in many parts of the world. "I have a spirit of adventure and caught the travel bug early," Bill confessed. In fact, he has lived on five continents. "I've gotten to experience cultures and people by living in different places," he said.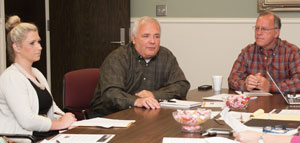 After graduating from Alamo Heights High School in San Antonio, while his dad was stationed overseas, Bill attended Texas A&M University in College Station. "I majored in the Corps," he said. His parents were stationed in India during those years. He learned financial responsibility since it took weeks for mail, with another check enclosed, to reach him. His travels "home" for the holidays were always exciting. "We even celebrated Christmas in the Himalayas once," Bill remembered.
After graduating from A&M, Bill began his military career of 23 years. "Half of that time, I was single and willing and able to move," Bill explained. He enrolled in graduate school, through the Army, at Johns Hopkins University's School of Advanced International Studies, with a focus on Latin American studies. Bill attended this Washington, D.C., graduate school with fellow students working in government, international business and global finance. "It was a really interesting mix of people," he said. Bill also has attended the University of Oklahoma's Economic Development Institute.
As an Army captain, Bill spent two years in Rio de Janeiro, Brazil, where he became proficient in speaking, reading and writing Portuguese. Another interesting post for Bill came when he served on General Norman Schwarzkopf 's staff during Desert Storm. He retired from military service at the rank of lieutenant colonel.
"My mom taught us that when you meet someone new, focus on what you have in common," Bill related. "Then branch out from there and embrace your differences." That advice works anywhere, he maintained. Not a day goes by that he doesn't find someone with whom he has something in common. "Since I've lived all over," Bill reflected, "I constantly encounter people who have been at the same place, often at the same time."
Linda, Bill's wife, joined him for some of the 21 moves that he made while in the Army. As one of 14 children who grew up on a Missouri family farm, the Army life was quite a change for her, as was having children born in Italy and Florida. Bill and Linda moved their family to Nacogdoches where Bill was an economic developer before coming to Corsicana. The couple has two sons, Tim and Ben, who are soon to graduate from Stephen F. Austin State University and a daughter, Maggie, who just graduated from high school in Nacogdoches and will attend Texas A&M this fall. "She will be Maggie, the Aggie," Bill quipped proudly.
An apartment in Corsicana is Bill's home during weekdays, but he travels to Nacogdoches for weekends to be with his family. A move wasn't practical when there were so many graduating seniors in the family last year! Linda works part-time at Glass Castles, a stained glass studio and shop, where Bill joins her on Saturdays.
"We enjoy creating in stained glass," Bill shared. "It's therapeutic." A career in publishing for 15 years as a magazine editor and writer also gave Bill an outlet for creativity, as well as a chance to gain experience in the private sector. "I was helping businesses evaluate communities," Bill said. Getting to know people in Corsicana and Navarro County has been an enjoyable experience for Bill. "Everyone has been so welcoming," he enthused. "With its proximity to the Dallas/Ft. Worth Metroplex, Corsicana is an easy place to attract businesses. Hardly a day goes by that I don't hear from at least one real estate broker looking for property for a commercial client. Most want to go into existing facilities, since time to market is important."
Another plus for Corsicana and the surrounding area is Navarro College. "Compared to universities, colleges are nimble and flexible," he pointed out, adding that their mission is adult education, vocational training, supporting local businesses and economic development. In his estimation, Navarro College performs that mission well." "The country has been experiencing tepid growth, with lots of pent-up demand," Bill related. "Once the national economy picks up, I project a steady march south down Interstates 45 and 35 from the Metroplex will begin in earnest.
Expansion can't go much farther north and still remain in Texas!" Taking care of current businesses is also a top priority. "We have to help our existing businesses and industries. If there's a problem locally, we need to help fix it." Corsicana has a great downtown history that Bill is in favor of supporting. "We have an obligation to protect those buildings and help the investors who are transforming them for new uses," he said. "It's not cheap or easy to renovate historic buildings. We have investors who have vision and are willing to invest in their dreams and become part of Corsicana's legacy to future generations." According to Bill, not many communities of this size have that cadre of people.
"Most importantly," Bill emphasized, "we need to believe in the future and have a positive attitude that will be contagious. Strangers and newcomers pick up on a negative community attitude in a heartbeat — that's death in my business." He is a self-described "glass-half-full" person who tackles his job with an Army motto in mind: "Sometimes, if it's worth doing, it's worth overdoing." Understandably, Bill is proud of his country and community. "We are a true melting pot and live in a land and society of opportunity," he said. "Most societies around the world aren't. How you are born determines how you live your life. But here, if you just work hard and try, you can do anything. Isn't this a great country?"
Written by Virginia Riddle.