WEATHERFORD, TX — Feet pump pedals faster, harder. Wind whips past your face while you pick up speed taking the lead among your friends. Your bike wasn't the best, but you could make it fly when you gave everything. Nothing beat the feeling of freedom you found as a child on a bicycle — your first vehicle.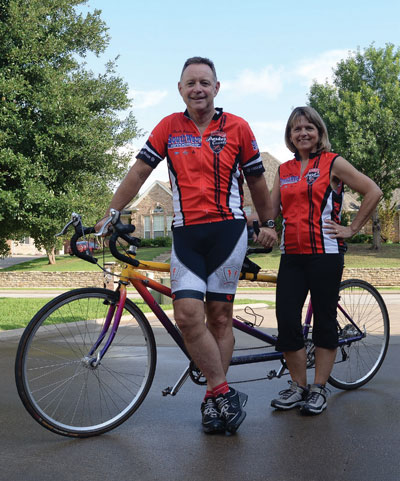 The thrill and hours of pleasure meant everything — the side benefit of exercise never crossed your mind. Some things don't change much. For Bill Mendrop, riding a bicycle means time outside doing something he loves. He considers himself fortunate. "Most of the things I enjoy doing in life are not good for you. This one is," he said. Bill and his wife, Debbie, moved to Weatherford from Mississippi by way of Louisiana in 1984. At the time, he sold law books. In 1986, he went into the custom clothing business using his current clients as a base, and then started his own clothing business in 1990.
Around the same time, he noticed a couple of neighbors out riding bikes. It looked like something he would enjoy doing. Fortunately, one of his friends wanted to move up from pedaling to riding Harleys. Trading two sports coats, he acquired two bicycles with all of the gear for himself and his wife. With small children, the couple rode when they got a chance, but mostly on weekends. They enjoyed the rides, but although he wanted to get more serious about it, Bill just didn't have enough time. In 2003, Bill turned 50, and with the kids in college, he entered a new season of life. He began meeting Rickey Parsons, a friend from the gym, for rides.
At first, a 6-mile trip wore him out. Soon the two men and a few others began riding on a regular basis. Now they meet with a group of men twice a week at 5:00 p.m. During the next hour-and-a-half, they ride approximately 30 miles. With a personal goal of 100 miles per week, Bill picks up additional riding time on weekends. Sometimes he joins other men or his wife for a fundraising ride. While they may ride in competitive events, he is not a sanctioned racer. He prefers riding for fun.
After he became more serious about cycling, he purchased a tandem bike. Although Debbie liked riding with Bill, he was a stronger rider, and she didn't want to hold him back. He never felt that way, but the tandem option works very well for them. Not every couple does well together on one bicycle. In fact when he bought their first one, the man told him, "Whichever way your relationship is going, a tandem's gonna get it there faster."
Usually the heavier of the two riders takes the front or the pilot position. The lighter person, or the stoker, sits in back where they must give up control and simply pedal. "Debbie's a good partner on the tandem," Bill said. "She's a strong enough rider to help out. It's not like I'm pulling her around."
Together the couple has taken two trips to Vermont for cycling vacations, and a great trip to Italy found them riding around Tuscany. Each time they enjoyed the rides and shopping in small towns along the way.
Parker County is a great place to live for those interested in cycling. Bill looks forward to the annual Peach Pedal, which raises funds for the Weatherford College Foundation. This year's event will be on July 12. He and Debbie choose a longer route for the event and ride tandem. "It's very well done," he said. They provide good rest stops for the cyclists.
At least four or five similar events can be found within the county. With a little research, riders can find events anywhere they want to travel. For people who find routine exercise on a treadmill or lifting weights boring, cycling may be a great option. Although the sport doesn't fit every personality, Bill loves the opportunity to get outdoors. Riding is something he can do alone or with others, whether he includes friends or his wife. He recommends choosing those who are at the same riding level or willing to meet yours.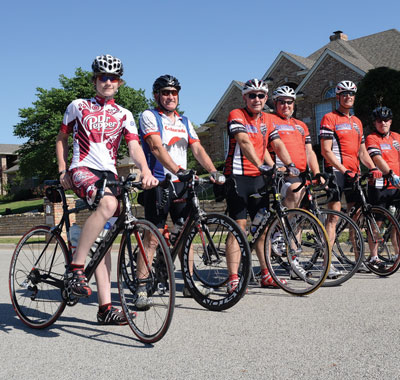 Most people know how to ride a bike, so the skill set already exists. A small learning curve for shifting gears and other things makes it enjoyable from the beginning. Still, Bill suggests borrowing a bicycle from someone to try serious riding. "A lot of people go out a couple of times and give up, because their rear end hurts," he explained. "Visiting a bike
shop and getting properly fitted helps resolve that issue." Nevertheless, a top-of-the-line bike can cost a lot of money. Testing the desire before spending a lot is wise.
Riding with at least one other person keeps accountability in place. By riding with a group, Bill has built not only accountability but also a great deal of camaraderie. He likens the experience to a softball team, where the men develop different degrees of friendship. They don't always talk during a ride but spend time hanging together with a common interest. The regular riders know each other better, but all of them also enjoy a community with those they see at different events.
The only safety equipment needed is a good helmet, but it isn't optional for Bill, even for a short ride around the block. "It doesn't take much to hurt yourself really badly," he said. "I've broken two helmets. Obviously, that would have been my head."
One accident happened when he wasn't paying attention and clipped another rider's wheel. Like geese, cyclists switch off the lead, taking turns to keep each other moving without exhaustion. As Bill moved to take the lead, he ended up on the pavement with a separated shoulder.
During a Southwest Tandem Rally in Paris, Texas, Bill and Debbie celebrated with the oldest couple present. They shared a combined age of 158 and started riding together in 1975. Their tandem days didn't end when the gentleman had a hip replacement. Bill and Debbie have been married for 41 years and hope to experience many more rides in the future.
Eventually, Bill wants to ride overseas again. With a daughter and son-in-law moving to Laos as missionaries, he has already started researching guided bike tours in that area. He has ridden down the Haleakala Volcano on Maui. His ultimate bucket list ride includes traversing up the volcano. "Whatever level you are, it's all good," Bill said. "I'm fortunate to have found something I enjoy doing with people I like spending time with in a place where I can — the perfect storm of sorts."
Written by Lisa Bell.