ENNIS, TX — American Legion Post 361 Commander Dan Cook enlisted in the U.S. Navy in 1967. He finished basic training and, two years later, was transferred to Little Creek Amphibious Base. From there, Dan went to Vietnam where he was stationed in Cam Ranh Bay until 1970. Dan remembered his military career somberly, and the extent to which his time in the service of his country changed his life is evident in the words of respect and pride has chosen to describe it. Dan moved to the Ennis area nine years ago from northern Illinois with his wife, Susie. In 2006, he retired from the United Parcel Service after 33 years as a mechanic.
Part of moving to Texas meant transferring his American Legion membership to Post 361 in Ennis, where he first served as chaplain and service officer before accepting the position of post commander in 2007. As commander, Dan heads up meetings and is in charge of the day-to-day operations of the post. "This post, the Chism-Landers Post, has been involved with the community since 1922, but some people still don't know where it is or what it's for," Dan said. The American Legion is the largest organization of wartime veterans in the country. "The main goal of the American Legion is to assist veterans, their families and the community," Dan explained. "Our mission is to give the veterans a place to come and socialize with fellow veterans. They understand each other. They know what combat and war is."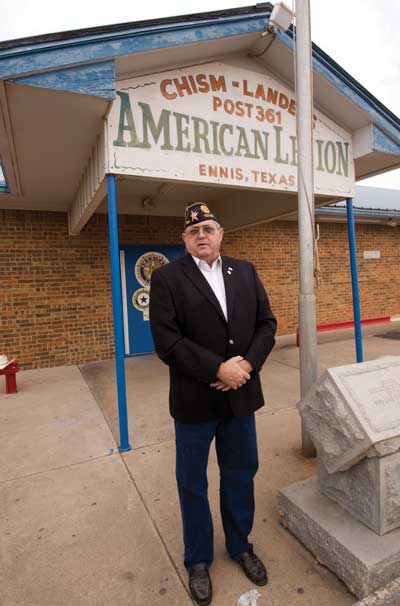 The American Legion endeavors to assist  veterans and their families in a number of  ways, both large and small. Members are a  support system for each other physically,
emotionally and financially. "We have member veterans in their 60s, 70s and 80s, as well as more recent combat veterans in their 20s and 30s," Dan pointed out. "It's a big disparity in age, but combat is combat. The older guys can sit back and listen to the younger guys as they try to help them. It's veterans helping veterans." Subsections of the American Legion include Sons of the American Legion and the American Legion Auxiliary, which are groups for family members of Legionnaires. Dan is a member of both the American Legion and the Sons of the American Legion.
The Chism-Landers Post in Ennis is actively involved in community betterment projects, supporting charities like Meals on Wheels and the Boys & Girls Club. The organization also provides scholarship opportunities for children and grandchildren of American Legion members at three local school districts: Ennis, Rice and Palmer. "On average, we give away between four and six scholarships a year, ranging from $1,500 to $2,000 for each student," Dan shared. In addition, members of the Chism-Landers Post were enthusiastic contributors to the Ennis Veterans Memorial, erected in 2012. "American Legion was right there at the forefront raising funds and helping to design the memorial," Dan admitted. "It's been a great benefit to the community, because it's a place for people to go and reflect on the service of their loved ones." The Legion is always looking for new ways to help veterans, and an important initiative afoot now, the Home for the Brave project, is receiving full support from members. "We're trying to raise enough funds to build a house for a disabled veteran and have it set up specifically for their needs," Dan said. "We've got the lot picked out. All that remains now is raising funds."
A highlight of Dan's time with the local post was in 2008 when the group participated in Honor Flight of Ellis County, sending 33 World War II veterans to Washington, D.C., to visit the memorial dedicated in their honor. Dan especially remembers the transformational effect on the veterans who attended, most of whom were in their 80s and 90s. "People who brought their fathers or grandfathers had to help them with wheelchairs or walkers to get on the bus," Dan recounted. "But when we got to Washington, pride took over. There was a band at the airport playing old songs from the Big Band era. All of a sudden, those old guys' backs straightened up, and some in wheelchairs decided they wanted to try to walk." Dan believes the honor and respect with which they were greeted changed the veterans' entire outlook.
"When we came back home, half the men we had helped onto the bus got off without any assistance," he commented. "It was a completely different group." Respecting military veterans from all branches of the service and from all periods is of vital importance to Dan and members of the American Legion. "The veterans wrote a 'blank check' for the nation and, for some of them, the blank check was their lives," he said. "They were raised to honor the United States and its flag. When it came time for someone to stand up, they said, 'I'll help. I'll be there.' Many Legion vets went into the military and gave between two to six years, some even 12 years or more, of their lives."
As a veteran of the Vietnam War, Dan remembers all too well the disrespect returning servicemen received from protestors. "Soldiers who came back from Vietnam put their uniforms up because of the treatment they got," Dan informed. "Forty years later, those veterans are the ones I hear praising the soldiers coming back now, because they don't want the young guys to go through what they did." Supporting the work of the American Legion is one way locals can directly help the heroes who fought for their countrymen. "It isn't a business," Dan explained. "The only money we make is through fundraisers. Part of those proceeds goes toward keeping our building open, but the rest of the money goes back into the community." Dan encourages citizens to participate in American Legion fundraisers so the group's valuable efforts can continue.
He also urges the community to support young veterans returning from combat who might be struggling to recover from their experiences. "These kids leave at 18 or 19 and come back two years later, and they're not the same person," Dan said. "That's what people have to realize." In the American Legion club room, the wall by the door is covered in engraved plaques under a sign that reads, Wall of Memories. Each plaque records the name of a member who has passed away. Dan's hope, and the hope of all American Legion members, is that the men and women listed were somehow comforted during their lives through the group's efforts to honor them. Dan acknowledged, "That's what we're here for."
Written by Callie Revell.