WEATHERFORD, TX — Adchara Peterson holds herself to high standards. Knowing her daughter, niece and nephew are watching, she wants to give them a good example. That's what she told Becky Tripp and the committee of ladies from Parker County Women's and Newcomer's Club, who provided her with a full scholarship to Weatherford College. "You can tell your children all you want, but unless they see how hard you work they're not going to listen," Adchara said. "I try to show them how hard I work, and that as a result I will get good grades."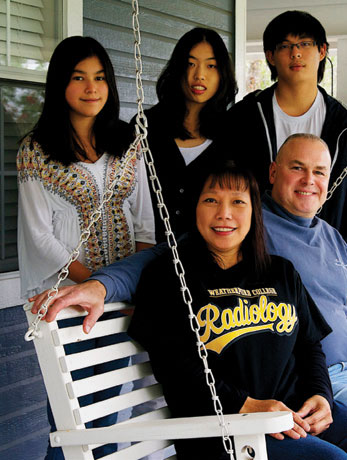 Reared in Bangkok, Thailand, Adchara has a Bachelor of Arts in social sciences, political science and history from a government university in Thailand. "Asian kids are all about school. They don't have other responsibilities outside of their school work," said Adchara, who came to America to further her studies and eventually met her husband, William, while attending North Texas State, now University of North Texas. Throughout her years as a housewife, Adchara chose to mix Asian and American standards for her daughter, Jessica, who is now 12. "It's a good thing to have chores besides study. Plus, it's good to get outside and get fresh air and play outdoor sports rather than stay indoors and work on the Internet all day," Adchara said. "As a family, we sometimes go outside to take a walk, or we swim. We eat well and healthy, because we don't want to get sick."
Running a household and going to school is Adchara's more-than-full-time job, a choice she made so Jessica can one day attend college — possibly to study in the field of medicine. "I wouldn't have dreamed of going back to school at my age, but Jessica's education is my motivation," Adchara said. "I think she's smart enough to do whatever she wants to do. It's not going to be cheap, and that's not going to be easy."
After May, 2013, with an associate degree in radiologic technology, Adchara's day-to-day schedule will be less strenuous. Her goal is to work in diagnostic radiology and other modalities, such as CAT scans, MRI, nuclear medicine and ultrasound, so that she'll be eligible for a variety of jobs after graduation. "I'm thinking I might continue studying at Midwestern University, so I can complete my Bachelor of Science in the radiology field and be able in the future to teach or become an administrator," Adchara said. "Overall, it's not as much about money as about job availability."
Her family is quite willing to help when she is studying for exams. "They are so sweet! If I have a test in the  morning, they will bring me breakfast," Adchara said, "or they will help with dinner and clean up after themselves." The family conducts a concerted and unified effort on weekends to plan the next week's meals, shop and cook so leftovers are available all week long. They also maintain a strict routine of housekeeping throughout the week, by cleaning bathrooms, doing laundry, vacuuming and dusting. "The priority is to keep up with schoolwork before they can move on to their activities." Everyone enjoys their free time together more when they know their work is done and done well.
In order to do well in her own classes, Adchara improvises throughout each day, balancing her homework with her main priority, which is her family. In her radiologic technology program at Weatherford Community College, the clinical experience is weighted as heavily as the classroom work. Although she approached her first anatomy and physiology classes with trepidation, since science had never been her forte, Adchara found she was quite good at the natural sciences and even was asked to help the other students in the class. "I was tutoring anatomy and physiology  class for one semester while waiting to get into the radiologic technology program. I enjoyed helping those students," she said, "and found tutoring helped me go back and study it again for myself."
Three days per week, Adchara drives to her clinicals in a Stephenville hospital. "I have to be there at 7:30 a.m., and then I leave by 4:00 p.m. It could be after 5:00 p.m. before I am able to pick up my daughter," Adchara said, "and if she has piano lessons or other activities I will drive her and read in the car during her lesson." She is always studying after classes, while eating lunch, after she has prepared and served dinner to her family and then again after they are in bed. Yet Adchara strives to find the happy medium between just enough and too much study.
"Sometimes, I cannot read longer than 3-4 hours. Long study sessions are my bad habit," she said. "You need to take a break after one or two hours, because your brain gets overloaded." She has little choice, though, since family is first priority. Additionally, it takes her more work than most of the other 18 students in her class.
"As a foreigner it's not always easy to study in a different language. Also, I'm older and can't remember as quickly as those younger students in my class," she stated matter-of-factly. Adchara compensates by planning and prioritizing her study goals, re-reading and repeating to help her remember more and researching each topic to increase her comprehension. "I don't know if my classmates do that, but I have to. I do triple the work, also, because some words are really hard to understand." Some of her textbooks have English medical terms that Adchara is not familiar with, so she searches the Internet to find explanations from medical dictionaries. "I have to translate the English to English!" she laughed.
Along with 15 native students, Adchara goes to class with three other foreign students. "We are all good students, and everyone in this program studies very hard. We have to, because this is a tough field to be in," she said. "In 2011, we started with 24 students and are now down to 19 in the class."
Tuition and books for this two-year program were provided for Adchara by a scholarship from the Parker County Women's and Newcomer's Club. "I'm very proud of that, because they have a lot of applicants," Adchara said. "During the interviews, six wonderful ladies asked me questions, and my answers were as honest as I could provide. Just that they called me was generous. I said, 'Thank you for the opportunity!' before I left. I never dreamed I would get something or someone to help me!"
As a mother and a wife, Adchara has already transformed her loved ones' lives. Now, Adchara is dreaming even bigger: "This makes me feel I need to do something else for somebody else," she said. "When I get to the point of having a job, I'm totally going to plan to help change other people's lives."
Written by Melissa Rawlins.