BURLESON, TX — When they say it takes a village to rear a child, Burleson's Sergeant First Class Gregory Peavy does not take it lightly. As an instructor of North Crowley High School's Junior ROTC program, he considers it part of his job description to be a significant part of his students' village. When he walks through the halls of his school, there is rarely a person he doesn't know. If he does come across an unfamiliar face, he stops to introduce himself. "It all starts with a conversation," he said. "To earn a student's trust, they've got to know you care. They've got to know you respect them. Once these kids see that you care for them, and once you have a relationship with these kids, you can do anything." And sincerity is key. "They always know if you're sincere," he said. "They always know if you mean what you say."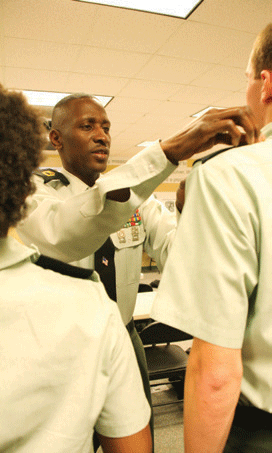 According to his colleagues and students, Peavy's sincerity is never in question. His genuine interest in their lives is apparent. Stefanie Allen, North Crowley High School principal, feels Peavy's constant enthusiasm and encouragement is directly reflected in his students' success. "SFC Peavy gives his students direction and purpose," she said. "He is a positive force here. Our JROTC program's success is a perfect example of his focus on the kids and his focus on their future. He places a huge importance on setting and achieving goals, which his students not only do, but often exceed."
When Peavy took over the high school's JROTC program five years ago, just less than 100 students were enrolled. Now the program includes nearly 350 ninth through 12th graders who, after busting at the seams of several portable buildings on campus, were moved into the main building this year.
With a spacious, freshly-painted classroom and state-of-the
art technology, cadets proudly stenciled Peavy's motto on the wall: To teach every student to become a problem solver, a life-long learner
and a productive member of society. "When people think ROTC, they often think it's just going to be a lot of marching or Oh, they're just trying to get me in the military, but that's not what this is about," Peavy said. "We are about citizenship and respect. We are providing a foundation for success. We are providing leadership skills and application. We are teaching management skills, communication skills and accountability. In here, we are creating CEOs and managers."
Cadet Colonel Matthew Porter, who started the program as a freshman, is now a senior at North Crowley High and serves as the Panthers' Battalion Commander. Porter worked his way up through the ranks and now holds the highest position of student leadership. "SFC Peavy is absolutely correct," he said. "When I used to be over a company, which is a smaller unit within our battalion, I would always ask my cadets what they
were doing to go above and beyond. Paying attention to the details, taking initiative, thinking ahead and being extra meticulous — these are skills that make a good leader, especially the communication skills. How you get your point across is critical to leadership."
Peavy beams with pride when he talks about his students. "Porter is a glowing example of the outstanding young people who come out of JROTC," he said. He has watched countless students transform before his eyes. Dylan Francis, who graduated in 2012, is another example. After a rocky start to high school, his
chance of graduation was slim, but he did it. He not only graduated, he decided on a promising career in the military.
"SFC Peavy never gave up on me. He helped me turn my life around. Even when I wanted to give up on myself, he believed in me," Francis said. "One day I want to be as wise as he is and be a role model for others like he was for me."
Peavy discovered his love for teaching after he retired from his 20-year military career. Master Sergeant Howard Mack, who retired shortly before him, recommended him for the JROTC program at Williams James Middle School in Fort Worth ISD. "Other people always saw it in me, but it wasn't until I was teaching that I realized I really love this," he said. Then when North Crowley High School had an opening, he was again recommended, this time by Chief
Warrant Officer 4 Jeremiah Marshall, the Junior Cadet Corps Coordinator. Teaching JROTC was an ideal transition into retirement for Peavy. It embodies everything his Army career did — serving and providing service. The Army slogan, Be, Know and Do, is a regular lesson for his students. "Be: be who you are supposed to be. Be the example. Know: know your soldiers. In this case, know your students. Know what they are going through. Do: do and accept your responsibility," Peavy said with conviction. "That is what it all boils down to."
Peavy started his military career when he enlisted in the Army at age 18. He grew up in Gulfport, Mississippi, in a family of six, two of whom also went into the military. During his time in the service, he traveled around the world with his family. First, he and his high school sweetheart moved to Germany immediately after getting married. Then they were off to Korea, the Middle East,
Hawaii and finally his last station, Fort Hood, in Killeen, Texas. During that time, he and his wife had four children — two who have followed in his footsteps as teachers and two who are in eighth and ninth grades. Seeing him parent his own children, many parents seek Peavy's advice outside the classroom. "Sometimes I can reach these kids when their parents can't. It's not that I'm better than their parents, but I am a valuable asset in their lives that they are always reaching back for guidance. That is the beauty of it. We work together as a team to be these kids' village," he said. Peavy also gives tremendous credit to his fellow JROTC instructors. "They are high octane," he said. "We have an incredible team here."
Peavy and the JROTC instructors also train special teams, which compete in events such as physical training, color guard and drill team. The 60 students who competed with the special teams last year brought home 45 trophies. "I could not be prouder of my students. When we go out there, we tear it up," Peavy said. "When you see these kids compete for the first time, it's breathtaking." Peavy is blessed and fortunate to be a part of JROTC. "With God's help I get to help change the course of these kids' lives."
Written by Sarah Anderson.