CORSICANA, TX — Imaginations of young folks and the memories of older folks are "tweaked" into high gear when they step from the present into the past by passing through the gate into Corsicana's Pioneer Village. And during the Christmas season, the village celebrates its past with Christmas flair and finery, thanks to the elfin decorating handiwork of Mildred ISD's National Honor Society members and their sponsor, Missy Grantham, who spend part of their Thanksgiving holiday with staple guns and ladders in the village. "I'm very proud of my kiddos," Missy said.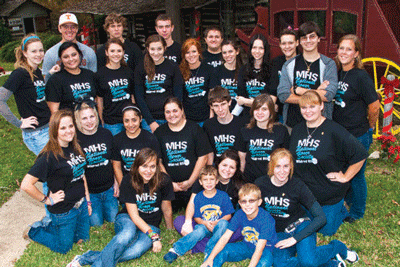 The students and Missy have worked their Christmas magic on the grounds of Pioneer Village for the past six years. "They are just super. They are 'old hats' and know exactly what to do," Bobbie Young, the village's curator, remarked.
Pioneer Village was conceived in 1958 out of the Navarro County Historical Society's vision of developing a depository "for the county's surviving historical structures, heirlooms, artifacts and other family treasures," according to the group's Web site. Located at 912 West Park Avenue, the village's structures occupy land once visited by early settlers to this area as they watered their stock at a nearby watering hole, while sometimes finding the need to defend themselves against Indians who also wanted to use the water. The land is now part of the city of Corsicana's Jester Park, so named after Beauford Jester of Corsicana who served as governor of Texas.
During the Christmas season, the village takes on a new spirit. The G.W. Grant Stage plays host to Santa Claus during the Christmas celebrations at the village. Christmas lights sparkle on the surrounding fences, while poinsettias line the walkways. Support beams on the buildings resemble candy canes, with their red wraps, and Christmas wreaths with their pine cones and ribbons are hung on doors throughout the village. Even the horseshoe above the blacksmith shop's door sports a red bow. The Christmas tree is loaded with candy canes and ornaments appropriate to the season and earlier Christmases, such as rag doll ornaments. White fences are decorated with swags of garlands supporting big, bright red bows.
The structures are a mixture of actual buildings that have been moved from other parts of the county and authentic reproductions of buildings using logs and other materials gleaned from buildings that could not be saved and moved in whole. The park features: "Old Uncle Joe's Cabin," a slave cabin; the Lefty Frizzell Country Museum; a kitchen with its herb garden; the First National Bank Clock Tower; the Hartzell Store, a general store dating from 1851-1900; a blacksmith's shop; a Texas dog-trot cabin; the Peace Officers' Museum; and an Indian trading post. The village also includes: a barn, the Redden Home, the McKie Playhouse, a tack shop and carriage house, Sam Robert's iron collection, the Navarro County Hall of Fame, a cotton mill and a working sundial. The village proudly displays the Texas State Historical Survey Committee Seal.
The village is a growing community. Soon it will add to its collection an old gas station complete with the old-fashioned pumps. This addition will also recognize the important role the oil and gas industry has played within Navarro County since the late 1800s, when Corsicana was an oil boom town.
Seven days a week, Bobbie, her part-time assistant, Sonja Vaughn, or a volunteer are ready to greet visitors and provide a tour. "People from all over the United States and many foreign countries visit us," Bobbie said. "Some come solely for Lefty Frizzell." Frizzell gained fame as a country music singer and songwriter in the 1950s and was born in Corsicana. A statue of him is near his museum in the village. Visitors can easily see why other country musicians like Merle Haggard, Willie Nelson and Dwight Yoakam attribute some of their success to Frizzell's influence. Frizzell was honored with a star on Hollywood's Walk of Fame and is a member of the Country Music Hall of Fame and the Rockabilly Hall of Fame.
People also come to research family ties, genealogy and stories through the village's city directories and seven volumes of history published by the historical society. Many artifacts are on display within appropriate buildings, but the visitor's center is host to even more data. There is a very large quilt and Victorian-era clothing collection, as well as textbooks from the days of one-room schools. Documents, maps, books and a generous photo collection are available for visitors to view.
Besides hosting special events during the Christmas season, Pioneer Village is the place for kids to go each summer to experience life in olden times. Kids get to cook breakfast on a camp fire, churn butter and grind corn. An Indian storyteller spins his tales of days gone by. During the annual Derrick Days celebration, a Navarro County Hall of Fame inductee is honored. The village is also decorated for other holidays, such as Halloween.
Funding for Pioneer Village comes from grants, donations, entrance fees and hotel occupation funds received from the city of Corsicana. Sales of books and other items from the visitor's center also help fund the village. The monies have been focused on the buildings, while the city pays Bobbie and Sonja's salaries. There is a great need, however, for volunteers. "I would like to have an active docent program," Bobbie said. The need is urgent to find people with enough computer skills to scan photos and digitize documents. "Volunteers can be students, groups or individuals," Bobbie said. No professional training is necessary. Bobbie was attracted to the job through a love of history, which she shared with her husband, Bill.
Eunice Solis, president, and Fletcher Watts, vice-president, of Mildred's NHS cited the group's opportunity to be altogether while working on the Christmas decorations as a plus. Pioneer Village, however, is not their only project. Students volunteer throughout the area. "For a small school, we make a huge impact on the community," Fletcher said.
Thanks to the vision of the Navarro County Historical Society and the volunteer help provided by Missy and the students of Mildred ISD's NHS, Pioneer Village not only accomplishes its historical mission but is an attractive venue for area residents and visitors. As they stroll around into every nook and corner, guests can relive Navarro County's past and enjoy this Christmas while using the village as a great photo backdrop for Christmas memories that will be shared into the future.
Written by Virgina Riddle.