WAXAHACHIE, TX — The Ellis County SPCA relies  on a strong volunteer foundation. One of these volunteers is Clint Morton. Clint spends several days a week at the SPCA walking dogs, training them and assisting in any miscellaneous jobs, including mowing the lawn. Although Clint owns his own collision repair business, he still makes time to work with the dogs, ensuring that they are ready for adoption.
His love for dogs started when he picked up a stray heeler mix on the side of the road. It didn't have a home, so he adopted it. As the dog continued to grow, Clint wanted him trained, so he searched for the right trainer and later joined their working dog club. This sparked Clint's desire to learn about dogs and later, to become an animal control officer. "I started working with my dog and my dog trainer here in town," Clint explained. "I just wanted to see if I could use some of those aspects with the SPCA and help them with their dog adoptions. My future is in animal control."
Clint's training with the local dog club includes both basic and advanced training. "We also do protection work and agility," Clint explained. Members of the club can choose to sign their dogs up for basic obedience training. Once the dogs have graduated, they move into advanced training, which varies depending on the dog owner. For protection work, Clint, a Certified Level II Decoy, puts on heavy pads and gear and allows dogs to attack him. "It's good for me," he laughed. "It relieves stress, and I get some exercise, too."
He is grateful for his training. "It's made my dog a better dog," he said. "He listens to me better." Clint's dog is not the only dog that has benefited. The dogs Clint works with as a decoy are better protectors of families. Clint and the other trainers mainly use a prong collar and treats to correct and reward dogs. "The prong collar doesn't hurt them," Clint explained. "It just pinches them a little bit to resemble [how a mother dog] corrects them." Depending on the dog, however, Clint will seek advice to use different methods to correct behavior issues.
After working with the local dog club, Clint received his animal tech, euthanasia and spaying certifications. With these certifications, he is able to assist the SPCA in a much larger capacity. He works mainly with large dogs to assess if they are ready to be put into a home and if so, what type of a family they would best fit. "He's busy like everybody else is, but he still manages to find time to come out here," said Amy Fincher, director of the Ellis County SPCA (ECSPCA). "Whether it be working with the dogs or helping us out at our events, it's good for the dogs to have someone like Clint come in here and spend some time with them, even if it's only for 10 or 15 minutes or for an hour visit. At least they get some kind of human affection because that's just what most of them want."
Another aspect of Clint's role at the SPCA is volunteering at their events throughout the year. He transports dogs that are up for adoption to different places. One of the events where he helps out the most, which brings the most adoptions to the ECSPCA, is the Bob Phillips' Texas Country Reporter Festival held in downtown Waxahachie in October. Two years ago was the first time the ECSPCA participated in the downtown festival. Amy remembered it being a great Saturday for dog adoptions. Clint not only helped transport the dogs, but also trained dogs to be ready for their new homes. Since the ECSPCA
has received a larger than normal influx of animals this summer, they looked forward to the Bob Phillips Festival this year, as it once again brought in more adoptive families for the increase in dogs that needed homes.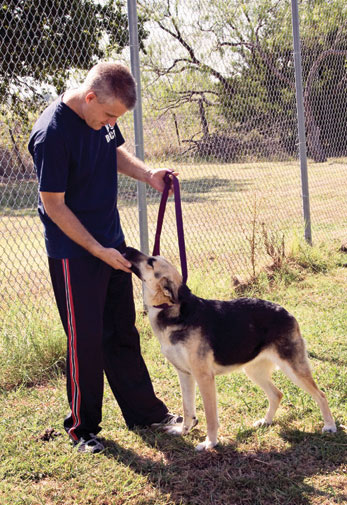 Because of this increase, the SPCA has started a foster program to increase space and encourage dog adoption. If a sick dog comes into the shelter, the staff often does not have the resources or time to nurse it back to health. "We had one mom who was malnourished. The pups were draining her," Amy recalled. Dogs like this go to foster families to encourage their health. "So far, we've had good results."
Clint recalled a time when a young pit bull was surrendered to the shelter. The longer she was at the shelter, the more the staff recognized her aggressive behavior. She was consequently not ready to go to a home, nor was it safe for her to be at the shelter. The SPCA found a foster home that worked with her to eliminate her negative behavior, while helping ready her for adoption.
Families interested in adopting from the ECSPCA must first fill out an application and undergo a preadoption interview. Questions include whether or not the owner has ever surrendered a dog before and if they have the commitment to keep their pet long-term. These eliminate the possibility of a future abandonment or owner surrender.
In addition to the Bob Phillips Festival, Clint also volunteered to assist at the Wish Upon a Paw event held in August. This silent auction and dinner event honored Bob Phillips and featured the PitPops, a '60s and '70s rock and roll band. Silent auction prizes included two autographed hockey pucks from the Dallas Stars and a ride in a Top Gun Fighter plane. The proceeds benefitted the ECSPCA to build more kennels to hold more animals.
Clint also remembered another fun event for the ECSPCA: the BowWow Halloween Fun Run. Each October, dog owners meet at Getzendaner Park in Waxahachie for a fun run and costume contest. "The dog owners dress their dogs up in costumes," Clint explained. "They have winners that get gift cards for best costumes. We don't do adoptions [during this event]. It's more to raise awareness."
Although many aspects of working with dogs are satisfying, Clint's happiest moments have been when dogs are adopted. "The most satisfying part of volunteering is seeing the dogs getting adopted out," Clint smiled. "It's tempting not to take some of them home."
The ECSPCA remains grateful for Clint's volunteer work. "He's been great," Amy confessed. "I mean, if it weren't for Clint, and so many others like him, some of these dogs wouldn't have found their forever homes."
Written by Mikaela Mathews.