DESOTO, TX — Miranda Maldonado is like a lot of 13-year-old girls in that she loves animals, boy bands and gymnastics, but a couple of things set her apart from the average teen. Miranda suffers from a disease that could keep her from doing a simple cartwheel. Despite this she decided to be a world-class gymnast. "My mom says, 'Don't let people tell you what you can't do, show them what you can do,'" Miranda said. "Doctors have told me all my life to stop gymnastics, but I'm not going to sit at home and feel sorry for myself."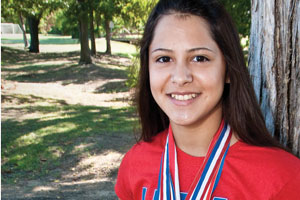 Miranda has a hereditary condition called Ehlers-Danlos syndrome. EDS is a connective tissue disorder causing severe joint pain, hypermobility and dislocation of the joints. Rigorous athletics like gymnastics put Miranda's joints to the test, and she may dislocate them 30-50 times a day. "It's harder for me to stay tight while doing gymnastics because my body is naturally looser than other gymnasts. I'm in a lot of pain every day, but you would never know it, because I'm good at putting my joints back in place really fast. Most people don't even know I have EDS, because I just keep going."
Perseverance through pain is a way of life for Miranda's family. Her mom, Kerri, her two sisters and two brothers also suffer from EDS. "I was diagnosed with EDS when I was 3 years old by a geneticist. My mom and brothers and sisters understand how it feels to live with the same pain, so that helps me push through it. Our mom went to massage school to learn to massage us at night when the pain gets really bad."
Despite EDS, Miranda has been competing in gymnastics since she was 8. She watched older sister, Anjelica, tumble until a severe injury ended her career. Miranda said gymnastics "just comes naturally" to her. "It's what I love, and I'm determined to be the best that I can be," she said. This desire results in six to nine major competitions each year for Miranda, who now has her sights set on a world title.
"I have been regional, state and national champion many times now. I have competed in other countries and even at Worlds in 2011 in England. Now I am training to someday be a world champion and hopefully an Olympian," Miranda said. Miranda most recently competed for the U.S. when she made the World Team last year in Birmingham, England, and has competed in Canada as well. She was named to the U.S. National Team while competing at Nationals in California over the summer. On September 4, Miranda visited Portugal to compete in the World Cup, where she earned a team silver medal and fourth in individual competition.
A DeSoto resident for much of her life, Miranda is homeschooled because of the hours she spends training and traveling for competitions. About 12- 15 hours a week are spent focused on gymnastics skills at The Palaestra, a gym in Farmers Branch, in addition to hours of conditioning at home. "Gymnastics isn't really a sport to me. It's what I do naturally," Miranda said.
"Miranda was born a gymnast. When she was 9 months old, she could walk a balance beam unassisted. She competed as a level 9 gymnast at the age of 8," Kerri said. "She has been unstoppable since the day she started. I remember her refusing to take off her leotard and falling to sleep in it! She has had some amazing coaches and wonderful teammates who have become family."
Family and friends alike will help Miranda mark her 14th birthday this month, when they will celebrate her passion, determination and courage. "Miranda is sweet, loving and caring on one side, and on the other has this fierce intensity toward gymnastics. She has a burning desire to make her dreams reality," Kerri noted. "She refuses to quit or ever give in to her pain, and that's the kind of spirit that makes her a champion!"
Admitting that "gym is pretty much [her] life," Miranda does find time to enjoy less competitive activities. "I just like to have fun. Go-karts, rock wall climbing, swimming and anything to
be active. And I love music," Miranda admitted, naming One Direction, The Wanted and Katy Perry her favorite musicians. "Of course, I like to play video games on my iPad. I like to watch movies. We go to the drive-in movies, sometimes twice a week. Oh, and I like to shop."
Kerri noted Miranda also likes helping Locks of Love, donating a total of 6 feet of hair to the cause that makes wigs for patients suffering hair loss. And Miranda has a passion for animals, including her toy Chihuahua named Beanie and her cat, Kietta. She hopes someday to be a marine biologist. "I never want to see an animal hurt or abused. I rescue a lot of strays and try to find them homes. I take care of them until we find them owners. I wish I could keep them all, but my mom won't let me," Miranda said.
Rescuing every animal in need may be the one thing this determined young gymnast can't do, but Miranda hopes her story might be inspiring to others suffering from any kind of disease.
"Just because someone says you can't do something, doesn't mean you have to accept the limitations. I don't want to be in a wheelchair. I'm going to fight it every day of my life and build my body so I'm strong enough to keep walking and running and competing in gymnastics," she said.
And since she prefers not to take the medicine available to her unless absolutely necessary, Miranda said the key to her success is simply working through the pain. "My biggest accomplishment is that I get up every day and train even though I have EDS. I won't complain.
I won't quit. I will never give in to the pain," Miranda said. "This is normal for me, so I just deal with it the best I can. When you are born this way, you don't know what it's like to go a day with no pain. But I just have to work harder and not let it stop me from doing what I love. I have EDS. It doesn't have me."
Written by Angel Morris.