RED OAK, TX —  Positive role models made a difference in Greg Johnson's life, inspiring him to help others – whether it's as a youth mentor, as a church leader or as a living example of paying it forward. "It started with a young man coming to me and asking if I needed any help at my business. I was impressed by his courage to walk in and ask that simple question," Greg said. "That one man turned in to five and then six employees, all who just needed a helping hand."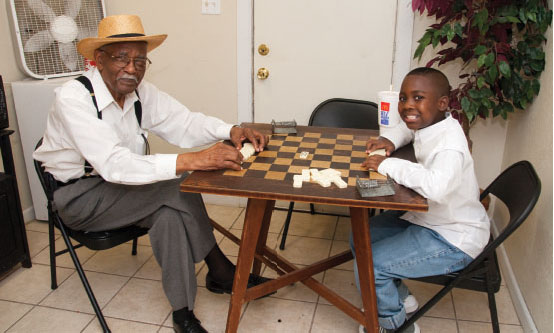 While known to many as a businessman and owner of Gregg's Unisex, Greg invests much of his time mentoring youth. "My work is just an avenue to help people. It's God's house!" Greg, who works in Red Oak and lives in Ovilla, said. But Greg's path to a career, and mentoring, was a winding road. Starting school in Oak Cliff, Greg's family moved to Red Oak, and he graduated from DeSoto High School in 1990. Being a member of the soccer team there led him to Southwest Texas State University, where he continued to play the sport. He transferred to The University of Texas at Arlington and earned his bachelor's degree in exercise sport and health studies in 1995. "I wanted to be a physical therapist, but I had been cutting hair on the side for a while. In 1988, my mom gave me my a career change was in order.
"My senior year of high school I took a business class at El Centro College. It taught me about working the register, handling customers, how to run your own business," Greg said. "One day, I realized God was working then to get me to where I was now." The epiphany inspired Greg to change jobs, but also to help guide others to their calling. DeSoto's Christ the Cornerstone first pair of clippers as a birthday gift. She didn't realize that would change my life forever. She was just being the greatest mom, as usual," Greg said. Greg practiced on his own hair, then started cutting hair for guys in the neighborhood. "Two weeks after I graduated from college, I went to barber school. But physical therapy was still my goal." Greg was employed part time for five years at Baylor Medical Center in Dallas, all the while cutting hair on  the side. He then heard of a job at Tom Landry Sports Medicine & Research Center. "I interviewed and got called  back, but then didn't get the job. I was crushed. But that's when I began to realize God had something else in mind," Greg admitted.
Reflecting on a course from high school, Greg decided Church is where Greg and a handful of mentors now meet twice a month to share life lessons with young men and women. "We work with kids in foster situations and single-parent homes, but also with two-parent families. Sometimes, a young person won't listen to their parent, but they may listen to someone else for whatever reason," Greg said. "Our whole goal is to work alongside the adult in a child's life to move them forward on the right track." This effort includes lectures from mentors, guest speakers from the community and visits to area facilities that might inspire youth. "We have kids from Cedar Hill, DeSoto, Red Oak and Lancaster. We have 15-20 kids listening to us at any given time," Greg said, "We expose them to positive things and encourage them to do good things." LAW — Love, Accountability and Wisdom — is the program's acronym, and its message is as simple as its name. "You have to love people. You have to be accountable for everything you do. You have to move through life with wisdom.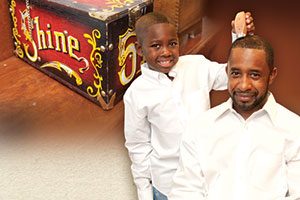 It sounds simple, but it really requires a lot of guidance," Greg said. "Young people can't have enough good influences. It never  hurts for one more person to remind kids that if they don't work, they don't eat. That if they don't earn respect, they don't get it. There are plenty of messages to give, and we're just reinforcing what parents may be doing at home, or telling it to kids who may not be hearing it anywhere else." Greg credits a strong foundation of guidance from his parents, grandparents and extended family for his insight. "My parents have been married for almost 50 years, and I grew up seeing love and hard work hand-in-hand," he said.
Greg still works on cars and drag races with his father, a hobby they have shared as long as he can remember. "I used to fall asleep on the garage floor when I was a young boy watching my dad work on cars." Greg's dad is a "diehard small block Chevy man," and has been building engines since he was 13. He admits to using the hobby to win over Greg's mom all those years ago. "Dad's racing impressed my mom, and even today she won't be denied at a red light if you challenge her!" Greg joked. Greg experienced his first street race at age 16 in a Ford Mustang 5.0. "I've been hooked ever since!" he admitted. Today, Greg prefers a 1972 Chevy Nova with an 18-degree 427 small block. He and his dad still hit the local tracks as time allows, favoring Kennedale's facility. Cars are a hobby many generations of the family share. "I took my son to the track for the first time when he was 8 months old, and he loved it!" Greg recalled. "The men in my family still bond around the hood of a car. My grandfather and my uncles live close by, and we are tight. These relationships made me the father I am today."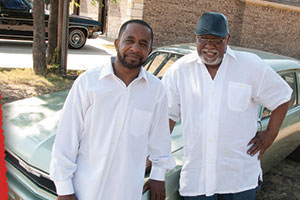 Greg's brother-in-law, Michael Gunner, and sister, Dr. Toni Johnson-Gunner, are part of the extended family with whom Greg is close. "He has always been a model brother, a godly man, and he is so humble," Toni, said. Now Greg's 8-year-old son reaps the benefit of his dad's character. "Everything changed when I had my son. I already knew mentoring was important, but the moment he was born, I knew there should not be one second a child has to wonder if someone loves him," Greg said. And while he wants his son to go to college and follow his own dreams, he will also stress to him the lessons he shares with those he mentors — all in an effort that they, too, will grow up to help others. "You grow up and have a family of your own, you have to work, to provide, to take care of business," Greg said. "If you can reach back and help someone along the way, well, that's your responsibility. And that's a blessing."
Written by Angel Morris.