MIDLOTHIAN, TX — Looking upon the face of her newborn, the mother could not help herself. She had to touch her, had to hold her, had to kiss her. Swaddled in blankets, only her tiny face was visible. Tenderness and love were etched into every line on the mother's face as she lowered her lips to sweet innocence. Mary Wyrtzen, drawer and painter had captured the essence of motherhood in her drawing titled First Kiss. Mary's awakening to the world of art occurred when she was in grade school watching an artist perform her magic. "A chalk artist came to our church, and I was totally fascinated by her work. She was married to an evangelist, and every night at the meeting she would draw absolutely gorgeous things with pastel chalk. She would draw scenes like Jesus in the garden, or something like that.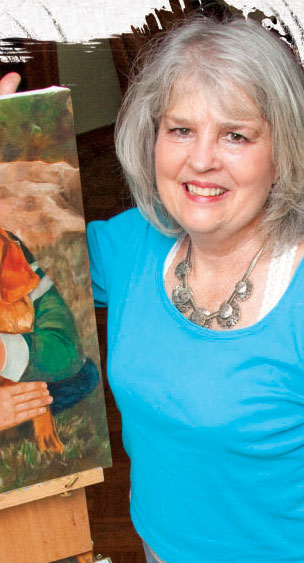 Then they would turn a blue light on it and certain colors would pop out. They had a trailer that they parked on my mom and dad's land, sort of the church parsonage land, and I would spend a lot of time with her absorbing her talent. She gave me little chalk ends to mess around with, and she was the one who got me started. Since then, I have always enjoyed drawing," Mary said. Although she is now very skilled as an artist, Mary was not trained in her craft. Along the way, she has had some interesting assignments that helped hone her skill, one of which was to draw a negative in high school. "I drew a warrior on a horse," she stated.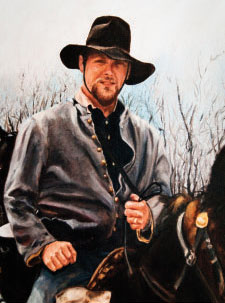 "The drawing was to look like a photo negative, so whatever was going to be printed white, I had to do black, and whatever was going to be printed black, I had to do white. That was my first commissioned piece in high school."
After high school, Mary went to college and then married. During the early 1970s, acrylics became popular. Mary enjoyed that particular medium, so she painted many acrylics. She was able to display them and was shocked when the paintings started selling. She allowed the buyer to set the price and did so well she was able to put her husband, Dave, through at least one semester of seminary. She vividly remembers when the last painting sold. "We were living in Midlothian and had absolutely no money, and the last check from a painting came in the mail. We were so surprised and thankful!" Mary enthused. The couple had four children, and for a period of 25 years, Mary stopped painting. "It was the busyness of life," she explained. "With the kids and their activities and ministry, I just didn't have time for painting." Getting back into painting was a little difficult for her. "After being out for so long, you lose your confidence," she shared. "Even with cooking, if you don't do it regularly, you lose your skill. There is a lot of ego involved. When you are creating anything, you are exposing a part of yourself, so there is some fear involved."
Mary had a revelation when reading the book, The Artist's Way. She realized just how much she had been starving her artistic nature. "It was hard for me to figure out how spending hours painting would glorify the Lord when maybe no one would ever see it," she shared. Then she began to wonder if it really mattered if anybody ever saw it. "That book was instrumental in freeing me up to express myself that way," she said. Mary's return to painting was by the sheer will and persistence of her neighbor, Peggy Knight. Peggy knew Mary had painted and wanted her to accompany her to an artist retreat for a weekend.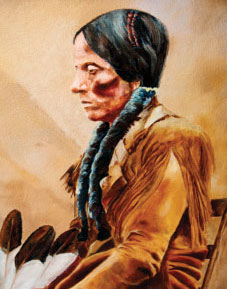 It was there that Mary was introduced to portraiture painting and oil painting. Her first try at oil painting — a painting of her daughter, Jenae — now hangs in the front room of her home. Although oil painting has some benefits over acrylics, Mary prefers painting with acrylics. "I paint with oil like some people paint with acrylics," she Although Mary's style is realistic, she very much wants to give impressionism a try. said. My colors pop and seem to be very vibrant. Oil takes so long to dry. Some of my paintings have taken six months to dry. I remember one painting I finished in April and was finally able to give it to the person in November. My frustration with oil is that I'd like to get the project done." Out of all the ways to create the perfect picture, Mary prefers pencil. Compared to the other methods, pencil sketching is very portable. She can take her supplies with her wherever she goes.
It is also inexpensive. Laughing she stated, "You can't lose too much if you mess up. I get gratification from it and can easily spend eight to 16 hours on it if it is a complicated drawing." When drawing people, Mary tries to capture the inner being or the essence of a person. When drawing situations, she finds the life in the scene and brings it forth for viewers, who can enjoy her artwork via her Web site where she displays her drawings and paintings. Once she did a portrait of one of her nieces who was killed. It was such a tragic and sad time that she wanted to give her family something to bless them. "I was pretty happy with the painting," she said, "but it was really hard to do, because I didn't have the person there anymore, but I did have certain memories." Another painting of a scene Mary wanted to capture was when her daughter-in-law, Courtney, was holding nearly 2-year-old Blythe on her shoulders standing in front of Mary's crape myrtle. "I just wanted to give her something with a particular verse to bless her. I wanted to express love to her. It was just the outline of the two of them, and I call it primitive. I didn't do anything with shading. After I developed my personal style, I wanted the photo back to redo it, but Courtney loves it the way it is." Although Mary's style is realistic, she very much wants to give impressionism a try. "I have pictures that flip through my mind that I want to paint. I heard an expression when I was in Canada — 'running through fields of mercy' — and every time I think of that saying, pictures I want to paint pop into my head."
Whether creating with acrylics or pencils, Mary recognizes it "as an expression of how God made me, and by using it I can glorify him."
Written by Betty Tryon.