MANSFIELD, TX — You wouldn't know it just by looking at him, but A.J. Bailey is one of the fastest people you will ever meet. He is a freshman sprinter at Texas A&M, who is on the brink of competing at the highest levels of track and field, and he relentlessly trains to get even faster, even in the middle of a Texas summer. "If I can make big drops in time like I did this year, the sky is the limit. I took 1.5 seconds off my 400-meter time last year, and if I can do that this year, I'll be in good shape," A.J. said. He was just 8 years old when he tried running competitively for the first time, encouraged by a cousin who saw how fast he was on the football field. As it turned out, A.J. was "pretty good at it" and stuck with it. "I was getting better and better, until I broke my leg playing football in sixth grade. Rehab took a while, and I went up to the 800 meters. I did that for a couple years and came back to sprinting in my junior year in high school and took off," he said.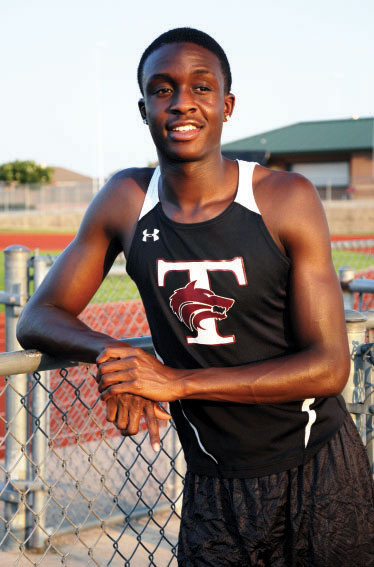 "Training for the 800 is much, much harder. A full workout would take me an hour and a half. My workouts now aren't as tough, even though I've been running really hard." Now, A.J. focuses on sprint events: the 100 meters, 200 meters and 400 meters. He is known for his 400, especially since he broke the high school national record (for times posted against high school competition only) with a time of 45.19 seconds in the Region I-5A meet in April. By comparison, the 2012 Olympic champion ran a 43.94. A.J.'s high school success led to attention from college coaches. "Short sprints are the money-making events," A.J. explained. "There's more attention than in the 800. Once I got back into the 400, I had a lot more opportunities to run meets and got a lot more attention from colleges.
I got my first recruiting letter when I was a freshman, but when I started sprinting again last year the recruiting took off." He received over 60 offers from colleges all over the country, including every school in Texas, University of Southern California, Stanford and UCLA, which gave him his first offer from a big school. After much research and input from his coaches, he narrowed his choices down to five: Alabama, Baylor, Florida State, Louisiana State and his eventual choice, Texas A&M. "The process got hectic. Everyone wants a shot at you, but with my times I was able to be selective. I tried to give people a chance and look at their program," he said. "You have to look at each program, see how their practices fit what you do and see if you can relate to the coach and the team.
I give credit to my high school coach, Coach Ross, who gave me good advice through the whole process, and also to my coach with the Dallas Gold track club, Coach Hart, who worked with me all summer to prepare me for the next level." A.J. looks forward to his time as a collegian, because he feels like he can be among the nation's best. Before he settles into the blocks for collegiate competition track for the first time, he might be among the eight best runners in his events in the nation. He and his high school rival, who lives in Florida, are already in the top eight in the country, but time will tell. All that he has done so far has prepared him for a college career and, hopefully, success against international competition as well. He has A.J. is not afraid to dream big in his track pursuits. competed for the United States world youth and junior teams in Spain and France, and will likely do so again. "The competition for the world team was the best time of my life! I made the team in the 200 meters and 400 meters. I ran the 200 two years ago and finished sixth, then finished third in a dead heat in the 400 last year. It wasn't my best race, but at least I got on the medal stand," he said. "Juniors are fun, but when you watch the sprints in the Olympics, there are 80,000 people there cheering."
In his quest to achieve his ultimate goal, A.J. had a chance to qualify for the 2012 Olympics but finished 14th at the United States Olympic Trials in June, in cold, rainy weather. At the meet, he was able to speak to Olympic gold medalists and world champions, Jeremy Wariner and LaShawn Merritt. "Seeing those guys warming up next to me wasn't as big a deal as I thought it would be. I wanted to compete. I didn't want to be starstruck just to meet them. They told me to keep up the good work. Neither of them tried out for the Olympics at my age. Next year, I should see some improvement because I haven't touched weights yet, and they said it makes a big difference," A.J. said. "I keep moving up, from the youth world team, to juniors — I want to make it! No Americans made the finals of the Olympic 400 meters, but two guys I ran against in Spain did." A.J. is not afraid to dream big in his track pursuits. Every statement he makes is framed in terms of his future success: a world junior championship, an NCAA championship, and maybe even Olympic glory. "If I can make the medal stand for the world team, big things will happen. It's possible to be an NCAA champion, too. The only thing standing in the way is dropping time, and having a training partner to push me when I don't feel like running hard will help with that. You don't want to be embarrassed out there on the track, so you have to work hard every time," he said. Ultimately, A.J. dreams of running professionally. With many opportunities for sponsorship by major shoe companies and plenty of competition, A.J. has his sights set on reaching that level. "There are big meets every year, not just the Olympics.
There are also overseas circuits, and it's crazy how much money you can make and how much of the world you can see. If I had made the Olympic team, it's possible I wouldn't be at A&M because a different opportunity might have come out of that," he said. "I'm going to stay motivated and train hard, and hopefully, the chance to turn pro will happen soon."
Written by Jeremy Agor.