DESOTO, TX — Imagine a scene between two people just meeting, sharing stories about their lives, speaking about their mutual passion for helping the homeless and their dreams of someday opening a shelter and making a real difference in the world. Now imagine those two as unemployed 50-somethings in line for a polygraph test at a job placement agency, talking about helping others while both in need of help themselves.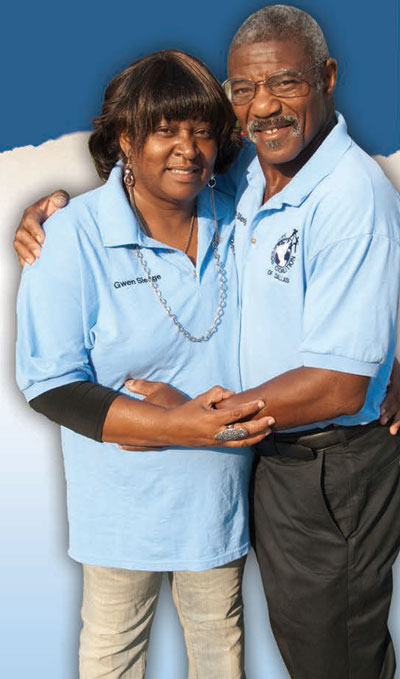 Gwen (Ingram) Sledge met Jesse Sledge at AARP employment services. While talking about their someday dreams, Gwen learned that she wasn't alone when she said, "I think I would eventually like to open a shelter and feed the homeless. I can't explain why, but I am drawn to it." Jesse responded unexpectedly, "I have been homeless, jobless and destitute. I have been in trouble and learned from my mistakes, and by the grace of God, I am still here and ready to serve. Opening a shelter would be a dream come true for me." Gwen laughed, "I have been married once and have two children and five grandkids. I never thought I would get married again. And now, a year-and-a-half later, I am married." Jesse also has two kids and five grandchildren. DeSoto residents both working now, the Sledges use every resource and minute available to help others then distribute it to their needy members and surrounding churches.
About 150 families have filled out applications to receive food packages from the group each month. Secondly, using the food they buy from Crossroads along with the food they get from donations and, of course, the bread, Gwen and Jesse box up groceries every second Monday for each family individually, thinking of each family's unique situation. Do they have an oven or stove? If so, perhaps spaghetti noodles, sauce and other soups and frozen foods go into their box. Do they have children in need of sack lunches for school? That family would then receive lunch meat, peanut butter and jelly, snacks and juice. Third, they take food to the areas where homeless people congregate and hand it out directly to them. "We started with just loaves of bread. You would be surprised how many people lined up just for fresh bread," Gwen explained.
Now, the Sledges bring what they can, when they can, where they can. Each weekend, they go to South Dallas and Carrollton and bring a pack of volunteers along. Jesse said, "That has been the most amazing part of our journey — the number of people who come out each weekend to help. If they can give, they do. If not, they are waiting for us to get there so they can help set up tables and prepare the bags." Some weekends they need a small amount of help, but on the fourth Saturday of each month, the couple can use all the help they can get. The fourth Saturdays, everyone meets in Carrollton where the food is stored. Around 10:00 a.m., Gwen, Jesse and several car loads of volunteers head out to the park at Martin Luther King and Gould to distribute a long list of things: a bag of food each person can use for the week; a snack bag of food that can be eaten anywhere, which is a bit more special than what they normally get; clothing that has been separated on a table by gender and size; and one hot meal. "During the winter, we bring huge pots of soups and stews," Gwen said. "During the summer, it's hot dogs and bags of chips." They sometimes have fresh fruits and vegetables that are donated from The Gospel Mission. Last but not least, they take bottles of water in coolers. "Many weekdays after work, Jesse and I run around filling individual orders," Gwen said. "Sometimes, churches will call with an emergency — a family in need of short-term immediate help — and we will run up to Carrollton and make up a box to take it to whoever needs it."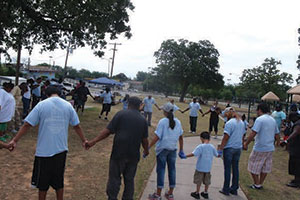 Both Gwen and Jesse dream of seeing their small food distribution service turn into a full-fledge homeless shelter with services including: food, shelter, job counseling, training and placement, along with therapy and GED preparation. They feel strongly about mandatory drug testing and even more strongly that people deserve the opportunity to turn their life around. "I've been there," Jesse said matter-of-factly. "I didn't change until I wanted to, until I hit rock bottom. And these people we are serving — some of whom I have slept next to — deserve to eat, to stay alive. With faith and God's help, they can turn their lives around." "Right now we are building, but absolutely enjoying the ride," Gwen said. "We have volunteers who care as much as we do. We are feeding people of all races and religions. We haven't missed a weekend since we opened." The Sledges truly have a passion for feeding the homeless, and with that passion, an amazing group of volunteers and a truck load of bread, they are making a difference in their community.
Written by Cindy Malone.