RED OAK, TX —  "I don't really like attention," John Keane said, smiling but a bit uncomfortable. "I prefer to be behind the scenes." Being a teacher, husband and father to four outgoing children, and grandfather to four, his quest for relative anonymity has been successful. Now, however, being on the board of the Ellis County Habitat for Humanity, John is speaking on behalf of the charity and people who are both helpers and those being helped.
John is a special education teacher for Red Oak Intermediate School, a profession he stumbled into and has grown to love. After deciding to put his landscaping business on hold for a profession that would allow him more time with his kids, he was vacting as a long-term substitute for a kindergarten class in Dallas. He began to wonder why two of his students kept leaving to go to a class called Resource. One day he visited Resource, and what he saw made him sure of what he wanted to do.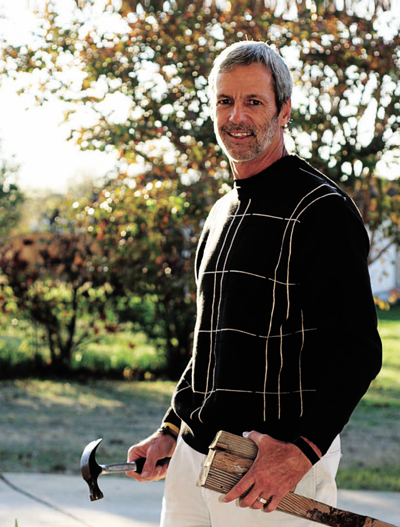 "There was a group of kids who could use my help," he said. During John's third year of teaching in Dallas, he was Lida Hooe Elementary's Teacher of the Year. He decided to teach in Red Oak several years ago to be closer to his teenage children and share their schedules. At Red Oak Intermediate School, he is the faculty co-sponsor for Rachel's Challenge, a group of children who believe in the power of being kind to one another and using random acts of kindness to support and take care of their classmates and those around them. The name comes from an organization started on behalf of Rachel Scott, a victim in the 1999 Columbine High School shooting. John's group has performed acts like sending materials to soldiers, which often included fun things for the soldiers to give children in the war-torn countries where they serve.
Although John has been teaching in Red Oak and living in Pecan Hill for 15 years, he has not always been so stationary. He was born in Peru and traveled all over South America during his young life. His dad, also a man with a giving heart, was a member of the World Health Organization and, as a veterinarian, "taught the disadvantaged how to care for and breed livestock in hopes of them becoming healthier and more self- sufficient," John said. From there, John's family retired to Michigan, so his dad could be closer to his parents. Thanks to his father, leading comes naturally to John.
Several years ago, John joined the Pecan Hill City Council, where he served as mayor for a short time. "I just really want to be involved in any way that can improve the quality of life for people, especially my family and my community," John explained.
When John's children began to need him at home more, he gave up his post in small town politics, but once they grew up and left for college, he needed something to fill his time. He began participating in Relay for Life, raising money for cancer research. It was there he met the woman who would introduce him to his next major volunteer opportunity.
"I was at a Relay for Life event, when my wife struck up a conversation with a woman who worked with Habitat for Humanity," John recalled. "And my wife, knowing I was interested in the organization, volunteered us to show up and work at the next meeting." John laughed as he remembered showing up and being thanked for "volunteering" for the board of directors. "I looked at my wife and she just kind of smiled. She is sneaky like that."
But John really didn't mind. He has enjoyed his time serving on the board. Within a few months of joining, they finished a house and began the process of looking for their next lot of land and home recipient.
"Getting one of the [Habitat] homes is not easy. The application process is very hard, and then once a family has been approved, they must put in hundreds of hours in sweat equity," John pointed out. The family receiving the home must work hard building, fundraising and doing clerical work, or whatever is needed, to help pay for their home. Even after  moving in, the home isn't free. Habitat homeowners usually have a less expensive mortgage, and they do pay taxes, but they don't pay interest on the mortgage.
John is quick to give credit to the massive number of people whose time and effort go into a house. "The construction teacher from Waxahachie High School helps with some prefab work and brings it to the home site," John said. "Even some of the students help build and plan." There are people who raise funds all year long, people who drop off nails and other supplies at the home site and people who cook and bring food to those who are working.
The group recently finished its latest house. "The family of six who is getting this house has been working extra hard and have been through a lot of hardships, even while we were working on their house," John said. "The husband had lost his job but recently found another. He is working extremely hard and is super appreciative of all the help." John is confident they will make this house into an excellent home for their family.
There are several ways people can give to Habitat for Humanity. Right now, John is working on a campaign whereby anyone can "sponsor a square foot." Basically, for $70, a person, family or group can sponsor one square-foot of a home being built. But that isn't the only way to give. "We always need construction material. If we can't use it, we can sell it and buy what we do need. We take everything," John admitted. "You can also go online and buy Habitat for Humanity T-shirts and other merchandise."
John's sense of volunteerism and giving may have been inherited from his father, but he is quick to acknowledge that a person doesn't need a history or an outside motivator to become a giver. "Why not?" he asked. "Why not give to those in need? Who could possibly be hurt by doing something good?"
John is quick to point out that he is not only talking about giving money. "If you are climbing up, if you are doing well and succeeding, look behind you. There
is someone trying to climb up behind you that could use a hand to help pull them up. Why not be that hand?"
Written by Cindy Malone.