MIDLOTHIAN, TX — Lauren Tryon is now one of music's bright rising stars, but when she auditioned for American Idol, she never made it past the first round. Though she sang well, the judges never even glanced at her. "It was awful," Lauren recalled with a shudder. "One of them was texting the whole time."
Fortunately, Lauren realizes her future was not in the hands of a few judges from one television show. She had been singing before audiences at church since her middle school years but never gave thought to a career in music. She began school choral music during her sophomore year by adding a cappella choir to her track and cheerleading pursuits.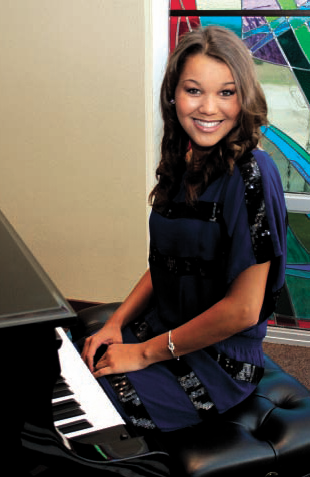 In 2010, her father's friend, who is a pastor in Nashville, Tennessee, heard Lauren sing and suggested she could break into professional Christian music there. The possibility interested her. "He and his wife even invited me to stay with them, but then those doors completely closed," Lauren said. Between that and the American Idol fiasco, she concluded, "Maybe singing is not what God wants me to do."
Last spring, Lauren's friend, Chelsie Pierce, persuaded her to record a short demo performance and post it on Facebook. Lauren chose "If I Were a Boy" by her favorite artist, Beyoncé Knowles. The 95-second audio clip soon caught the ear of artist manager Stephen Fraser, who tagged the video to draw the attention of Ira Dotson to it. Ira, president of Faultline Music Group, had managed Beyoncé's early music career.
Skeptical at first, since Stephen insisted, Ira finally listened to Lauren's demo at home. As it played, his daughter heard it from upstairs and came to ask him who the artist was. At this unprecedented response, Ira later told Lauren, "I knew I had to sign you."
When Stephen called Lauren about the offer, it caught her off guard. As she learned how well- connected Ira is — "He's worked with everybody" — she decided, "It would be stupid to turn down such a huge opportunity. I wasn't looking for it. It was completely brought to me," Lauren said.
Shortly afterward, Ira arranged Lauren's first performance — a June date in the House of Deréon at Houston's Music World. This was the venue where Beyoncé got her own start. Lauren sang "If I Were a Boy" again, this time in full and with Beyoncé's father, Mathew Knowles, in The following month, Lauren performed at Houston's "Freedom Over Texas" Independence Day celebration as one of the opening acts for three top Country & Western acts: Rodney Atkins, Chris Young and Jack Ingram. Lauren sings pop, rhythm and blues (R&B) and admitted, "Even though I wasn't going to sing country, I had to do some research before I went."
In developing her skill as an artist, Lauren works with a producer to build performance and writing credits, make connections, choose music — all the elements of making her name more widely known. When traveling for a performance, she said, "I get extra- special treatment. I have a driver, an assistant making travel arrangements and a photographer taking publicity shots." A few people, seeing the fuss surrounding her, have asked for her autograph, despite having no idea who she is. Though Lauren enjoys the celebrity treatment,
she said, "I don't take it personally, and it doesn't go to my head. Really, I think it's funny."
After this whirlwind start, Lauren had to adjust to a new schedule. It was time for her sophomore year at The University of Texas at Austin (UT). She registered for 12 hours in the fall semester, arranging to have Fridays free for travel. Now she must squeeze her business the audience. matters and rehearsals in between her sophomore-level courses as a speech pathology major. "Nothing to do with music," she acknowledged with a smile.
How does Lauren manage her time? "It's definitely hard. I wake up, do music in the morning, have class all day, do more music, and then I'm in the library until it closes at 2:00 a.m. And I start all over the next day." She carries an iPod and sometimes has to listen to music samples in class, should Ira need a quick decision. "He tries not to bother me during classes, though," she added. She is also currently on the praise team in a church right off the UT campus.
In the future, Lauren may have to take a semester off school or do online courses to allow for touring. But she plans to finish her degree. "Education is very important," she said.
Lauren credits God for the way her career has taken off. As to the secular genre, she believes pop offers a greater chance to be a positive role model for young girls than does Christian music. "Most girls don't listen to Christian music," she pointed out.
While Lauren's initial opportunity came to her through little effort of her own, she now works very hard to make the most of it. Besides her relentless daily school and rehearsal schedule, she spends a great deal of time recording in the studio. "And studio work takes forever," she groaned. "Once I spent two hours on just the first line of one song." However, after making the many tiny adjustments, the producer demanded, "It's worth it when you hear the finished product." Occasionally, she polishes her skills with a lesson from Midlothian vocal coach Matthew Fisk and Tom McKinney, in
Houston, and feels confident that studio recording will become easier as she gains experience. Despite Lauren's hard work, sometimes discouraging things happen. At the "Freedom Over Texas" concert, held outdoors in 100-degree heat, her mouth and throat became very dry. She also forgot the lyrics during one song but managed to cover for it. Last fall, while singing the National Anthem before Midlothian's homecoming game, she had to contend with the echoes in the stadium. "I slowed down the tempo to prevent losing track of my voice."
But already, the highlights have more than counterbalanced every setback. Her greatest moment, so far, was singing Beyoncé's song in front of Mr. Knowles, then getting to meet him and hear his comment: "You did honor to the song and to my daughter."
To others who dream of an entertainment career, Lauren offers a little advice. "Put yourself out there; no one will find you if you don't. Get on Facebook, put up a fan page and post videos on YouTube. Don't be shy."
Lauren cautions everyone to know the demands of a singing career before committing to it. In her opinion, "If you mind losing your sleep, then it's not worth it to you."
Written by Janice C. Johnson.