MANSFIELD, TX — Rob Schulz is extremely reluctant to talk about himself. He's not impolite about it, but he'd just rather not be the main topic of conversation. That just seems to be his style.
But his excitement grows when the conversation turns to his efforts in the community, especially the project known as Mansfield 2020. This project is just one of his passions, and something he is deeply committed to seeing succeed. In fact, seeing Mansfield flourish is very much a part of who he is. "Mansfield is a real community, not just another sterile suburb," Rob said. "It has diversity, history and character that make it a great place to live! We're here for life!"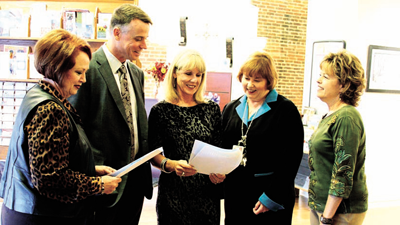 Rob and his wife, Shelly, whom he married during his senior year at The University of Texas at Austin, have lived in Mansfield since May 1994. They have four children: Gretchen, Grace, Daniel and Gwen, who range in age from 20 to 9. "I want Mansfield to be a place that my kids can come back to someday and thrive if that is what they desire. This community has massive potential, a Mansfield 2020 is our roadmap to success."
Much of Rob's sense of community involvement comes from his family heritage. Rob looked up to his father and grandfather, who both believed in making a difference in their community. Rob said his father's passion was for downtown revitalization. That influence led Rob, once the decision was made that Mansfield would be his family's home, to the Mansfield Chamber of Commerce to ask how he could be of service. Because of the way he was reared, community service was never a question where Rob was concerned. "It's what you do," he stated. "It's the legacy you leave behind."
The first thing Rob got involved in was the campaign that led to the Mansfield Economic Development Corporation (MEDC). The campaign called for a half-cent sales tax increase to fund the MEDC and passed by a wide margin. Then in 2009, Rob was inspired to work with the Mansfield Area Chamber of Commerce to create Mansfield 2020, which he describes as a living document. The document was adopted by the Chamber and presented to the Mansfield City Council in 2010.
The mission of Mansfield 2020 is to discover what Mansfield can accomplish by the year 2020 and share a vision for the future. MEDC incorporates four areas of focus: infrastructure, economic development, education and quality of life. The document states that quality of life is intertwined with the others and that it's all about finding and creating better lives for ourselves and our children. To improve on the quality of life in the community, the document focuses on several initiatives that include clean, green and lean.
When discussing the clean aspect, the document points out how important first impressions are. For that reason, a greater emphasis on clean streets and beautification programs is advocated. "This means we may have to find a way to locally fund the cleanup of state-owned thoroughfares and even private property in order to meet the high standards our potential future demands," he explained.
As one might guess, green has to do with maintaining a healthy focus on the environment. The document indicates that in order to continue to achieve a strong quality of life, there will have to be continued emphasis on the linear park system and maintaining clean and beautiful waterways. Environmentally responsible recycling, water use and energy initiatives are also considered essential.
"Lean has to do with health," Rob said. "The Mansfield 2020 document is crucial to one's quality of life." Moreover, the document asserts that a strong health initiative would set this community apart from others. Rob and the Mansfield 2020 Health Initiatives committee believe
the community is well on its way in this area with newly created branding and unprecedented cooperation between the city, school district, local businesses and healthcare providers. "Our efforts  are being noticed and acknowledged as groundbreaking work throughout the Metroplex," he added.
When it comes to economic development, the goal for the year 2020 is a self-sustaining city with quality neighborhoods, schools and businesses, known as a hub of medical excellence, corporate headquarters and clean industry. Continued encouragement of medical industry expansion, educational excellence, cultural enrichment and public transportation initiatives are among the items suggested. A vital, continued effort for downtown revitalization is also considered important.
By the year 2020, Highway 360 should be taking drivers all the way to Hillsboro, becoming a third major connector for travel between the Metroplex and Austin. In addition, Mansfield is slated to be a part of the proposed Loop 9, a 357-mile loop around the entire Metroplex. Mansfield 2020 suggests that intensive planning for the opportunity needs to start immediately.
Rob feels that education may be the most important component of Mansfield 2020. Keys for a successful educational system include more parental involvement at the higher grade levels and massive support from the business community. The goal of the Mansfield education system is to have students
prepared to step off the commencement stage into an academic or vocational program that helps them achieve the career path they have chosen in life. Rob holds this goal very close to his heart. "I want this to be a community where every kid is prepared to achieve what they want to accomplish and be able to do it here," Rob remarked.
To Rob, Mansfield 2020 is all about giving tools to community leaders who aspire to do great things, while also giving them the opportunity to succeed. What
if they should bypass the vision? "That's even better," he said. "That's the greatest compliment. It's my hope that Mansfield attracts and nurtures such talented future leaders that they in turn achieve things we cannot possibly imagine."
But don't think Vision of Mansfield 2020 is the main priority in Rob's life. As he talks about his children and his wife, his eyes light up. The dry erase board
in his office is evidence that his family is very close and supportive of one another. The words, "I love you Daddy! Gretchen," had been drawn there by his daughter for all to see. Once again, Rob reiterates his desire — making an impact on the community has more to do with providing a legacy for his family than anything else. "It's just the right thing to do."
Written by Rick Hope.