ENNIS, TX — Birthdays are very special days. First birthdays are filled with photos of cake- smeared faces, while gold bells and streamers mark a 50th birthday. But turning 100
is the ultimate milestone, just ask Richard Clark. "I'll be 100 on January 3," he said. "I've seen a few old people in my time, but I never imagined I would live to be 100."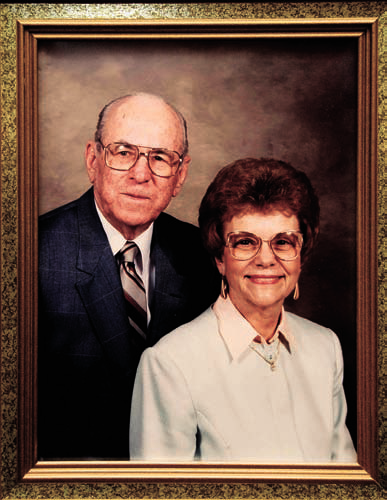 Living a long life means the memory bank within is filled to overflowing. Most of the memories are wonderful, but the ones that bring sadness are the losses. "I've had some losses in my life," Richard admitted. "I lost my first wife to cancer in 1971 after 43 years and 3 months of marriage. I've also outlived two of my children."
When he was just a tender boy at the age of 7, he promised his mom he'd never drink, smoke, gamble or curse, and he's held strong to that promise for nearly 100 years. "I made that promise before my mom left to go to the hospital," he remembered, also sharing that she never came home from that visit.
As Richard grew to adulthood, his father gave him advice he has also lived by. "He told me to never raise a hand to a woman, especially my wife," Richard said.
"If you can't say something good about someone, then it's best to say nothing at all. I've never been a gossiper. I
was reared in a Christian home with Christian values."
No doubt these Christian values have caused Richard to be the patient, caring, unselfishly giving husband he is to his second wife, Margie, for the past 37 years. Richard and Margie knew each other from childhood. Their families were entwined early on. Her father worked for his father on the family farm between Bristol and Palmer, Texas. "She was born on my dad's farm in 1918, although her birth certificate was dated 1919," Richard said with a smile. "That's how I first knew her."
After several years passed, Richard was reintroduced to Margie. One Saturday evening, Richard was at his sister's beauty shop in Ennis. He was going to take his sister and brother-in-law out to eat. They asked
him to call Margie. He did, and she accepted. A week and two days later, Richard dated her a second time. That date took them to the Texas State Fair. "I wasn't going to date her because of the seven-year age difference," he confessed. "Three to four months later, the time came for us to decide if we were going to marry or just date and remain single."
Richard asked her to marry him in October of 1974. He and Margie were married on January 17, 1975, as the New Year started. Both families took to one another almost immediately. "My kids loved her, and her kids loved me," he said. "It was a good deal."
Life was really good until the affects of Alzheimer's started to rear its ugly head in 1990. "I had taken her to a department store," Richard explained. "I waited outside on a bench for what seemed like a very long time. I went back in to look for her. When I found her, she said she was lost."
Six years later, the disease had taken its toll. The only place in Richard's memory that she didn't become agitated or confused was at the couple's church home, Tabernacle Baptist Church. In February 2005, Richard had to make a most difficult decision. "I admitted her to the I.O.O.F. Nursing Home," Richard said. Just three short weeks after admittance, Margie got to where she no longer knew who Richard was. But, that didn't stop him from being the husband his parents' had reared him to be.
Richard and Margie could easily be compared to the couple in Nicholas Sparks' book, The Notebook. He goes to visit Margie straight from church on Sundays, but tries his best to get to the nursing home between 10:00 and 11:00 a.m. the rest of the week. "I feed her lunch, and then she goes right back to sleep," he stated. "I sit with her until I know she's really asleep. I love Margie dearly. We've had a good life. I don't ever remember a cross word between us. Margie is my responsibility, but I do what I do because I care for her deeply. She also gives me a reason to get up in the morning."
Richard is grateful for his good health. "I'm in good health. When I get up on my feet, I sometimes get unbalanced, but otherwise I'm doing pretty good."
For the centenarian, pretty good really doesn't begin to describe the man he still is today. As aforementioned, he still drives, but no highway driving since his 90th birthday. "I've been driving since I was 11," he quipped. "I've never had a speeding ticket, and I've never had an accident, not even a fender bender." The only ticket he did receive was for parking in a slot that was designated as "No Parking" at the time. "You weren't allowed to park in that slot until after 1:00 p.m.," he explained, stating it was after 1:00 p.m. when he parked the car. "My watch was right, but the police officer's watch must have been slow." Richard paid the $5 ticket the very same day.
Richard still resides in the same home he and Margie built in 1977. He still cleans the house and prepares most of  his meals. He finds enjoyment in baking for Margie, as well as other people who have had the pleasure of enjoying his cakes and pies. "Cake without icing is much better than pie," he said, referring to what he bakes for Margie. "They're not so messy, and it's easier to transport them to the nursing home." His chocolate pie has been a good witnessing tool on more than one occasion.
Richard noted several changes over the past 100 years. "The advances in medicine are great," he said, "and it's very rare to find a gravel road. They're all 'hot- topped' now."
Each day for Richard begins with a drink of water, getting dressed and reading Scripture. "I have no regrets," he confessed. "Living a godly life has been the one thing that's helped me to live a long life. I've heard some really good preaching over the years, and I've learned from that good preaching."
Richard has definitely set the bar high when it comes to living a complete and full life. "Living long means an awful lot of good memories," Richard said. "Life isn't over just because you age."
Written by Sandra Strong.