CORSICANA, TX — It was legendary showman P.T. Barnum who produced the first recorded American pageant, after testing the waters with dog, baby and bird beauty contests back in 1854. Although it was soon closed down by public protest, Barnum's original idea — create a forum for candidates to compete against others as the "best and brightest" in different categories — lives on today. From TV's infamous Toddlers & Tiaras to the Miss America and Miss Universe competitions, pageants appear to be flourishing.
When the call went out in 2011 to Navarro County married women between the ages of 21 and 56 to compete for the title of Mrs. Navarro County, Rhonda Davis was skeptical about her chances. The winner, besides representing the county at various functions throughout the year, would also be given the opportunity to compete for the Mrs. Texas and Mrs. America pageants. Rhonda entered the contest, where she competed in interviews, fitness wear and an evening gown competition. To her surprise and astonishment, she won. To hear her story, however, it comes as no surprise.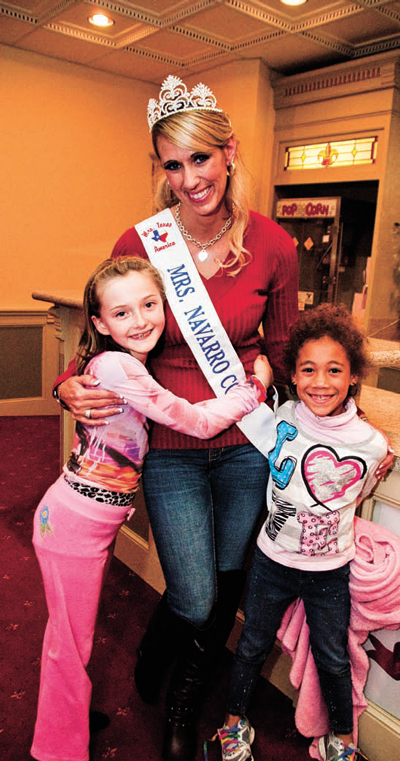 The beginning was right out of a fairy tale. Born and reared in Corsicana, Rhonda graduated from Corsicana High School in 1987, married her high school sweetheart in 1992 and was perfectly content to stay put. "My dad persuaded me to start doing volunteer work at the State Home, where he was working at the time," she remembered. "We would bring kids home to let them see what it was like to be with a family unit. Then I joined the Corsicana Emergency Corp (CEC) in 1992 and started helping out with the police reserve to assist stranded motorists."
Finding her niche and discovering a real penchant for getting involved, Rhonda expanded her volunteering by becoming a member of the board of the Corbet Oak Valley Fire Department, an activity she's performed for nearly eight years. "The lady who did the bookkeeping retired, and I tell everyone I was 'railroaded' into taking over," she laughed. "So I quickly railroaded someone else into doing that, and I took over as treasurer, which I've been doing for three years now."
Rhonda's journey took an unexpected and traumatic detour when she was diagnosed with ovarian cancer in 2004. "I was numb, totally in shock and so scared. During that terrible time, my boss invited me to visit a meeting of the Navarro County Relay for Life, a branch of the American Cancer Society. As I was leaving, a friend's mom stopped me."
They walked and talked for hours and the woman, who had no idea of Rhonda's diagnosis, gave her encouragement and much-needed support. "It was just what I needed, so I decided to participate," she remembered. The following year, she assembled a relay team which raised more than $9,000 by hauling purple potties all over town.
"Yes, that's right," she giggled, "purple toilets that people filled with cash. The following year, we did purple boots then pink-bedazzled flamingos." Rhonda's participation with Relay for Life has continued and is now going on its seventh year, with no signs of stopping.
Being named Mrs. Navarro County earlier this year, however, gave Rhonda the perfect platform to spread the word about the importance of early detection of ovarian cancer. "I represent the county by making appearances where I can talk about my own experience, educate other women and promote early detection as much as I can," she said.
The sadness and frustration in her voice is evident as she explains that there is still no real test for the early detection of ovarian cancer. "It is called 'the cancer that whispers' because the early symptoms are so similar to those of other less serious conditions," she said.
According to recent statistics, cancer incidence and mortality rates have been in a decline since 1991, much of which can be attributed to federal funding for research that has filtered down to the community level. Despite this progress, however, cancer continues to kill more than 570,000 Americans every year, according to the National Cancer Institute.
Rhonda visibly brightens as she recounts how her path led her to her most recent project, becoming a competitor for the Mrs. Texas competition, scheduled for January 19-21, 2012, at the Palace Theatre. "My niece had seen it mentioned in the paper and thought I should do it, and a friend also thought it would be a good idea," Rhonda said. In keeping with her motto to seize every moment, she went ahead and filled out the application in August. Now her focus is on all the preparations that go into competing in a pageant, a daunting task by itself.
"I've gotten some local sponsors to help with the expenses, and they've been so very supportive. Merle Norman will be doing my makeup and Collin Street Bakery, Two Doors Down Coffee House, Edward M. Polk Associates, Inc., and Goco Trucking have all donated toward helping me get ready for the pageant," she said.
Next on her list of things to do is finding the right dress. "I will take my best friend with me to pick out a dress, because she will be perfectly honest with me!"
According to Tracy Crist, executive director of the Mrs. Texas competition, the pageant is very happy to call Corsicana's own Palace Theatre home, something they've done since 2010. "We chose the Palace Theatre as our new home in 2010 because we were looking for a more intimate historic theater, having previously been in the Dallas area. We wanted to bring the pageant to a smaller community that would really support the program and the ladies," Tracy explained. "We were searching
on the Internet and came across the Palace. Boy, did we hit the jackpot! It's a hidden gem of a theater, and the whole community has rolled out the red carpet for us!"
Tracy added that the Mrs. Texas competition has been blessed by local sponsors Two Doors Down Coffee House, Cotton Patch Café, Holiday Inn Express and Napoli's Restaurant. "We hope to be a part of the Corsicana community for many years to come," she added.
As for Rhonda, she admitted she's excited about the upcoming pageant. "It will be great meeting the other ladies — hearing their stories, and I plan to take every opportunity to keep promoting my belief in marriage and volunteerism," she said. Until then, Rhonda said, she plans to "practice, practice, practice."
"Having cancer and surviving it changes your outlook permanently," she reflected. "You really don't sweat the small stuff. You live each day for the moment and try not to waste a single second. I consider myself very lucky — lucky to be here and lucky to have my husband and my family."
Written by Rick Herron.