BURLESON, TX — Give Chad Jones a fiddle these days and with a partner and the opportunity to perform, the heart-melting sound of twin fiddles will quickly explain his passion. He began taking guitar lessons in June 2009, the summer after sixth grade, and by the following June, he had signed up for his first fiddle lesson. "I really like the way the fiddle sounds," he said. He plays guitar and a little banjo and piano but, since that first fiddle lesson, his determination has been to be the best fiddler he can be. He enjoys old songs like "Sally Goodin," "Cotton-Eyed Joe" and "Faded Love" and musicians like Flatt & Scruggs, Bob Wills and Johnny Cash. "I like Clint Black, Brad Paisley and Luke Bryan, too," he said. "My favorite is Alan Jackson."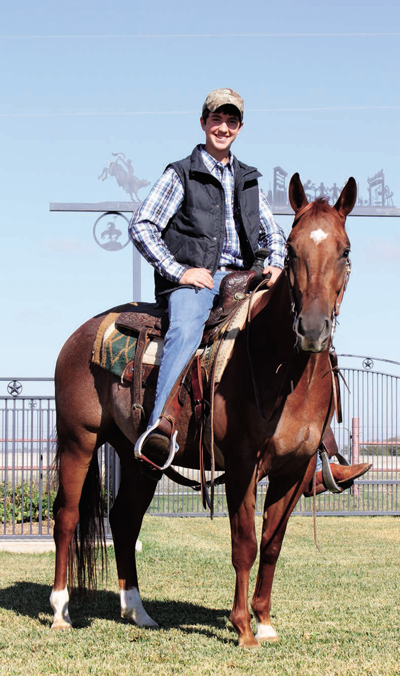 Last year, Chad and 4-H friend, Holly Strevey from Grandview, teamed up to play twin fiddles at the 4-H Share the Fun competition in Johnson County. "We won first place and then finished first at the district level," he said. The two had played together only a short time, yet their styles blended well. They went on to play at a few events that were not associated with 4-H, too.
In the fall, Chad began to take lessons at a studio closer to his home in Burleson and met and practiced with fellow student, Katie Crawford. "Katie and I are playing together for guests arriving at this year's Texas Cowboy Hall of Fame induction," he said.
While music is his passion, Chad's list of interests is anything but short. In fact, he is a very busy young man. "My mom says when I was in sixth grade I suddenly became interested in everything,"
he smiled.
He is decidedly younger than his four half-siblings, aged 27 to 36, and has the charm of being the baby in the family and confidence of an only or oldest child. He is blessed with a supportive family including two very proud parents. At age 15, he's handsome, personable, an A student in his ninth-grade class at Centennial High School, and his list of pursuits is impressive. "I love music, horses, hunting, fishing, baseball, family and friends," he said.
Chad's dream is to play professional baseball or possibly become a famous fiddler. He plans to attend Texas A&M University and earn a degree in electrical or mechanical engineering. Chad grew up in Burleson. "We've lived in the same house all of my life," he said. "My grandparents own a farm in Godley, and it's the family gathering place. I spend a lot of time there hunting, fishing and riding horses, especially in the summers. I practice fiddling, too. Sometimes, when I play a song like "Cotton-Eyed Joe," my grandmother will dance and everyone sings along."
About the time he discovered music, Chad also fell in love with horses. "When I was 12, my brother-in-law bought a horse. Soon after that, my mom, my granddad and I bought three horses," he said. "I needed to become a good rider, but before that happened, I was bucked off."
With the help of 4-H friends, he was able to move past the bucking incident and eventually entered some local 4-H horse shows and won a few ribbons.
In February 2011, Chad and his mom bought a 3-year-old Quarter horse gelding named CR Moonshine Rey. "Rey is short, about 14.3 hands, and I'm almost 6 feet tall. It's easy for me to ride him," Chad smiled. "I like to ride bareback, and I've taught him to side pass without a bridle. We are learning to sort and cut cows so that Rey and I can compete at the 4-H district and state levels and, hopefully, win some scholarship money."
Last August, Rey was sent to a friend's place to refine his sorting skills and, in the meantime, Chad rode his grandfather's gelding, JR. "My grandfather grew up on a farm," Chad said. "He knows horses. When he was my age, he used to break young horses now and then."
To see Chad with Rey and JR is to know he is a natural. "I love being around horses," he said, "I started riding and taking music lessons in the sixth grade and, even though I enjoy both, I think I like fiddling the most. With horses, you're either up or down whether you're riding, training or competing, but with fiddling, you're in control and once you're good, you're good. From my first lesson, I caught on quickly and have been practicing and taking lessons individually and with partners. If I get extremely good, I would like to be famous some day but, for now, I'm happy playing for tips."
Beyond fiddles and horses, Chad is an avid hunter and fisherman, baseball player and devoted Rangers' fan. "I'm certified to hunt alone, and I hunt everything from white tail deer, dove, quail and ducks to hogs and coyotes, and if necessary, skunks," he grinned. "Last June I joined the Burleson Bass Club, and I also play short stop or second base on two baseball teams at the Burleson Youth Association. Our fall team finished undefeated last year."
Chad is also an active 4-H member. "I'm going to Washington, D.C., with a 4-H group from Johnson County this June," he said. "It's up to us as a group to raise money for the trip." He has participated in food drives and horse judgings, and his family usually hosts the group's Christmas and New Year's Eve parties at his grandparents' barn.
When he is not in Godley, at school, fiddle lessons or 4-H, Chad is at home with two very special friends. Lucy, his 16-year-old Labrador/Collie, has been with him his whole life. Then, there's Piglet, the 3-year-old Corgi/Healer/ Australian Shepherd who arrived as a snorting puppy and remains a feisty friend.
The most important prerequisite to all of Chad's passions and hopes is education. "School is a priority in my family. I want to go to Texas A&M someday, and I understand that a high GPA is important," he said. "So far, I've maintained an A average on my report cards. Once in a while I get a B, but
not often."
If becoming a famous fiddler is in the cards for Chad or playing professional baseball, being a successful engineer, conducting big-game tours — or merging every interest into one colossal passion — this gifted young man is sure to give it everything he has. Just ask anyone who knows him.
Written by Carolyn Wills.