DESOTO, TX — When one door closes and another doesn't open, Job Seekers Ministries will help you find a window. During a time when landing jobs is more competitive than ever, a group of volunteers from DeSoto's First United Methodist Church is dedicated to helping locals find employment. "I had been laid off from two teaching jobs in two years when I heard of a job ministry in Spring, Texas, where my daughter lived. I visited, and what I saw was a positive, Christian setting touching on all the fundamentals of job hunting," Job Seekers Ministries coordinator, Sharon Weyker, said.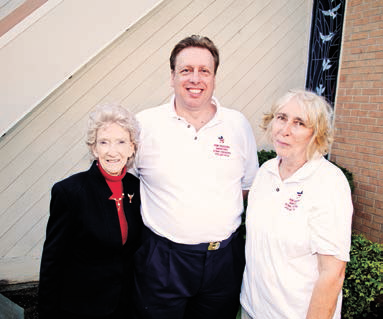 Early in 2010, Sharon brought the idea back to her home church, where Reverend Kevin Strempke told her to hit it! "There was some discussion and approval procedures to go through, but once I got the volunteers together, things happened pretty quickly," Sharon said.
By January 2011, the group was ready to begin. As a support ministry providing encouragement, information and job-search skills training in a Christian setting, meetings are open to job seekers of all backgrounds and religions.
"This is a nondenominational, nonpolitical thing. We are not left wing or right wing. We want the whole bird!" Reverend Strempke said.
One participant, Francine Holowak, is proof positive that Job Seekers works. The 85-year-old DeSoto resident had attended just a few meetings when Sharon referred her to a job. "I was at the dentist, and I overheard them talking about needing office help," Sharon recalled. "I immediately thought of three ladies in the ministry and called Francine first."
Francine made an appointment to drop off a résumé with the dentist the next morning, and by that afternoon had the job. "I had no experience in dental offices, but my background was sufficient for what they needed, and I convinced them I'm a fast learner." Francine's positive attitude may be one of the most important trait's a job seeker can offer a potential employer. "I had been unemployed for two years when I saw information about Job Seekers and came to a meeting. I met people here and showed that I enjoyed everything. I really think that cheerfulness came across in my interview, and that's what got me hired," she said.
Volunteer Alina Esquivel explained putting one's best foot forward can indeed make all the difference in job searching. "There will be days when you don't feel optimistic, and that's OK, but you cannot let yourself dwell on that. You have to practice positive self-talk and concentrate on what's within your control," she said.
Alina described some key areas job seekers should tend to, including health and relationships.
Guests at a recent ministry meeting
did just that when allowed to share what they felt would most help them in their job searches. From those suggestions, Job Seekers set agendas for meetings focusing on résumé production, job search skills, interview techniques and networking. "The concept is to set up the ministry in modules through which people can filter for the specific help they need. Each of our volunteers has an area of expertise that they present to the group," Reverend Strempke noted.
Curtis Johnson, who first came as an attendee, is now a volunteer who focuses on interview skills. Linda Tate, who
has reviewed thousands of résumés in her career, brings that expertise to the ministry. Other volunteers are Linda Harris, who assists with cover letters and mock interviews, and William Weyker, who covers personal presentation.
"We had 16 people attend our first meeting; now 40 have gone through the program. About 17 of those have found jobs," Sharon counted. "And we are all always listening for jobs to refer each of the program members to. Networking
is so important, and being part of Job Seekers is doing just that.
Ultimately, Sharon would like to
see the group expand beyond just its members. "I would also like to work with economic groups to try to get businesses to come to the DeSoto area," Sharon said. "We had an angel tree at Christmas with names of the unemployed and what career they were interested in. Members of the congregation took a name with the promise of mentorship and assistance finding a job."
Although Francine has already found a job, she continues to attend Job Seeker meetings. "You can always learn something new, and as we all know, jobs don't last forever anymore," she said. "I love what I'm doing now, but I figure it never hurts to keep on top of things by coming to these meetings."
Current participants range in experience from janitorial to law. Other positions now sought include security, journalism, secretarial, teaching, yard work, truck driving, nursing, collection agents, dental assistants and administrative.
"No matter one's professional experience, unemployment can be a challenging time for many as they question professional worth, job skills and even their faith," Reverend Strempke said. "We are here to help. That's all we're here to do. There's no commitment [required of attendees] other than what you're willing to put in toward better preparing yourself to find a job."
Meetings open and close in prayer as volunteers ask God's favor over those in attendance. "If nothing else, the folks who attend our meetings can expect to leave feeling better about themselves. They find they are not alone and that someone cares," Reverend Strempke said. "We're here to offer help and hope. Plus, we have cookies."
The snacks, like participation in the group, are free. If that's not enough, Reverend Strempke encourages folks to attend just one meeting to decide if it's for them. "Try us. You'll like what you see. Besides," he said, "if closed doors have been blocking your job search, opening a new window never hurts."
Written by Angel Morris.