These recipes were contributed by Jackie Potts, a Weatherford resident, and originally appeared in the WeatherfordNOW May 2015 issue.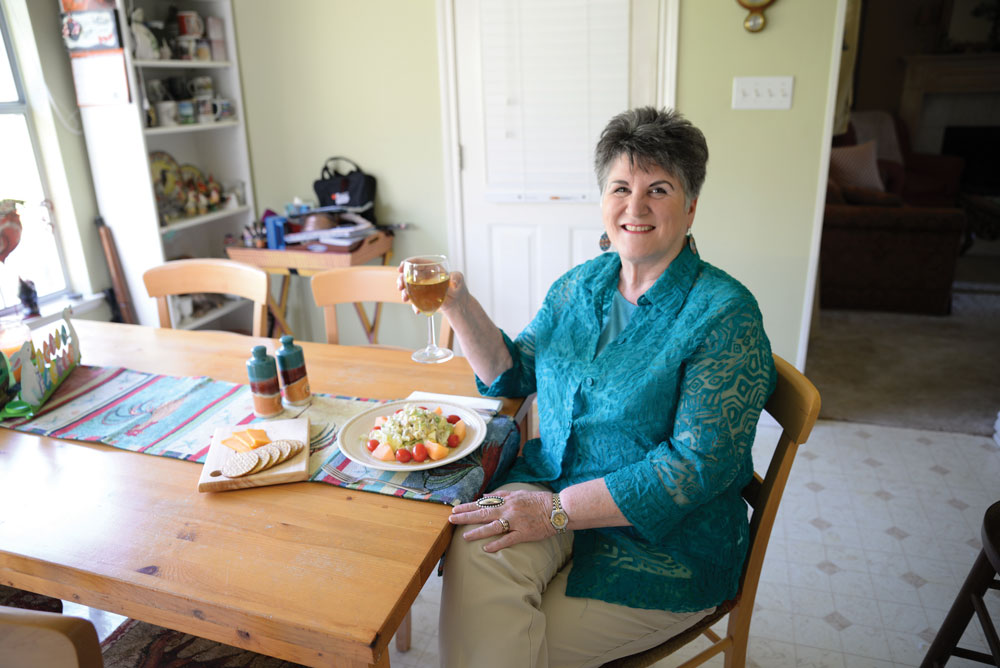 Cold Tuna Salad
1 12-oz. can of StarKist tuna in water, drained
3 eggs, hard-boiled and chopped
1/2 cup red or green bell peppers, chopped
1/2 cup celery, chopped
1/2 cup onion, chopped
1/2 cup of Miracle Whip, or to taste
1/3 cup sweet pickle relish
3 dashes of Louisiana Hot Sauce
Salt and pepper, to taste
Mix all ingredients in a bowl. Serve on bread or a bed of lettuce with sliced tomatoes. You can also make this recipe with chicken and add chopped grapes or apples.

 
Laura's Coconut Ice-box Cake
1 box white cake mix
1 15-oz. can of Coco Lopez
1 12-oz. container Cool Whip

 

1/2 cup toasted coconut
Bake cake as directed in a 9×13-inch casserole dish. Once out of the oven, immediately punch holes in the cake with a wooden spoon handle. Pour the Coco Lopez all over the cake; put in the refrigerator to cool.

 

When cooled, frost with Cool Whip; sprinkle toasted coconut on top and serve cold. Keep refrigerated.
Lemon-Pepper Pork Chops  
4 center-cut, boneless pork chops
2 Tbsp. lemon pepper
Preheat grill to 350 F. Season each side of pork chops with lemon pepper. Place onto grill, turning once until done. Cooking times vary, but it could take 30-40 minutes for thick chops. Serve with a side of spinach salad.
Meat Loaf
1 lb. ground hamburger or deer meat
1/2 cup onions, chopped
1/2 cup bell peppers, chopped
1/2 cup celery, chopped
1/2 cup carrots, chopped
8 Ritz crackers, crushed
2 eggs, beaten
1/4 cup milk
1/2 cup ketchup
3 drops of Louisiana Hot Sauce
10-oz. can Ro-Tel Original Chopped Tomatoes and Chilies
Preheat oven to 375 F. Mix together first 10 ingredients and put in a greased 8×8-inch casserole dish.

 

Pour Ro-Tel over meatloaf.
Bake for 1 hour and 15 minutes. Serve with mashed potatoes and a green salad.
Doylene's Chicken Fried Steak and Gravy
Chicken Fried Steak:
1 lb. round steak
1/4 cup flour
5 Tbsp. Crisco vegetable shortening
Salt and pepper, to taste
Gravy:
1 Tbsp. Flour
1/3 cup water
1/2 cup milk
For chicken fried steak: Tenderize steak by beating vigorously with the edge of a plate or mallet. Cut into several pieces; rinse in cold water and dust each side with flour.
Heat Crisco on high in a skillet until it sizzles; reduce heat to medium.

 

Place steak in skillet and brown on each side. Season with salt and pepper while in skillet. Remove from skillet.
For gravy: Stir flour and water into oil in the skillet to make a paste. Begin stirring in milk until the mixture reaches desired consistency. Serve gravy on the side with the chicken fried steak.
Peanut, Raisin and Chocolate Clusters 
12 oz. milk chocolate morsels
1 cup cocktail peanuts
1 cup raisins
Melt chocolate in microwave-safe bowl for about one-and-half minutes, until smooth. Add in peanuts and raisins; stir until thoroughly coated.
Cover cookie sheet with parchment paper. Drop a teaspoonful of the mixture onto the paper; continue until all of the mixture is used. Freeze for about 30-minutes. Place in airtight container and refrigerate.