These recipes were contributed by Judy Jamison, a Burleson resident, and originally appeared in the BurlesonNOW August 2016 issue.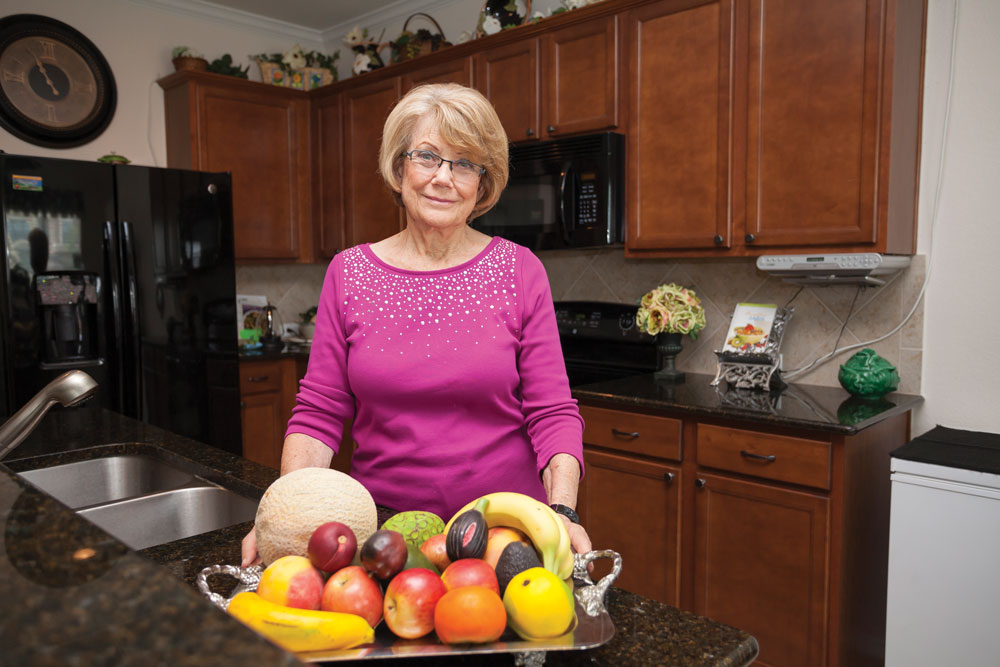 Breakfast Sausage-like Patties
2 cups water
4 Tbsp. soy sauce
2 tsp. onion powder
1/2 tsp. garlic powder
1 tsp. Italian seasoning
1 tsp. sage
1 tsp. smoked paprika
2 tsp. liquid smoke
2 cups quick oats
1/2 cup pecans, finely chopped (or soy Bac-Os Bits)
Vegetable oil, for frying
Bring water and seasonings to a boil. Add quick oats and chopped pecans or Bac-Os Bits; stir well.
Remove from heat and allow to cool.
Form patties into small balls and flatten in frying pan. Fry with 1 tsp. oil per batch to brown.
Scrambled Tofu
Serves 6.
1/2 small onion, finely diced
1/2 red pepper, finely diced
1/2 green pepper, finely diced
1 Tbsp. vegetable oil
1 14-oz. water-packed tofu, firm or extra firm, drained and crumbled
1-2 Tbsp. nutritional yeast
1 tsp. garlic powder
1 tsp. salt
1/2 tsp. turmeric
1 tsp. cumin
1/4 cup salsa (or ketchup)
In a frying pan, sauté the onion, red and green pepper in oil.
Add crumbled tofu and seasonings and toss together. Note: Can omit vegetables and add onion powder and seasoned salt.
Simmer until all moisture is absorbed. Serve with salsa, or ketchup if desired.
Crock-pot Cereal
1 cup whole grain of your choice: oat groats, bulgur wheat, barley, brown rice, wheat berries, etc.
4 cups water
1 tsp. salt (optional)
1/4 cup toppings of your choice: chopped nuts, shredded coconut, dried fruit, fresh fruit, brown sugar, molasses, maple syrup, soy milk, etc.
Wash whole grains (not granular, rolled or refined cereals) and place in Crock-Pot the evening before breakfast.
Cover with water; add salt, if desired.
Before retiring, turn Crock-Pot to the lowest setting.
In the morning, the cereal will be cooked, hot and ready to eat. Serve with toppings of your choice. Note: Can be made in a saucepan on top of the stove by cooking for 40-60 minutes on low heat.
Cooked cereal can be kept in the refrigerator for several days and reheated before serving.
Dairy-free Gravy on Whole Grain English Muffins
Serves 6. 
 1/2 cup raw cashews, washed
1/2 cup white flour
1 tsp. salt or McKay's Vegan Special Chicken Seasoning
1 Tbsp. nutritional yeast flakes
Dash onion and/or garlic powder
3 cups water (divided use)
1 cup vegetarian sausage, cooked and crumbled, or 1/4 cup soy Bac-Os Bits (optional)
6 whole-grain English muffins or biscuits
 Place first five ingredients plus 1 cup water in a blender. Blend until smooth.
Add the remaining 2 cups water. Pour into a kettle and cook over medium heat until gravy thickens, stirring continually to prevent scorching. Add vegetarian sausage crumbles or some soy Bac-Os Bits for added flavor.
Serve over whole-grain English muffins or biscuits.
Homemade Granola
7 cups rolled oats
1 cup quick oats
1 cup sliced almonds
1 cup shredded coconut
1 cup raw sunflower seeds
1 cup water
1/4 cup honey
1/4 cup molasses
1 tsp. salt
Mix together the oats, almonds and coconut.
In a blender, blend the last five ingredients.
Mix the two parts together with a fork to separate the particles. Spread the mixture thinly on several cookie sheets.
Bake at 225 F for 2 hours, or until dry and toasted.
 Instant Sugarless Jam
2 cups fresh or frozen fruit of your choice: strawberries, apricots, peaches, mango, etc.
1/2 cup dried pineapple
In a blender, whiz your preferred fruit with dried pineapple until pureed. Thin with water if using as a sauce for pancakes, waffles or French toast.