These recipes were contributed by Victoria Sotelo, a Midlothian resident, and originally appeared in the MidlothianNOW May 2014 issue.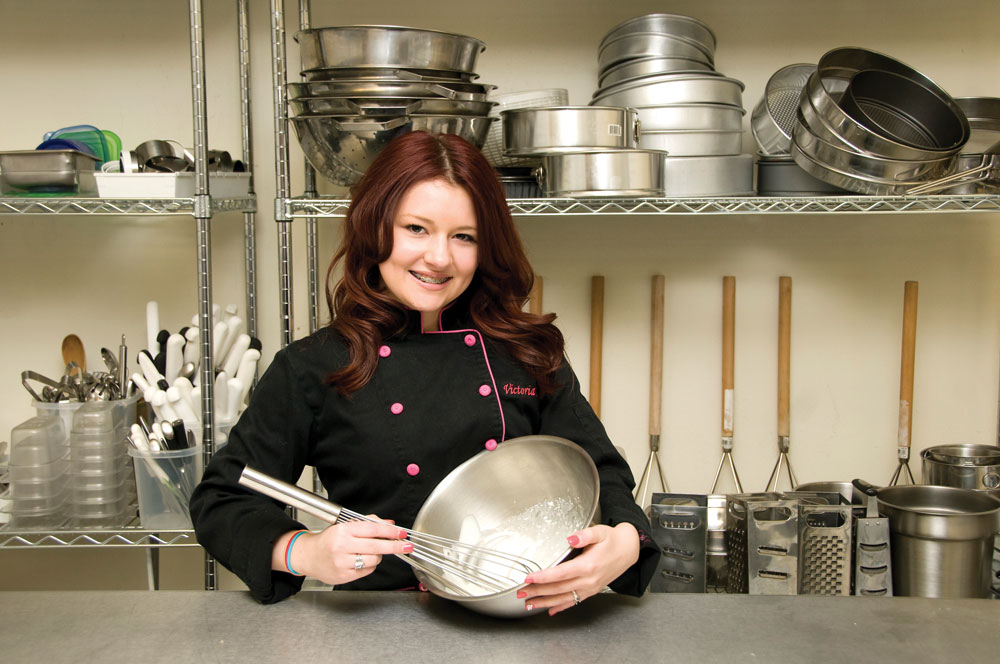 White Chocolate Cream Pie
6 1-oz. squares white chocolate (divided use)
3 Tbsp. heavy cream
1 3-oz. pkg. cream cheese, softened
2/3 cup confectioners' sugar
1 cup whipped cream
1 9-inch pie shell, baked
In a large, bowl, microwave 5 squares white chocolate and cream on high for 1 1/2 to 2 minutes, or until the chocolate is almost melted, stirring halfway through heating time. Stir until white chocolate is melted and mixture smooth.
Beat in softened cream cheese and confectioners' sugar. Gently fold in 

whipped cream until no streaks remain. Spoon into crust.

Melt remaining 1 square of white chocolate in microwave. Drizzle melted chocolate on top of pie. Refrigerate overnight.
Chicken and Penne in Vodka Cream Sauce
2 Tbsp. butter, unsalted
4 small shallots, minced
4 medium garlic cloves, minced
1 28-oz. can whole peeled tomatoes in juice
2 Tbsp. tomato paste
1/2 tsp. red chili flakes
6 Tbsp. vodka
1 1/2 tsp. salt
1 tsp. granulated sugar
3/4 cup heavy cream
1 lb. boneless, skinless chicken breasts, sliced crosswise against the grain into 1/2-inch thick strips
1 lb. dried penne pasta
Salt and pepper, to taste
1/3 cup chopped fresh basil leaves
Bring a large pot of salted water to boil over high heat.
In a large skillet over medium heat, melt butter. Add shallots and cook. Stir until shallots have softened and begin to brown, about 8 minutes. Stir in garlic and cook until fragrant, about 30 seconds.

 

Transfer shallot mixture to blender. Add tomatoes with juice and tomato paste. Blend until smooth.
Transfer tomato mixture back to skillet; stir in chili flakes, vodka, salt and sugar. Bring to a boil over medium heat. Reduce heat to medium-low. Simmer, stirring occasionally, until slightly thickened and flavors are melded, about 15 minutes.

 

Stir in cream and season to taste. Stir in chicken and cook until just cooked through, about 2 minutes. Keep warm while pasta cooks.
Cook pasta according to package directions; drain, reserving 1 cup of pasta water. Toss pasta with sauce; add pasta water as necessary until sauce reaches desired consistency.

 

Season to taste with salt and pepper. Stir in basil. Serve immediately.
Baked Ziti 
Quick Tomato Sauce:
2 Tbsp. extra-virgin olive oil
1 lb. sweet and/or spicy Italian sausages, casing removed and crumbled
1/4 medium onion, diced
3 cloves garlic, chopped
1 28-oz. can whole, peeled, canned tomatoes in puree, roughly chopped
Sprig fresh thyme
Sprig fresh basil
2 tsp. kosher salt
Freshly ground black pepper, to taste
Ziti:
1 lb. dried ziti pasta
Kosher salt, to taste
3 1/2 cups Quick Tomato Sauce
1 lb. fresh mozzarella, cut half into 1/2-inch cubes and thinly slice the other half
3/4 cup freshly grated Parmesan (divided use)
1/2 tsp. freshly ground black pepper
Pinch red pepper flakes
For tomato sauce: Heat oil in medium saucepan over medium-high heat.

 

Cook sausage until it begins to brown, about 3 minutes. Add onion and garlic, stirring until lightly browned, about 3 minutes more.

 

Add tomatoes and herb sprigs; bring to a boil. Lower heat; simmer covered for 10 minutes. Remove and discard herb sprigs. Season with salt and pepper.

 

For ziti: Preheat oven to 400 F. Bring a large pot of water to a boil, salt generously; boil pasta until al dente; drain.

 

Toss cooked pasta with Quick Tomato Sauce, cubed mozzarella, half the Parmesan cheese, black pepper and red pepper flakes.

 

Transfer pasta to oiled 9×13-inch baking dish. Cover top of pasta with sliced mozzarella; sprinkle with remaining Parmesan. Bake until lightly browned and hot, about 30 minutes. Serve immediately.